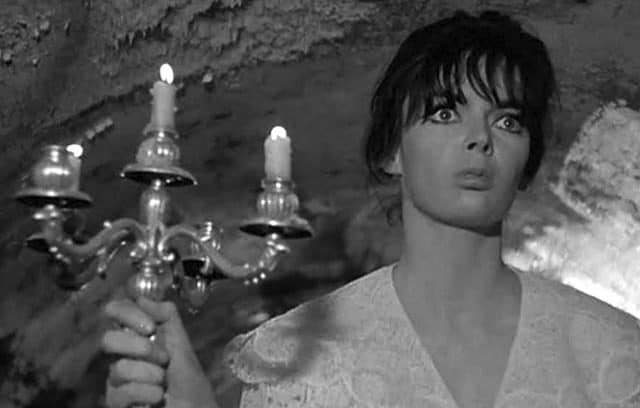 Barbara Steele was something of a rarity back in her day since she could contend with the likes of Bela Lugosi and Boris Karloff when it came to starring in horror movies. In fact that is a large part of why she's a known individual since she's been in enough horror flicks to have her own following. Her looks have long been the reason why she's considered to be so adept at starring in the thrilling, creepy stories that she's been tapped for, but her acting talent has also been good enough to keep her afloat and even thriving in the horror genre. Even today people can't help but agree that she's one of the most notable faces and names in the horror genre that predated what we know now.
Within the horror genre she's well known for her parts in movies such as Castle of Blood, Terror-Creatures from the Grave, and many, many more. In short she's known for films that might be a little obscure but could possibly be more hardcore than those that are considered mainstream. She's stated that she kind of fell into the horror genre without really seeking it, which is an odd thing to say but explains why she doesn't fully understand just why people are so eager to idolize her. That seems to go away however when she attends a convention or a public forum that asks her to speak on the matter of her career and other various things. Once she steps up on the stage to answer questions she's right back in the thick of it and looks completely at ease with answering anything people want to ask about her career. That's an odd thing to see really but it does speak volumes as to how she feels about her role in the horror genre when she's off camera versus when she's on.
Obviously she loves what she does when she's doing it, but once it's all over and the lights are off she wants to lay back and take things at a much simpler pace. It's not hard to see why since she's been thought of as one of the original scream queens of cinema for a long time. Her intensity and the absolute love she seems to have for being on screen seems to come out quite easily with each role she's taken on throughout her long career. As of now she's still an active actor but she's slowed way down when it comes to appearing on the screen, since she is pushing 80 years of age at this point. But back in her day she was one of the most popular and most intense actresses of her time.
Even now if you take a look at her Barbara just seems so intense and so dialed into her part that you can't help but think that she's still got it and is able to scare the living daylights out of anyone she meets. That's the level of skill she has, and the legacy that she's bound to leave behind, and it's something unique that has yet to be seen again.
Tell us what's wrong with this post? How could we improve it? :)
Let us improve this post!