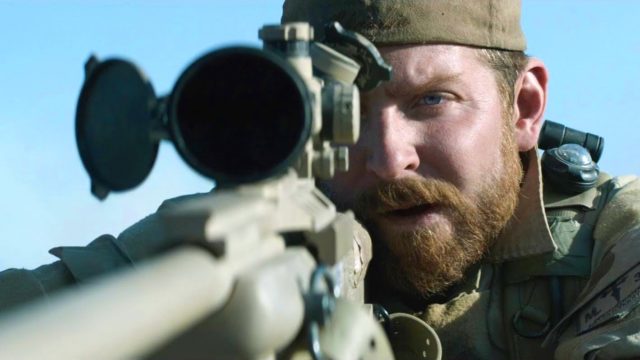 "American Sniper" is a biographical film that was released in 2014. Chris Kyle was a legendary Iraqi war hero who died tragically trying to help another war veteran. Kyle's story is as exciting as it is tense. The trained sniper told his story in an autobiography which told the story of how he became a trained sniper for the US Navy SEALS, killing many dangerous people during four tours in the Iraqi War. Kyle was clearly traumatized by the lives he took, but more importantly, by the lives he couldn't save. The emotional toll his role in the war took on himself and his family was at some points devastating, but Kyle was able to rebound psychologically and spent the last part of his life helping soldiers who suffered from Post Traumatic Stress Disorder. Tragically, Kyle was killed by a man he was trying to help.
How to watch "American Sniper" online
Chris Kyle's autobiography "American Sniper: The Autobiography of the Most Lethal Sniper in the US Military" was made into a best selling novel came out in 2012 just before the US Navy SEALS war veteran was tragically gunned down while helping a fellow war vet recover from Post Traumatic Stress Disorder. Clint Eastwood helped make the heroic real life story with an all to real tragic ending into the successful 2014 movie "American Sniper". The book and film remain popular as war hero Chris Kyle's legend live on. The movie can be watched online on YouTube, Google Play, Vudu, Amazon Video and iTunes.
Chris Kyle
Chris Kyle grew up in Texas where he worked as a ranch hand and briefly in a rodeo. He was raised with Christian values and his father, who taught him how to hunt with a rifle, taught him about the morality and ethics of hunting. When Chris and his brother saw news footage of US Embassy bombings in Africa in 1998, he decided to enlist in the Navy. After the September 11 attacks, Chris was shipped to Iraq for his first tour of duty as a US Navy SEALS sniper. Just before his deployment he married Taya. Chris would serve 4 tour of duties in the war. During his tours he became an expert sniper. He may have killed more than 250 insurgents but 160 were confirmed including an Al-Queda leader known as "The Butcher". Chris Kyle saved many lives, but the war took a great toll on him and his family. Each time Chris returned home, he was a changed man. The war wasn't easy on his family. His wife suffered from the changes in her husband and during the times he went back to war. One of their son's was born when Chris was in Iraq.
In the movie, Bradley Cooper plays Chris Kyle. Under Clint Eastwood's direction, the movie focuses on both Chris' time on duty and his time at home and how the war changed him. Chris was nicknamed "The Legend" for his sniper abilities in the war, but the film shows just how tense his actions were when he had to make the decision to pull the trigger. His young family including his wife (played by Sienna Miller) in the movie) also suffered at home in Texas when Chris was at war and when he was at home between tours.
Tragic ending and why it wasn't portrayed in the movie
When Chris Kyle returned home from his final tour of duty, he had trouble adjusting back into his normal life. Haunted by the war, Chris sought the help of a veteran's psychiatrist. The doctor convinced Chris to help war wounded veterans. Working with veterans vastly improved Chris Kyle's post war psychological state which the movie addresses. One of the things Chris did to help veterans suffering from PTSD was take them to a shooting range so they could safely face their demons. On February 2, 2013 Chris, then just 38 years old, and his friend Chad Littlefield (35) took a young veteran Marine Eddie Ray Routh (25) to a shooting range near New Chalk Mountain, Texas. Routh snapped, shot and killed both Chris and Chad. He plead insanity but was sentenced to life in prison.
Director Clint Eastwood and screenwriter Jason Hall chose not to film Chris and Chad's deaths. Although it was considered because it brings to life the tragedy of how Chris Kyle, "The Legend", died, in the end, it was felt it wasn't necessary. Eastwood and Hall wanted to respect Chris' family, particularly his wife and two sons. "American Sniper" is about a young man dealing with the violence of war who saved many lives but still suffered a great emotional toll. The movie is also about the Chris' recovery from the psychological toll the war took on him and his family and the senseless ending to his life.