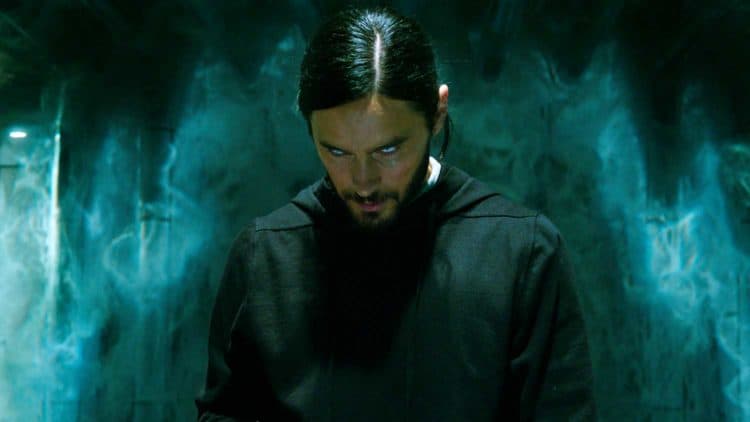 Morbius has finally arrived! Unfortunately, the DC villain/anti-hero isn't getting the reception that a typical superhero movie does. What's worse is that the film only made $39 million domestically in its opening weekend. Coming off a strong office run for Spider-Man: No Way Home and The Batman, the superhero genre isn't slowing down anytime soon. So, is this a case where audiences just didn't give a crap about a comic book character? Was Morbius even necessary in the beginning?
When you look at the origin story of Morbius then he sounds like a villain that's brimming with tons of potential. Dr. Michael Morbius, made his debut in The Amazing Spider-Man #101 back in October 1971 and usually serves as an enemy for Spider-Man, Blade, or Ghost Rider. The biogenetic scientist was suffering from a severe blood-destroying disease. The genius altered his DNA and he was transformed into a living vampire. In truth, Morbius can work as a solo feature. He isn't in the vein of Venom, who desperately needs Spider-Man to be an interesting character. In fact, this was Marvel's chance to truly do something bold and original when it comes to Morbius. Given the premise of the character itself, this could've been a dark horror feature with Morbius haunting and feasting down on innocent humans. Granted, that type of vampire film has been done countless times, but given the superhero edict, there's tons of fun to be had that could've made the feature fresh and different.
Morbius works better as a villain than an anti-hero. Sure, his backstory is extremely sympathetic, especially about his upbringing with his mother and father. However, at the end of the day, he's a vampire who has to drink human blood. It's possible to spin this in a way like What We Do In The Shadows, but this was a rare opportunity to do something truly out of the box with a comic book character and while Morbius is different in some aspects, it lacks true imagination and creativity to be remembered. Perhaps Marvel could've tinkered with the story a bit and focused on Morbius's childood where his father is the scientist and he accidentally injects him with the vampire DNA? Or this could've been the first introduction to Blade that resulted in a fun cat-and-mouse game? Either way, there's too much rich ideas in the world of Morbius to stumble and fail in his first showing. The Filmmaker seem to understand only cliff notes about the comic. In fact, most films outside of the Spider-Man canon just isn't working. Venom is a financial success, but he fails because his films lack a true purpose. He's a villain who lacks any true sense of being because the filmmakers are more concerned with making him work in a realistic environment instead of truly having fun with his character and tapping into the comic book side of him.
That's pretty much the case with Morbius. Granted, his character has more of a purpose than Venom; A man who's dying from a blood-destroying disease sudden becomes a vampire because he's so desperate for a cure. Morbius doesn't need Spider-Man because his story is golden without it. Despite all the signs that could've resulted in a great Morbius film, the lack of investment into the character prior to the origin story is why the Jared Leto film is unnecessary. Morbius should've been introduced as one of the prime villains first. As great as the Spider-Man films have been, they haven't truly dived into the characters that give their world color. The excitement for the film was barely there because he wasn't a mainstream entity, and it didn't help that the critics trashed it upon release. There's nothing wrong with having a villain origin story. Morbius could've been this year's Joker. There's a good social commentary behind the anti-hero. One of the central themes could've been about how desperate people get when death is knocking on their door. Or as I previously stated, this could've been just a fun vampire movie. However, the biggest crime is that the filmmakers were too scared to make this a true vampire film. Blood is a necessary staple for vampire movies. This isn't Twilight, and while I understand Columbia trying to market this film to everyone, it sucks all the fun out of this movie when it's afraid to be a true vampire film.
As it stands, Morbius could've been something special and unique. There's plenty of story here that would've allowed the Jared Leto vehicle to succeed, but at process leading up to Morbius was incorrect. Still, that's no excuse for a bad film. Morbius was never necessary, but it still should've been better than what was made.Twilight
Tell us what's wrong with this post? How could we improve it? :)
Let us improve this post!