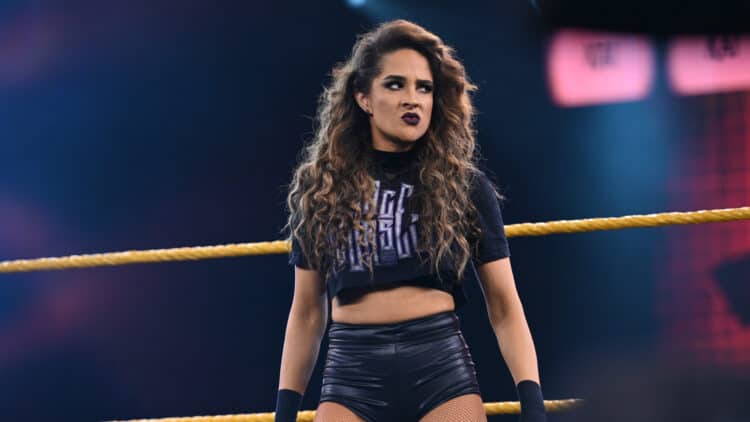 Remember that unforgettable moment at the first-ever women's WarGames match where Dakota Kai turned on her long-time partner Tegan Nox? Who knew that would be the defining moment of what should've been a long and storied career? A veteran who has been fighting inside of the squared circle since 2007, Kai had been introduced to WWE audiences during the Mae Young Classic, and though she didn't win the overall tournament, she still made a lasting impression. Kai was somewhat of the Bayley type in the beginning, showcasing the spunk, heart, and fight in the classic white meat babyface role. These types of faces are rare in the modern age of wrestling, so Kai stood out in a good way. She got a few shots for the belt here and there, but her injury is what really derailed her run as a babyface. However, the former NXT star proved that she could be an effective face if the time ever came to her being the top talent of the division. It wasn't just the fact that Kai could go inside of the ring, but she had a believable character.
Granted, Kai would've had to change her character eventually because there's no way that she could've been this shy, underdog babyface for the entire length of her career. And thankfully, NXT pulled the trigger on that faithful night on November 23, 2019. The aggression, uncontrollable rage, the jealously came pouring through Kai's emotions. It's one of the best heel turns in NXT's lengthy run, and a moment that's been etched out forever in the company's TakeOver events. Giving Kai a bodyguard a couple of months later seemed to tease that officials had high hopes for her and were going to give the NXT star a big push. It never happened. Once Gonzalez made her debut, it appeared that she stole the spotlight from Kai as Gonzalez seemed to get pushed ahead of her. However, Kai proved to be a strong heel and her 2019/2020 run was easily the best in the company. It seemed evident that she would go on to either RAW or Smackdown and do big things, especially once her extremely quick feud with Raquel Gonzalez came to its conclusion. Kai disappeared for weeks throughout her NXT run, but she never got the call-up to the main roster. Why?
Well, that's a question only Vince McMahon can answer. Kai has continuously showcased her charisma as a heel or babyface. WWE was in dire need of fresh faces because the top stays (Becky, Sasha, Bayley, Asuka, Charlotte) were getting stale. It wasn't just enough to add Bianca Belair to the mix. The main roster women's division needed some more depth. That's easily the biggest issue right now. No one feels like a threat to Bianca Belair because she's beaten mostly everyone there is to beat. Sure, there's Rhea Ripley and Asuka, but Kai could've been a much body in a stale division. And Smackdown is no better. Ronda Rousey has already defeated Sasha Banks, and destroyed Shotzi and Sanya Deville. That leaves Bayley, meaning the division only has one credible challenger left. For some dumb reason, WWE opted to get rid of talents like Franky Monet, Mercedes Martinez, Tegan Nox, and Mia Yim, who could've easily filled the void of the lackluster division. Kai was more than ready for the main roster. I'm not going to speculate why Vince McMahon didn't move her up to RAW and Smackdown, but it's a pretty confusing move. Women like Eva Marie, Lana, and even Omos (yes, I know he's not a woman) had no business being inside of the ring, yet WWE had no issue putting them in front of millions.
Kai was talented enough to be on top of the division. It's a shame that Vince didn't even try to give her a chance to prove that she belongs with the top competitors on the main roster, but not particularly a surprise. For the longest time, Becky Lynch was never seen as a main event star in the company's eyes. She was treated pretty well, but had it not been for the ill-advised heel turn at Summerslam 2019 that allowed her to become more popular with the fans, she probably wouldn't have reached the heights that she did following that moment. However, Lynch was at least given a chance to make an impact on the main roster. Kai didn't. There's no telling what the ultimate reason was, but unless the former NXT star was a problem backstage or a danger to others, Dakota Kai was screwed out of a main roster run.
Tell us what's wrong with this post? How could we improve it? :)
Let us improve this post!