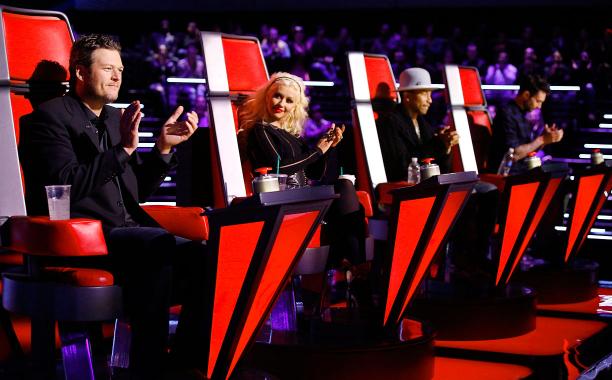 The Voice returned for its eighth season last night, bringing with it bantering coaches, emotional stories, and, most importantly, a handful of brilliant voices. Long time coaches, Adam Levine and Blake Shelton, returned once more, with newer coach Pharrell Williams also returning. The premiere also marked the return of original coach Christina Aguilera, who had taken the two previous seasons off.
The chemistry among coaches/judges is part of what makes reality singing competitions work, and it's a large part of why people keep tuning into The Voice each season. When American Idol lost the golden trio of Simon Cowell, Paula Abdul, and Randy Jackson, it immediately became less interesting and has declined in quality ever since. Similarly, I believe that if The Voice lost Adam Levine and Blake Shelton, people would stop watching. The banter between them, along with the other coaches, as they fight to get people to join their team, is what carries the blind auditions. Without Blake making fun of Adam for not being able to get anyone on his team or Pharrell's passion as he pleads his case, the blind auditions would be far less interesting.
Of course, no reality show would be complete without a few emotional stories. After all, in order for us to root for these contestants, we need to care about them. While their voices should be what ultimately determines who our favorites are (the show is called The Voice), it certainly doesn't hurt to have an interesting backstory to pair with the vocals.
Some highlights last night were Treeva Gibson, who grew up with two deaf parents and has experienced some hearing loss herself. She hasn't let this stop her from pursuing her love of music, and it's that perseverance that ended up landing her on Team Christina. There was also Rob Taylor, whose mom had a disabling stroke when he was young but has never stopped believing in him. With his power-house vocals, the obvious choice for him was also Team Christina.
Blake had the most success of the night, much to Adam's dismay, as he landed talented singers such as Sarah Potenza, Cody Wickline, and Joshua Davis. All three have the potential to go very far in the competition, with their strong country roots and unique voices. It helps that Blake has coached the largest number of winners throughout the seasons, proving that he knows what it takes to win.
Having not watched the last season, I was pleasantly surprised to see how great of a coach Pharrell seems to be. His passion and desire to cultivate these artists into something truly unique and special was evident in his pleas to have them join his team. It was this passion that scored him so many talented singers, all with their own style that has never been seen before. Lowell Oakley, for example, wants to mix R&B soul with jazzy crooning to go far in the competition, and Pharrell will help him create this new sound. Sawyer Fredericks, arguably the best of the night, also joined his team. At only fifteen years old, his voice is still changing and developing and Pharrell is the perfect choice to help him discover who he is as an artist.
As is the case with every competition, there were the few who weren't chosen to continue on. For Ivonne Acero, it was her lack of experience and confidence that held her back. She's likely to return in the future, more mature and sure of herself as an artist. Mason Henderson had passion, but it may have been what held him back, as he focused too much on his performance and not enough on his vocals. My guess is that if the auditions hadn't been blind, he would have made it to the next round. Finally, Bryce Sherlow may not have been vocally ready for the competition, but she did end up getting to duet with Pharrell on his hit song "Happy," so she didn't walk away with nothing.
As the blind auditions continue, it will be interesting to see how the teams continue to grow. The question remains to be seen if Adam will be able to persuade anyone to join his team. Right now, Team Blake and Team Pharrell are looking the strongest, but it's still early in the competition and anything could happen over the next few weeks.
[Photo via NBC]