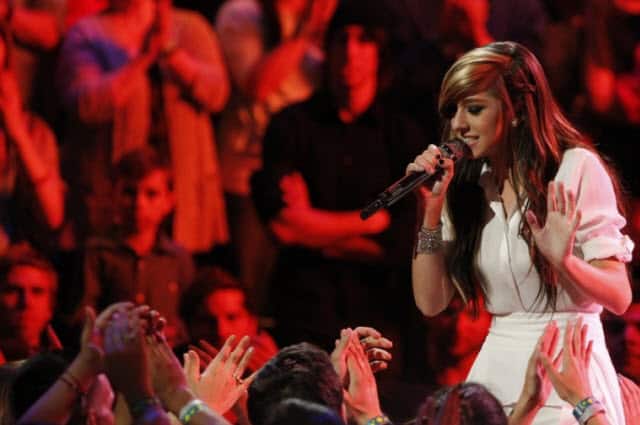 Season 6 of NBC's The Voice is headed down the home stretch. With five contestants left, we're just a few episodes away from finding out who will be crowned the winner… and which coach will bask in the glory.
The 26th episode saw the remaining five contestants perform with a unique theme from Mr. Adam Levine: revenge. The show opened with Adam being adamant (hehe) his team will not finish in the bottom three again. At this point, the five remaining contestants are spread throughout the four coaches. Christina Grimmie and Kat Perkins from Team Adam, Jake Worthington from Team Blake, Kristin Merlin from Team Shakira, and Josh Kaufman from Team Usher.
First to perform was Kristin Merlin who gave an all-out performance of Miranda Lambert's 'Gunpowder and Lead'. All she needed here was Blake Shelton's approval, which she got from Lambert's husband. The second performance was Josh Kaufman and his soulful performance of John Legend's 'All of Me'. Thoroughly enjoyable performance, which prompted Shakira to compliment Kaufman's natural gifts. The third performance was Kat Perkins' rendition of Sia's 'Chandelier'. I thought she rocked it, but I'm not sure it's enough to get her off the bottom. Jake Worthington was the penultimate performer with Waylon Jennings' 'Good Ol' Boys'. I wasn't a huge fan of this cutesy performance, but we'll see. The last performance was YouTube sensation Christina Grimmie who took big risks with Imogen Heap's 'Hide and Seek'. We'll see how that plays out.
Each performer was than given a chance to 'redeem' themselves. The best performance of the night was Grimmie's return with Fun's 'Some Night's. At this point, it's tough to say who is going to get the nod – I really think Grimmie is the leader as I write this. I think we're looking at Josh Worthington and Kat Perkins facing elimination. We'll find out tonight!
[Photo via NBC]