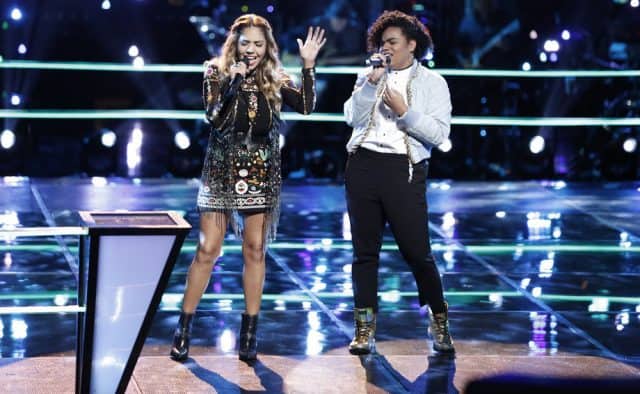 Welcome to The Voice season 11 battle rounds! Going into these I'm a nervous wreck. I know some of my favorite singers will be battling tonight and I don't want any of them to go home!
The good thing to remember is that over several seasons the steals were added into the competition with one objective. They wanted to keep great talent from exiting the show early on, and balance out the teams diversity. Why? Because it makes for a better show during the live rounds. Having talented singers who do many different kinds of music appeals to a wider audience. As such, it's likely favorites will get through the live shows. At least that's the hope!
There are six battles in this episode of The Voice, and they start and end with pairing from coach Alicia Keys.
Battle 1: Team Alicia
Christian Cuevas vs. Jason Warrior: Song "Hello" by Adele
Alicia on why she chose Charlie Puth for her advisor.
He's starting to see amazing success and I think that's a really inspiring thing for my artists to see. Everyone else did the opposite. Everyone went for the veterans – I went for, like, the fresh meat.
During the coaching session Alicia does some basic vocal techniques with Christian to help him reach his higher register. "What does this song mean to you?" is a question Alicia gives to both singers. She wants to hear that in their singing. Both have big voices with a lot of passion, but Jason is clearly the better trained singer.
"Who made me feel they were ready for greatness." is the question Alicia says will decide her choice.
Winner: Christian
Wow! That was surprising! Christian did a decent and emotion-filled job, but he didn't quite make all his notes. Jason was basically flawless. However, Alicia hinted strongly that she was hoping for a steal. I think she kept the singer that needed more work to ensure he stayed on. As Miley said, Jason is already performing. It's really a matter of music choices for him.
Here's the actual battle:
[youtube https://www.youtube.com/watch?v=-6savx6aWys?rel=0]
Battle 2: Team Adam
Natasha Bure vs. Riley Elmore: "Cry Me a River" by Michael Buble'
Coach Adam Levine on why he chose Sammy Hagar as his advisor.
He's not just a frontman – he's a singer – and a bad*ss one at that. So I trust anything this guy has to say.
During the coaching session you really see how young these two are, they are cute teenagers. Regardless of who wins, it feels like a real friendship has been born.
Natasha's voice is like an unpolished diamond, and there are things that need to be refined. But she's got something.
Adam and Hagar work a lot with Natasha on her fear issues and singing techniques – including how to use her mike. With Riley they tell him he can learn to loosen up and work with nuances. At the same time they remind him to "stay in his wheelhouse" as a crooner.
Going into the battle I've no doubt that Riley will win the battle. There's just no way Adam's going to give up Riley. The 16-year-old is too unique and polished to let go. Natasha's "unpolished diamond" sound has qualities similar to other singers in the competition, all of whom are more polished.
Then there's Natasha's family background. While just being on The Voice is a help to anyone working to build a music career, for her it's an extra big plus. As she says, it gives her a chance to show her talent in an area neither of her parents are known for.
Winner: Riley
The biggest surprise about this battle is how well Natasha does. She seriously knocks it out of the park! Adam and Hagar's coaching has made a huge different in both her confidence level and pitch control.
Here's their sweet battle:
[youtube https://www.youtube.com/watch?v=YUNmdEm8MZU?rel=0&w=640&h=360]
Battle 3: Team Miley
Ali Caldwell vs. Courtnie Ramirez: "Hit or Miss" by Odetta
Coach Miley Cyrus on why she chose Joan Jett as her advisor.
She represents rock and roll, and that's what I wanted to bring to my crew.
The news of this battle pairing did not make me happy. I didn't want to lose either of these singers! Watching them during the coaching sessions my main focus was, " I hope there's a steal."
Thank goodness there was!
Winner: Ali
Blake and Alicia buzz in for Courtnie fast! Will she go for Blake or Alicia? At first I thought Blake would be better for this young rocker. However, once Blake says how much he loved how she was "strutting around like a rooster" stuff, I switched to Alicia.
Courtnie has the potential to be a serious rock contender and that statement completely trivialized her. That's not a good attitude for a coach! Then Adam weighs in to remind Courtnie that Alicia turned for her the first time when Blake didn't. Courtnie chooses Alicia.
Here's their great battle:
[youtube https://www.youtube.com/watch?v=dVp75CZvymY?rel=0]
Battle 4: Team Blake
Dan Shafer vs. Sundance Head: "Feel Like Makin' Love" by Bad Company
Blake doesn't bother explaining why he has Bette Midler as an advisor. Bette Milder is awesome – case closed! Instead we get to see more of Milder coaching the both of them, and she's (unsurprisingly) very insightful.
In terms of what he'll be looking for in order to pick a winner, Blake says he's looking for who can outsing the other. Immediately, we can guess who the winner will be. Dan's sweetness of tone is no match for SunDance.Blake has always tended to make life easy for himself in these battle rounds. Why give up a great person just for a super cool battle – unless it's a team shuffle. It's a smart strategic thing.
Winner: Sundance
Blake said this might be the toughest battle for him to decide. Not really. In terms of vocal power it's a blowout. However, Dan's performance is solid and his tonal quality works well with Sundance's. I hope his time on The Voice opens more opportunities for him. I loved his blind audition, and he has the energy to work a stage. Age shouldn't be the deciding factor.
Check out the battle of the ages!
[youtube https://www.youtube.com/watch?v=qk7XKrIHYNU?rel=0]
Battle 5: Team Adam
Billy Gilman vs. Andrew DeMuro: "Man in the Mirror" by Michael Jackson
Adam has learned some things from Blake. I'm expecting Billy to kill it. In fact, at one point Billy is told to under-sing. Hager notes that Andrew's struggle to hit certain notes made it more soulful. I don't hear that…. However, after their band rehearsal I get a little of what he was getting at. Andrew's voice is thicker and heavier in tone overall. In the age of auto tune, sounding too polished can be a liability.
Winner: Billy
I'm not surprised by the choice of Billy. He's a top of the line contender and Adam isn't crazy. Still, this battle is better than expected. Andrew improved a lot just by get out of Billy Joel mode. I love Billy Joel as a singer, but he exists already. "Man in the Mirror" was a great song for Andrew because it feels like he learned more about himself as an artist.
Check out this cool battle:
[youtube https://www.youtube.com/watch?v=VEpmZWiCms8?rel=0]
Battle 6: Team Alicia
We' McDonald vs. Lauren Diaz: "Maybe" by Janis Joplin
This is the battle I've worried about! These two are like night and day, but e Lauren is a sound and look that is radio ready, while We'is a once in a generation wonder, but could end up being too unique for this format.
Luckily, to ease the hearts of viewers, the commercial lets us know neither of these singers are going home. Whew! There will be a steal!
All that is left to know is who Alicia keeps. Whats her criteria? This:
Whoever is able to internal what they want me to feel will win.
However, my thought was that We' would stay with Alicia. Lauren is more of a Beyonce' type, and more self-assured. We' she needs the kind of nurturing Alicia can give her both musically and emotionally. Lauren would do well on any team. They both kill it on the song, but We' hit some high notes that shows a whole new layer of her talent!
Winner: We'
Check out their epic battle below!
[youtube https://www.youtube.com/watch?v=Fb4eU2xpzZQ?rel=0]
That's the wrap of The Voice season 11 battle rounds premiere! Stay tune for more recaps and reviews of The Voice season 11 battle rounds – and the rest of the season.
Tell us what's wrong with this post? How could we improve it? :)
Let us improve this post!