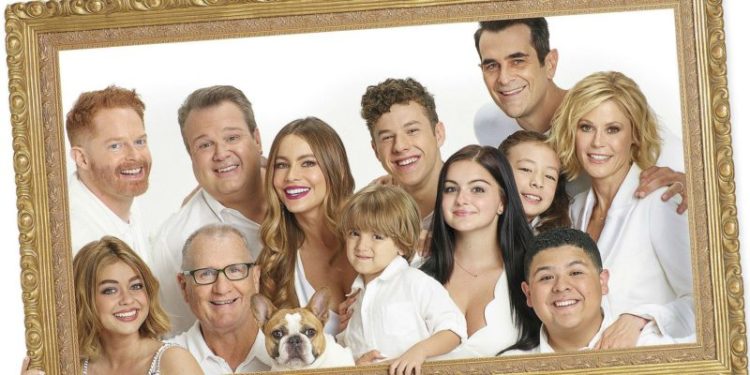 When we first met the Dunphy-Pritchett clan on Modern Family, we were in awe of the diverse ways in which they lived their lives. Cameron and Mitchell were trying to figure out how to raise a daughter, Claire and Phil struggled to keep up with the demanding ways of raising three children, and Jay was the patriarch at the center of it all, keeping his little family intact while minding the welfare of the extended tribe. For eleven seasons, we watched the children grow, the adults get tested, the family come closer, drift apart, and grow tighter, only to be pulled apart by life. Needless to say, the Pritchetts and Dunphys left us with a couple of life lessons. Here are the very best:
1. The World Needs Both Dreamers And Realists
The Pritchetts, as it turned out, were more of realists. Their spouses, Cam (Eric Stonestreet), Phil ( Ty Burrell) and Gloria ( Sofia Vergara) leaned more towards the dreamers' side. Just like Phil had dreams that he felt he hadn't achieved because of his wife, Cam had a number of unexplored pursuits he'd put aside because of Mitchell (Jesse Tyler Ferguson). Phil, Cam, and company were wild thinkers, so much that Phil's billionaire friend often used the question, What would Phil Dunphy do? Though the family was divided for a while, in the end, they established that the world need both. The dreamers, so that everyone could take off the ground, and the realists, so that no one would soar too close to the sun.
2. It's Never Too Late To Make A New Friend
As adults, most of the time, we hide behind the excuse that it's too late to make new friends. Phil thought the same for a long time until an encounter with a neighbor (Kevin Hart) changed his mind. Andre, Phil's neighbor, had lived next door for eight years, and during that time they hadn't crossed paths. When Phil was having a hard time building a treehouse, he learned that Andre was extra good with tools. Andre thought 'the dude on the tree is cool', and Phil found out that he was an orthopedic surgeon who was a great guy to hang out with. "Plus, he's a badass black man that gives some extra street cred," Phil added, also calling him a 'brother from a different mother.'
3. We Should Accept People As They Are
When in came to their in-laws, the Pritchetts were not the most accepting family at first.For starters, Jay had a problem with Mitch's sexuality and it got worse when Cam came into the picture. He couldn't bring himself to give his son a decent wedding. Phil, on the other hand, was never too good for Claire. When the future finally caught up with Phil, he found himself pulling a Jay on Hailey's boyfriend, Dylan(Reid Ewing), who was like him in many ways. It was hard for the Dunphys and Pritchetts to accept people as they were, and Claire even went to the extent of setting Hailey up with someone else. In the long run, each of them made peace with each other. Jay called Cam his 'son', a word Cam never thought he would hear from his father-in-law.
4. There's No Single Way To Parent
Different families have different ways of parenting, and that's okay. Pepper ( Nathan Lane) was on the receiving end of parent shaming when Cam and Mitch had their adopted son, Lionel (Cedric Joe) over. Cam went on and on about how Lionel did not like being at Pepper's house, and he'd implied that Lily (Aubrey Anderson) was lucky. " We have to say something. We are their friends. We are experienced parents," Cam said. He was brutally honest with Pepper and Ronaldo (Christian Barillas). He told them to stop imposing their fancy ways on the boy and let him choose Cheetos and football. Unfortunately for them, Lionel did like Pepper and Ronaldo's way of parenting. " I like how we live," he told Pepper, forcing Cam and Mitch to eat humble pie.
5. Children Eventually Develop A Mind Of Their Own
Every parent in the Pritchett family had a romanticized idea of what their children would be doing with their lives and who they'd be seeing. Unfortunately for most of them, their children grew up with their own interests. Even Alex, who was supposed to be the Dunphys' shining star, got to a point where she was keen on moving to Switzerland. As the children grew, they began to have their own opinions, take up different interests and only be partially dependent on their parents. While Claire was obsessive in the past and tried to micromanage her children's lives, she became a more relaxed parent who prioritized herself. Just like her dad did the same with letting his children choose their spouses, Claire gave hers the benefit of doubt.
6. With Growth Comes A Lot Of Change
In the spirit of children morphing into adulthood and focusing on growth, a lot of changes came into the way of the Dunphy-Pritchett family. Though Hailey did not want Cam and Mitch to go away to Missouri because her babies would never believe her stories, she had a big secret of her own. She was considering working in Paris, which meant she and the twins would be away for the better part of the year if not all of it. Alex's company had an office in New York, and she was very open to transferring. Manny (Rico Rodriguez) was likely to move to London, and Jay and his family would move to Palm Springs. As much as they were together, everyone was in a different phase of life, and change was inevitable.
7. In The End, Family Matters The Most
Through the seasons, we saw the Pritchett family undergo one too many changes: Mitch and Cam adopted a beautiful baby girl who grew to be arch enemies with their friend Sal (Elizabeth Banks), never in a million years did anyone think Luke (Nolan Gould) would be accepted into college, Alex (Ariel Winter) went from being a timid nerd to one who couldn't stop talking about sex with her boyfriend, Hailey ( Sarah Hyland) brought new additions into the family, Claire (Julie Bowen) finally accepted Dylan, and Gloria and Jay ( Ed O'Neil) had a son of their own. Jay agreed that, in the end, family mattered the most. " …you don't always mark the moments because you are too busy taking care of life. Best you can do sometimes is remind yourself to cherish every single moment." Jay echoed.
Tell us what's wrong with this post? How could we improve it? :)
Let us improve this post!