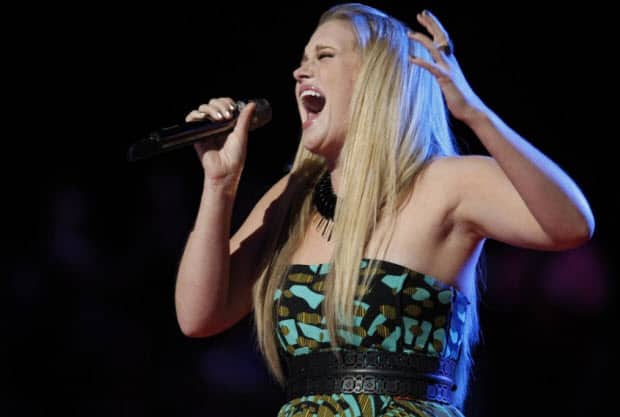 The Tuesday night one-hour episode of The Voice saw the remaining twelve contestants face a live elimination. By the end of the night two contestants would be sent home and the remaining ten would move on to more performances next Monday. Last night's show had three rounds of announcements of those moving on as well as some live performances from Team Adam Levine, Shakira and Blake Shelton.
The first performance was Team Adam performing 'Sledgehammer' by Peter Gabriel. It was a fun performance – we always like to see the coaches do their thing. That lead right into Carson Daly's first announcement of who is staying. Josh Kaufman and Kat Perkins are saved in the first round. No surprise here (most of this stuff is based on iTunes downloads so you can just check that pretty much).
The second performance was Shakira performing "Empire". Shakira seems like a nice person and she's super talented, but I'm having a tough time accepting her. Just being honest… The second announcement saw Kristen Merlin (thank goodness – she deserved it) and Audra McLaughlin make the cut.
The third performance was Team Blake performing "Put Some Drive in Your Country" by Travis Tritt. Lots of fun again, you can tell Audra and Jake are loose as a goose because they've already made it (As if Sisaundra should be worried). Speaking of which, the third announcement is also made and Delvin Choice and Jake Worthington get the nod to stay. That makes six staying and six still waiting to hear.
The next three artists moving on were Bria Kelly (somewhat of a surprise), Christina Grimmie and Sisaundra Lewis (there ya go). Leaving Dani Moz, T.J. Wilkins and Tess Boyer to perform live for an instant crowd save. T.J. Wilkins performed "I'll Be" by Edwin McCain, Dani Moz performed Adele's "Turning Tables" and Tess Boyer rocked "Dark Side" by Kelly Clarkson.
In the end the audience saved……Tess Boyer! Headed home are T.J. Wilkins and Dani Moz. Are you starting to feel like this show is mainly watched by females? Just saying..
The Voice will be back on Monday night for Top 1o performances at 8 PM.
[Photo via Trae Patton/NBC]