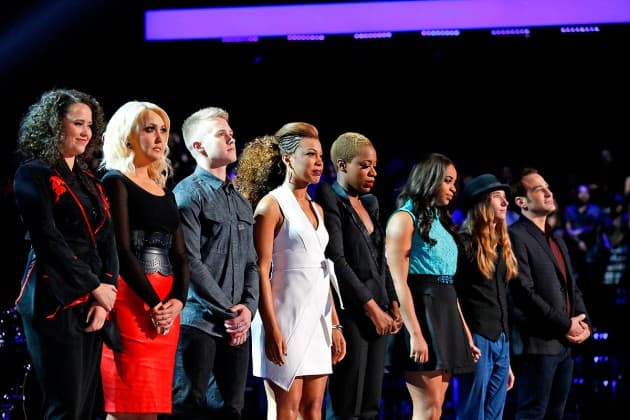 Another two contestants were eliminated last night on The Voice, as the Top 8 became the Top 6. Team Blake had to say goodbye to both Corey Kent White and Hannah Kirby last night, leaving him with only Meghan Linsey left. Luckily for Blake, she's likely to go much further in the competition, as a clear fan favorite. On the down side, Blake went from being the only coach with his team from the Top 12 still intact to tying Adam for having the least number of team members left going into the Top 6.
It was not surprise to see Hannah Kirby leave the competition last night, as her days on the show were clearly numbered. Sure, she was entertaining to watch, but beyond that she didn't have the talent required to make it any further in the show. For Corey Kent White, it was his boyish good looks and sincere personality, combined with the fact that he was the only country singer this season, that took him this far. Now that the season is reaching i's end, the contestants need more than just that to succeed. They need the vocal abilities, too, and right now, Corey just isn't there.
Rounding out the bottom three this week, but saved by America's vote, was India Carney from Team Christina. Despite having sang a fan favorite on Monday night, she landed in the bottom of the pack, which indicates that she'll likely have to do a lot more next week if she wants a chance at winning this whole thing. India doesn't suffer from lack of vocal ability like the two who were sent home this week. Instead, she suffers from lack of originality. There's nothing all that attention-grabbing about her, and as more contestants have started to shine, she's continued to do the same old thing. She needs to come out and wow the audience next week in order to get the votes to stay. I'm glad she's getting one more chance to do so, because I really do think she's talented.
Sprinkled throughout the night of eliminations were performances from Jason Derulo, Rozzi Crane, and Lee Brice (two of the three of whom I'd never heard of before last night). Contestants Kimberly Nichole and India Carney were both given the chance to sing with Jason Derulo, while Corey Kent White got one last chance to perform on stage with a star, as the obvious choice for him was to sing with country artist Lee Brice. We also got to see the contestants giving back at a local elementary school, as they tried to fill the hour-long episode with more than just results.
Next week on The Voice should be interesting, as there are one or two contestants who could easily be eliminated. India Carney and Joshua Davis are the two who need to come out strongest, as they've both landed in the bottom three now. My guess is that they'll be the next two sent home but after that, it's really anyone's game to win.
[Photo via NBC]