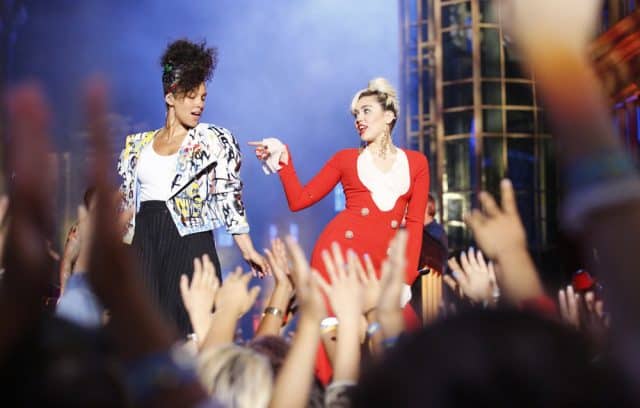 Season 11 of The Voice is shaping up to be its best season ever! Adding Alicia Keys and Miley Cyrus as new coaches is definitely the best coaching situation they've had. Granted, there's never been a bad situation in the coaching on show. Every season the people in the four chairs have had great chemistry. However, having two women coaching has created a space of insights I didn't know was missing until this season.
Guess what thought? Miley and Alicia aren't the two reasons I said you need to watch The Voice tonight. It's not just the coaches that is making these blind auditions soar. It's the singers. Just when you think the music level can't get any higher, new talent comes along and raises the bar. That's happening again tonight!
[youtube https://www.youtube.com/watch?v=psusxaie8eQ?rel=0]
This sneak peek is awesome! The harmonized sound of Whitney & Shannon is so beautiful and unique. Once again, two women have shown up on The Voice and given viewers something they didn't even know they were missing!
The big question is which of the four coaches will these two pick? If they want to be country artists coach Blake Shelton has a really good shot. I'm not sure that's the case though. Yes, the Dixie Chicks are absolutely rooted in country. At the same time, their version of the Stevie Nicks/Fleetwood Mac song "Landslide" was a top ten song on Billboard's hot 100 chart and it went to number one on the adult contemporary one. (It was number two on the country charts.) In other words, their singing the Dixie Chicks version of "Landslide" doesn't mean they want to do country.
As for the other coaches, I'm pretty sure they won't be choosing coach Adam Levine. Honestly, he didn't even seem to try that hard. It's like he loved them, but knew he probably wasn't the best fit. Miley's pitch was decent, but it came after Alicia's incredible outpouring of emotion about what these two women represent. Still, Blake's other argument – that he's the only coach to be successful with a duo – is worth considering…. Nevertheless, I'm really hoping they pick Alicia!
The thing is, if this is the sneak peek, you know that the other performances are going to super incredible as well. That's because they usually don't show what they think is the best audition of the night. So, after seeing this talented duo, I'm even more excited about watching The Voice tonight!