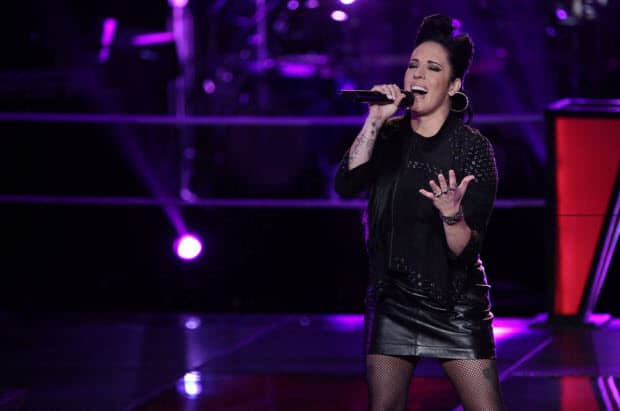 Last night, the battles began on season six of The Voice. Overall, it was a relatively underwhelming episode with a few bright spots throughout the two-hour episode. While most coaches claimed they heard some of the better battles in the six years of the show, we were left thinking the opposite, BUT it's still early so time will tell…
As for the Battles:
Round 1: Biff Gore vs. T.J. Wilkins (Team Usher) – Both guys performed a soulful version of "Ain't Too Proud to Beg". With Jill Scott serving as Usher's guest mentor, I believe this was one of the better battles of the night. I also agreed with Usher selecting T.J. Wilkins for long-term success, but I was thrilled to see Biff Gore get picked up by Blake Griffin with a steal.
Round 2: Jake Worthington vs. Lexi Lucas (Team Blake): Fresh off a steal, Shelton had his own team to judge after The Band Perry helped coach up his first two singers. Both teenagers were precious in their own right singing "It Goes Like This", but Worthington was clearly better (and has more potential). Blake made the right choice with Jake sending a teary-eyed Lexi home. (She'll be back methinks)
Round 3: Dani Moz vs. DeShawn Washington (Team Shakira): Perhaps the first coach disagreement of the night we had was when Dani Moz was selected by a regretful Shakira for pairing the two together. It was a close battle singing "My Kind of Love", but I really think (and judging by the crowd) DeShawn may have a brighter future on the show. Somewhat surprised he wasn't stolen as well.
Round 4: Kat Perkins vs. Patrick Thomson (Team Adam): "Whenever I Call You 'Friend'" was the song tabbed by Adam Levine for his duo. Ultimately, Levine chose Perkins and Thomson was stolen by Shakira. Impossible to disagree with this sequence of events. Both singers were great.
Round 5: Paula DeAnda vs. Sisaundra Lewis (Team Blake): And then there was Sisaundra Lewis, the Tessanne Chin of this season. Her performance solidified her as the person to beat right now. DeAnda really stood no chance in a battle vs. Lewis singing Lady Gaga's "Do What You Want". Best performance of the night?
Round 6: Jake Barker vs. Stevie Jo (Team Usher): The last battle of the night was his duo singing "Higher Love" to finish the show. Both guys were great and it was a stress-free close to the show as Adam Levine said he was stealing whoever Usher didn't pick. Usher went with Stevie – and all the coaches tried to steal Barker, but Levine ultimately won out.
Pretty good first round of Battles for The Voice. We're yet to see the overall talent and personalities we saw last season, but it's still early!
[Photo by: Tyler Golden/NBC]
Tell us what's wrong with this post? How could we improve it? :)
Let us improve this post!