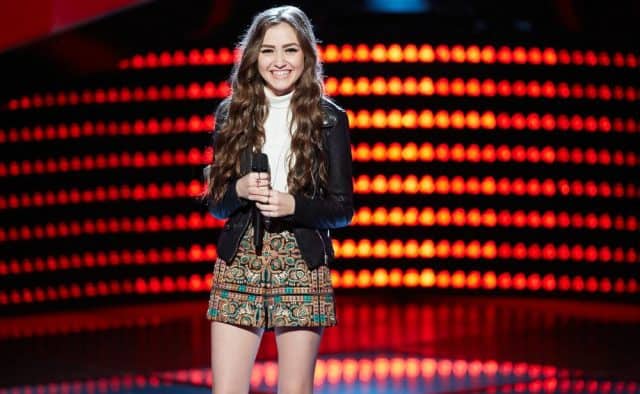 Okay, before we get into the music in The Voice season 11 episode 5 – how silly was the bit with Blake giving Alicia and Miley gifts of things with his name on it? Sometimes these little skits are too forced. Dear producers for The Voice…please stick to the little conversations about the competitions and trivial pursuit-like "getting to know the coaches" games.
Now, let's get to these singers! The teams are starting to fill up, so all the coaches are being more selective….
The Voice Season 11 Episode 5 Recap – More Blind Auditions!
Aaron Gib: Age 25
Aaron's from Atlanta, Georgia. I'm wondering if that's where he was born or where he was living when he auditioned? His father was in the U.S. Marine Corps, so they moved "about 15 times" when he was growing up. Yikes!
Aaron's dad says Aaron almost joined the Marine Corps as well. That has to be one of the most awkward family moments on The Voice, ever! Poor Aaron can't even look at his dad. Somehow, I doubt Aaron ever had planned on joining the Marines.
The good news is that Aaron's dad clearly came around to accepting, and being proud of his son's choice to pursue music.
We're very happy that he's continued to have that same level of discipline, just in something else now.
Aaron says he got passionate about music and singing at 18, but wasn't "ready to take that next step." After graduating college though, she felt something was missing. That's when he started playing out around Atlanta. Now he has gigs weekly. Listening to his version of R.E.M.'s "Losing My Religion" it's obvious why he's had some success. He's got a beautiful & unique sounding voice.
[youtube https://www.youtube.com/watch?v=rmZGPAXE0oA?rel=0&w=640&h=360]
Wow! Not only is his voice conveying a depth of soul beyond his years, but his guitar playing is excellent! Yet it sure took everyone a long time to push a button! At least that's how I felt about it. He had me rooting for him 30 seconds in. Alicia was dancing in her chair then – but not pushing her button!
Eventually, Miley, Blake and Alicia all hit their buttons at about the same time. Adam, then says he was stupid not to turn around as well. Don't worry Adam. Being you've got four guys already, viewer can see that you may be wanting to make sure to balance out your team more. You're forgiven.
Blake had better watch it with the "these two girls" bit. Miley he can maybe still get with, but Alicia is a full-grown, in her 30's married with a kid, woman. Then he follows it up with saying Miley talks too much? All the coaches talk too much – it's part of the game. It's what I mentioned in the Monday review. Singling out Miley like that too much can backfire on him – and in more ways than one. He needs especially to be careful with the younger singers. For instance, what got Aaron to pick Miley is actually what Blake was railing about.
"I went with Miley because she's definitely got one of those larger-than-life personalities. so I'm excited for her help in to make me more entertaining to watch.
All Blake did was highlight Miley as being special! Also, telling someone so much younger than him that she's talking too much will come off as authoritarian and – as Miley said – "bullying." It's not the intention – Blake has talked trash with every coach at some point. However that doesn't change the perception.
Simone Gundy: Age 26
Texas is in the house! Simone was always in choirs as a child. That changed when she became a teen mom at 15. Her son Isaiah is now ten, and "the best thing" that's ever happened in her life. She expresses a lot of gratitude for her own parents.
They had to adjust a lot for me. They empowered me to be a good mother.
Simone has built a good life for her and Isaiah. She works a solar company and still manages to do musical theatre and some gigs at local venues. Her boyfriend has added to that. He supports her dreams and hopes to marry her someday.
The song she chooses is I (Who Have Nothing) is an oldie but goodie! I have to admit, I got chills when she started that first vocal climb. Miley and Adam must have too, because they turn at about the same time (Adam buzzes first).
[youtube https://www.youtube.com/watch?v=GIYCYiivgPk?rel=0&w=640&h=360]
After they turned, I think she got overwhelmed because she loses some vocal control for a few seconds, but it doesn't matter because she's in!
Miley is really good at pitching and Blake's attempt to say the suit means he's a corporate person. However, I think she came on hoping she'd get Adam. Her son says he told her to pick Adam, her Dad seemed happy that Adam turned as well. Adam's team needed more women on it, and he's worked with a number of singers that fall into a similar musical genre as Simone. Plus. Miley doesn't need another female r&b/gospel/soul singer. Her team is stacked with them.
Samantha Landrum: Age 22
Samantha is from Laurel, Mississippi and her family owns and runs a re-enactment of a settlement from the 1800's. It's a big spot – over 70 buildings. Samantha does all kinds of jobs there, from scooping ice-cream, to being the entertainment with her singing.
I hate to say this, but it felt like she was doomed before she started. Her family clearly wasn't ready to let her go out into the world. The grandfather actually says this:
I'm okay about her leaving for The Voice as long as she can come back.
Yikes! Can you imagine stepping out on stage with those words in your head? She chose the Shania Twain song, "Man, I Feel Like a Woman."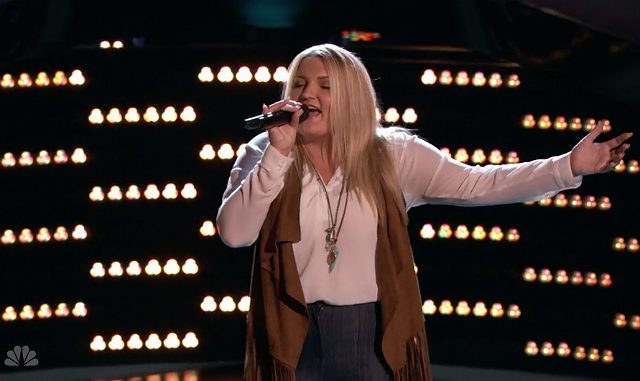 Samantha has problems with the lower register, but is fine in the chorus. Adam and Blake hone in on that immediately. (I think if she'd had transposed it just a half-step up she probably could have nailed the pitch….)
It's Miley's critic that really gives Samantha something to work on.
One thing for you to work on: I couldn't feel your energy. And now I turn around and you're totally. genuine country. I think maybe the nerves made you sound safer instead of having attitude and – next time, let that big personality, that woman power, come through, come through in your song.
There is so much insight in that short assessment! More than the fact that she started too low, this is really what was missing. Miley's given her much to think about….
Afterwards, coaches get together backstage to talk about how the blinds are going. There's a brief moment with Alicia's little free-styling moment riffing on being "Daggone good" with Blake and Adam. More things like this please!
Josh Gallagher: Age 25
Although he's originally from Pennsylvania, Josh now lives in Nashville, Tennessee. Growing up he dreamed of playing professional baseball. After his college academics ended his baseball dreams he turned to music. It's a "fear of failure" from that experience that he says drives him to succeed in music.
Josh does mostly country music, but is open to working with anyone. He sings "Stay A Little Longer" by the grammy-nominated country artists Brothers Osborne.
[youtube https://www.youtube.com/watch?v=eSF8bbKIj9k?rel=0&w=640&h=360]
Josh's performance gets Blake and Alicia to turn. What's hilarious is Adam and Miley talking about the trauma of going against Blake when a singer does country music. They try to convince him to go to Alicia. Alicia talked about how soul, the blues and country are all related (very true!) She said music doesn't belong in a box. However, Blake's pitch is a great counter. He uses his own story of moving to Nashville to become a country artist. Then, building on that, he says that country music is the box he loves and he wants to help the "next generation" of country artists. Sold! Josh chooses Blake.
Gabriel Violett: Age 28
Eight years ago Gabriel dropped out of college to be a part of the original production of the show "Spring Awakening" on Broadway. At the time, the Missourian thought the rock musical was a great start of his music career. Instead he found himself building a career as…a onesie fitting model! He feels like The Voice is his last real shot. He's hoping a coach can help take him out of his "musical theatre head space" and turn him into the "pop star" he's always wanted to be.
[youtube https://www.youtube.com/watch?v=Mf4h01lQIXw?rel=0&w=640&h=360]
When Gabriel starts out, he does sound like a pop/r&b singer. You know, like a cross between The Backstreet Boys and Drake. Alicia hit her button almost immediately. However, then you can hear what he means about that "musical theatre head space." It's after that last note, which has a touch of a country wail to it, that Blake buzzes in as well.
Miley immediately pitching for Alicia is cute. Adam chimes in as well. Clearly that brief time where he pitched for Blake was a one-off! Alicia asks him what he wants as an artist and he says "pop/r&b" – but with his own twist that he wants to figure out. (At least he knows that twist isn't a musical theatre one!) Blake tries, but Gabriel chooses Alicia.
Darby Walker: Age 17
Darby was on the Olympic addition of The Voice, so we know she sings the Florence and the Machine version of "Stand By Me," gets everyone but Adam to turn and chooses Miley as her coach. Her background is that she's from Atlanta Georgia, but the family moved to Burbank, California when she was nine.
[youtube https://www.youtube.com/watch?v=Elhjzb14fAI?rel=0&w=640&h=360]
Austin Allsup: Age 32
His name is Austin, but he's from Fort Worth, Texas. His dad is Tommy Allsup, a well-known country guitarist and country music producer. In particular he played with 1950's rocker Buddy Holly and lost a coin-toss the night of that fateful crash that killed Holly, The Big Bopper, and Ritchie Valens. Another interesting thing is that Austin played a show with Blake eleven years ago! That was playing, not singing, though.
Austin does the Rolling Stones classic "Wild Horses." It's a strategic choice for him. He was singing it when he met his wife and The Rolling Stones is her favorite band. It's an emotional touchstone for him to tap into.
[youtube https://www.youtube.com/watch?v=7Ao3IAOwHJU?rel=0&w=640&h=360]
Blake is the only one that turns – basically because the other coaches all figure he wants Blake so they didn't bother! Each of them have good things to say about his voice though. What was really sweet was how emotional Austin's Dad got when Blake turned. Seeing his son chosen by Blake clearly meant a lot to him.
At this point the show does a montage of two artists that made it onto Blake's team. Christian Fermin is a pop artist while Preston James is pure country. Blake competed with Miley for Christian, but, just as with Austin, Blake is the only one that turned. Backstage the talk between the four coaches let us know to expect a battle for a country artist between Blake and Miley.
[youtube https://www.youtube.com/watch?v=iIfDkRXP8uE?rel=0&w=640&h=360]
Khaliya Kimberlie: Age 16
The first things Khaliya wants you to know about her is that she lives on the Mescalero Apache Indian Reservation in New Mexico and that she's half Native American.
My dad is full-blooded Apache and my mom is Caucasian and Cherokee.
When I heard that I had the immediately thought, "That's more than half." That's irrelevant to her story though. Her mom could be more Caucasian than Cherokee and she's identifying with her father's Apache side.
Khaliya says she's still learning about her culture and that doing so is important to her. The other component to her identity is that she's gay. Her parents were completely accepting of this. (Historically, Native Americans were unfazed by homosexuality – although there was a period where Christian western culture influenced their views on it.)
The support she's gotten in from her parents also extends to her music. Khailya loves country music and her parents would drive her to perform on and off of the reservation. She's singing "Dibs" by country music artist Kelsea Ballerini
[youtube https://www.youtube.com/watch?v=oFlPapH6Xck?rel=0]
Khailya picks Miley because she "said all the right things." Personally, I think Blake lost this one the minute he started attacking Miley for talking too much. Blake doesn't realize that a teenage girl is going to identify with Miley. So when he starts saying Miley is talking too much and "sucking the oxygen out of the room" it's likely a real turn-off. What girl wants to work with a man who tries to shame a woman for being passionate and enthusiastic?
Cooper Bascom: Age 22
Cooper is from Rochester, New York but now lives in Salem, Massachusetts. He grew up in a musical family, but they all play instruments. He plays piano and guitar, but realized he prefers singing. This is his first big thing after just graduating college with a degree in music. He does "I'm Gonna Be (500 Miles)" by The Proclaimers.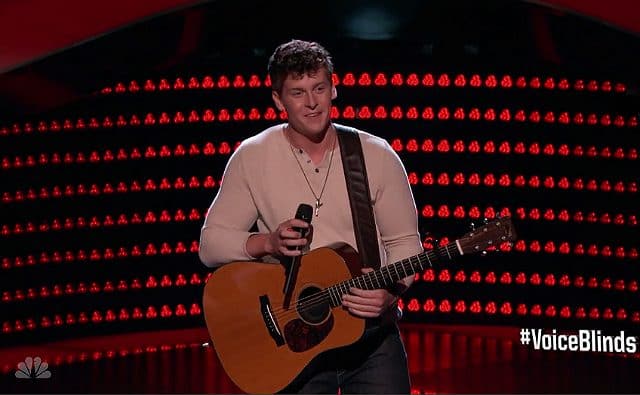 If Cooper had gone earlier in the blinds he might have made it on. Adam actually says one reason he might not have pushed his button is because of what's already on his team. Miley liked his version of the song, but says the timing got off in the second half. Blake agrees.
That's when Adam takes the audience to task for being off on their clapping! That, was funny! It also makes me wonder what came first: Cooper getting off tempo, or the clapping being off?
Adam tells Cooper he should come back next year.
Halle Tomlinson: Age 18
Born in Texas, Halle was on the kid's show Barney as a little girl and her parents owned a dance studio. When her parents lost the studio and then got divorced her mother remarried and they moved to Boulder, Colorado. There she got hired on to work at The School of Rock. Hallie cites her mother as her biggest fan and supporter. She does one of my favorite songs: "New York State of Mind."
[youtube https://www.youtube.com/watch?v=RsrCmGiq6jM?rel=0]
Alicia describes Halle's voice as "an instant, recognizable signature." Adam's comment about how the original was a big powerful vocal but she that she "took a totally different approach" puzzled me. The original was done by Billy Joel, but the contemporary jazz covers of this are many – and her stylings of the song reflect those. Then Adam starts talking about some things she needs to work on. Hallie picks Alicia. Of course, she had Alicia in mind to begin with, but Adam did himself no favors!
Nolan Neal: Age 35
Nolan is a returnee to The Voice. He's from Nashville, but in season 10 he didn't get a chair turn. At that time, Adam took him he had great vocal qualities – but that the song he was doing wasn't right for his voice. Even more than that part of things, Nolan was amazed at how many people wrote and emailed him in gratitude for sharing his life story. They were inspired by his overcoming the tragedies of his father's suicide and his own journey of getting sober.
Nolan is again here with mom. However, this time he's also brought his young son. The song he's doing? "Tiny Dancer" by Elton John – with his own spin. He gets a four-chair turn!
[youtube https://www.youtube.com/watch?v=FX5C8A4kC1g]
Really, no one but Adam was going to have a chance. Not only did he pinpoint Nolan's issue last year, but who could top Adam's opening pitch?
You're gonna to be the first guy who went home last season and who won this season.
There's a bunch of back-n-forth before he chooses Adam.
The Voice Season 11 Episode 5 Wrap Up
Well, this is getting close to the end of the blinds. It still feels like the first half of them had more of the stronger contenders for the top 12, but there were some gems. Here are a few things that stood out for me.
Austin Allsup will likely pull the country vote. Then with Nolan Neal, there's the whole comeback story angle. Will Adam's words be prophetic? I think he'll definitely make it to the live rounds because not only is his story great, but he was able to incorporate Adam's ideas from before. Being teachable is just as important as talent.
I'm also curious to see what Miley is able to do with Aaron Gibbs in terms of stage presence. Aaron thinks his issue is about being "interesting to watch." It is, but it's not about adding bells and whistles. He needs to open to his feelings and gain a willingness for them to be seen. This would mean no more looking at the floor while Dad talks about how he almost joined the Marines…. If Miley can get him to really own his emotions and be authentic – no matter how messy – he could be a contender.
I loved Halle Tomlinson, but this young lady isn't r&b – she's contemporary jazz. I could see her opening up for Norah Jones (and I'd buy that ticket in a heartbeat.) Now, that's a fabulous career – but I have a hard time imaging that sound winning The Voice.
Finally, I'll be keeping an eye on Khaliya Kimberlie. She's got that top forty pop star sound and a unique background. All of the different elements in her story are intriguing. Plus, I kind of feel like the world has reached the tipping point that's ready for a lesbian teen idol. She could be it!