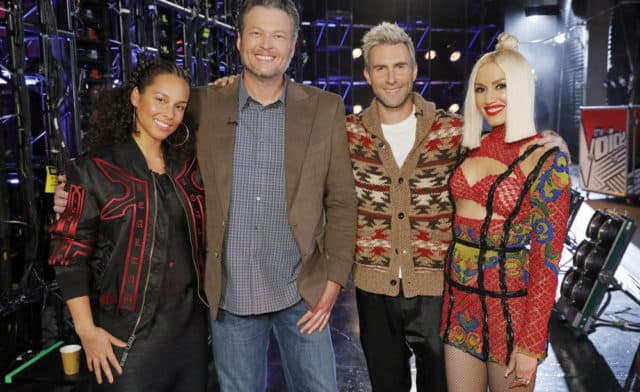 Night one of The Voice season 12 battle rounds had some great duets! The battles being what they are though, some singers did go home. There were some steals, but not nearly enough!
Battle 1. Team Blake: Lauren Duski vs. Brennley Brown
Blake's first battle is between 25-year-old Lauren Duski and literally just turned 15 Brennley Brown. As soon as Blake mentions diction to Brennley in the coaching I had a feeling she'd be the one to lose. Brennley has a beautiful tone to her vocals and a ton of power, but emotion was garbling some of her words during the blinds. Lauren's got more experience and a huskier – but similar – pop/country-style. Blake picks, "Better Man" by Little Big Town which is a great song for them both.
Winner: Lauren
Stolen: Brennley
Brennley got stolen by Team Gwen. Being that Gwen wanted to work with young Brennley even back in the blinds, this isn't a surprise. Even thought Gwen isn't a country singer, if you think about the song "Don't Speak" by No Doubt, that wailing angst-ridden pop song shows that Gwen is likely a good fit. Aside from general stage presence and fashion tips, She can work with Brennley on making sure the 15-year-old nails the words along with big soaring notes. Brennley is a natural for powerhouse pop ballads, and Gwen could be the coach to make her a real contender.
Battle 2. Team Gwen: Kenny P. vs. J. Chosen
This match-up seems set up to favor Kenny P. because it's a rock-edged song. Never-the-less the super smooth and soulful J. Chosen holds his own. Kenny is great in the song – until he goes off-key at one point. Up until then it was a tough call. I was kind of hoping for different outcome to set up another steal. Gwen said she was choosing with her heart, but I think that moment sealed her choice.
[youtube https://www.youtube.com/watch?v=MPn6cQHJsPE?rel=0]
Winner: J. Chosen
Eliminated: Kenny P.
Is it just a coincident that these two singers both have an initial as part of their name? It seems as likely a factor in their pairing as anything else.
Battle 3. Team Alicia: Anatalia Villaranda vs. Missy Robertson
Missy's voice is powerful, a serious rocker chick sound with incredible nuances. Anatalia also has a big voice, but she's a pint-sized powerhouse with fantastic stage presence and rhythm as she moves around the stage. Both of these performances were awesome!
[youtube https://www.youtube.com/watch?v=6j6JaU5uTDk?rel=0]
Winner: Anatalia
Eliminated: Missy
What a tough call! I was really hoping for a steal! Sometimes I feel like it's tougher for heavier women than for the big guys on The Voice. Of course, that's Hollywood in general.
One thing Anatalia will need to work on moving forward is diction. It wasn't a noticeable issue in her blind audition, but for this some there were some points where the words get lost. I'm not sure if it's age related or just a matter of training and experience, but over various seasons many of the younger singers seem to have this issue.
Battle 4. Team Adam: Mark Isaiah vs. Gaby Borromeo
Gaby and Mark are two of the best singers on his team, and in the competition in general. I could have seen either of them winning the entire thing, so naturally, Adam pairs them. Darn it, Adam! The song is "Pillowtalk" by Zayn Malik – yes, from One Direction. Choosing "Pillowtalk" suggests Adam was leaning towards Marc over Gaby from the get go. Maybe he didn't want two great pop singers? Whatever his rational, this one was a heartbreaker!
[youtube https://www.youtube.com/watch?v=HQZWjs2Rv3I?rel=0]
Winner: Mark
Eliminated: Gaby
Last season I thought Adam had finally gotten over pairing the top talent on his team. Wrong. That modus apparatus is back. Sometimes I think he does it to spread the wealth of talent, but it's always a gamble. because there isn't always a steal – like this time. All coaches will occasionally do a pairing where they really wish they hadn't. (As opposed to those times when they say a decision is "so hard" and they "wish they'd never paired the two singers – but it's obvious they expected the outcome they got.) Adam though, I swear, just about every season he dumps some of his best wins from the blinds!
Battle 5. Team Alicia: Felicia Temple & Quizz Swanigan
13-year-old Quizz up against the 28-year recent cancer survivor Felicia. Despite the age difference this was a smart matchup because both singers got onto the show doing classic songs. Quizz sang the 1969 hit "Who's Loving You" by Michael Jackson, while Felicia did "All I Could do was Cry" – a signature piece by Etta James from 1960. Alicia had them go more modern. Their battle song was 2011's hit sung by Sia, "Titanium."
Winner: Quizz
Stolen: Felicia
This felt like a strategic choice by Alicia because this was a battle impossible to call! As Adam said:
Felicia, the only thing you don't have going for you is that you're not 13 years old.
However, Blake really fought for Felicia in the blinds and he didn't have anyone like her on his team. Also, his assessment of the battle sounded like another pitch for her. Gwen said she would have chosen Quizz, but she has J. Chosen, who is in the same male r&b lane. To keep both singers on the show, it was smarter to keep Quizz and hope Blake would steal her – which he did!
Battle 6. Team Blake: Casi Joy vs. Ashley Levin
One reason Blake has won more than anyone else on The Voice is that he think about the game more. He advises both singers that the point of the battle is for them do together do a performance so incredible that the coaches will want to steal whomever loses. More steals from his team keeps more country artists on the show in general.
Winner: Casi Joy
Stolen: Ashley
All three coaches tried to steal Ashley! She ended up choosing Team Alicia. It's interesting that Ashley didn't pick Gwen. I suppose Gwen talking about how new country music was to her may have backfired. Also, Alicia pitched to Ashley about discovering what Ashley wanted to give to the world musically which made it more about Ashley.
Night one of The Voice season 12 battle rounds: The Wrap Up
That's it for night one of The Voice season 12 battle rounds! Out of the six battles presented, three ended up in steals! Still, the ones that went home will be highly missed. Did your favorites make it through?
The only coach that didn't use a steal is Adam. Adam also gets the prize for the most shocking elimination: Gaby Borromeo. Basically Adam paired the best female pop/r&b singer with the best male pop/r&b singer on his team. Why he so often does this to himself (and viewers) is a mystery!
Both of Blake's artists got stolen, while one of Alicia's did. (It's like Blake and Alicia just swapped singers!) It will be interesting to see how many of the artists from the various teams end up getting stolen because it can effect the overall makeup of what we end up hearing during the lives. Will it be heavily loaded in one genre or will we get a good mix? (Unlike the season 11 finale performances….) Stay tuned!