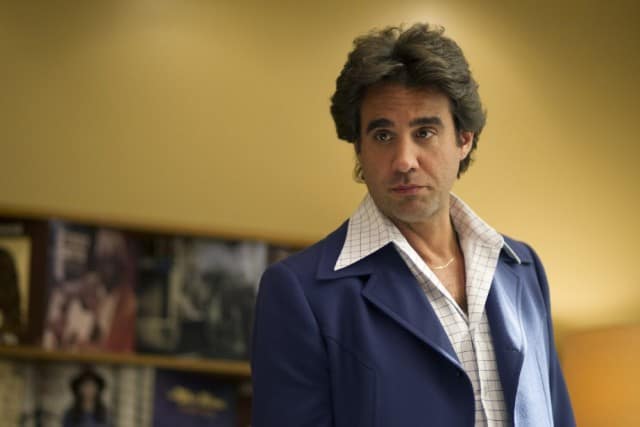 While Vinyl hasn't matured fully into the aural powerhouse that it has the potential to be, the excess of the pilot has already worn off by episode three. "Whispered Secrets" is co-written by Banshee co-creator Jonathan Tropper and shares in that series' ability to find the quickest route to sheer entertainment within an hour of story. Some sub-plots and secondary characters are obviously still finding their feet, but the use of someone like Alice Cooper is this episode is integral to showing off what Vinyl can do with such strong source material to work with. With few exceptions, the action is fun, the dialog is sharp and the camerawork is considered, all of which continues to be led by Bobby Cannavale's strong central performance as Richie Finestra.
With a series so intrinsically tied to musical structures, the plotting of Vinyl is one of most interesting aspects to trace. The pilot, which felt bloated even with such a long running time, came off chaotic–more like jazz than rock, and not necessarily in a pleasingly aesthetic way. Last week's "Yesterday Once More," though, knew exactly how to go from point A to point B and where to begin and end its story (closing with Richie visiting Lester gives me a lot more hope that the writing crew knows the strength of that material compared to the other stories running parallel to it). "Whispered Secrets" is almost as tight and places its points of satisfaction and climax rather well, maybe with the one major exception being the final sequence. The murder plot still feels so unnecessary as a plot device to inject empty drama, so letting that phone call be the final note instead of Richie realizing that, yeah, Jamie's found an up-and-coming gem of a band that's worth signing seems counterintuitive to emphasizing the more engaging parts of these early Vinyl episodes. We care much less about the superficial impediments to Richie's journey towards success with his label than we do about seeing those milestones and letting them resonate. This might seem like nitpicking, but that last minute really has a "Yeah, we'll just keep pushing the possibility of Richie's arrest and set it to an appropriate tune to close out the episode" vibe that screams Mad Men more than what Vinyl is trying to be.
Still, other moments sing, and the Alice Cooper stuff is especially satisfying. Unlike the use of Robert Plant, Cooper's presence is meaningful to the show's themes in showing a deeper understanding of the interplay between music acts and people surrounding them, trying to cash in on whatever they can. Cooper is coming off the immensely successful Billion Dollar Babies, opening the door to the plausibility of going solo. That Clark is completely in the dark about Cooper's history with Richie leads to the most comedic scene in the episode, but the audience is also able to pick up on the irony of the situation and that Clark might actually be better at his job than he appears, since Cooper will be going solo within the next two years of when the show takes place. Vinyl has to use real-life people effectively to make its material believable, and that's exactly what's done here.
Where the structure is coming up flat is in how it continues to use cuts between the past and present–a device that, I guess, is just something the show really wants to do for whatever reason, despite being able to achieve the same effect without it. Having flashbacks to explain back story is kind of cheap overall, but in moderation, it can be done well. Vinyl, like a bunch of other contemporary series (Arrow, the guiltiest of them all), has unfortunately settled into relying on the device too much. It's not disorienting or anything, which is certainly a possible pitfall, but it's just unnecessary when the story that's happening now has enough going on to keep the viewers' interest.
At this point, Vinyl has three story arcs that coming together in positive ways rather than just taking up screen time (which, sadly, has been what most of the Devon scenes have been doing): Richie's succumbing to his addictions to help him get through such an extraordinarily stressful period of his life, Jamie trying to stay one step ahead of everyone to give her a better shot at upwards mobility within the company and Lester now being faced with the tragedy of his personal past making him second-guess the decisions he made regarding not performing again. Those three characters have been totally watchable, and each has shown hardheadedness that would be way too unattractive if it weren't for the fact that they all genuinely care about what it is that they're doing. The strongest moment in "Whispered Secrets" is seeing Jamie throw that bottle at Nasty Bits and running out into the hallway so that Richie can hear what she hears. Things might not always be pretty in Vinyl, but they have a way of coming together.
B-Sides:
Thanks to Randy for stepping in for last week's review! Critical response still seems a bit unenthusiastic, but there's at least an upward trend in the quality so far.
The solo album that Cooper will go on to do is Welcome to My Nightmare, which is, in my opinion, his best one. How great would it be to see a live version of "Only Women Bleed" or "Steven" in the show? At least we got to see "I Love the Dead" in rehearsal.
That Kinks cover is so hard to sit through for all the reasons that it's trying to be.
Andy Warhol has been an intriguing and inscrutable addition to the supporting cast. Devon visiting him to get her painting signed is one of the few Devon scenes that has any weight thus far.
Jamie's quick decision-making is fantastic. Taking the fall for pushing Nasty Bits in the wrong direction and knowing immediately that everyone has to get out of that basement show an endearing immaturity about her character.
Vinyl Season 1 Episode 3:
Summary
While Vinyl hasn't matured fully into the aural powerhouse that it has the potential to be, the excess of the pilot has already worn off by episode three.