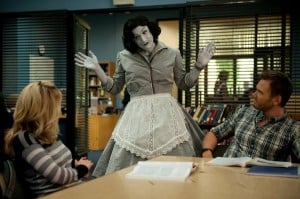 I think Dean's costume definitely has joined the ranks of being one of my favs. Dressed as a housewife from a black and white TV show was amazing. The costume, the hair, THE MAKEUP!!! How has Dean never appeared on RuPaul's Drag Race or why hasn't Community done a Drag Race spoof episode for Dean?
Dean had the amazing idea that Greendale needed a dance so he decided to have a gold ol' fashioned sock hop. Britta wanted no part of it and decided to hold her very anti-Sadie Hawkins dance; a Sophie B. Hawkins dance. Yes, that Sophie B. Hawkins.
Awake shoutout?!?! Thank you Community writers for that and damn you NBC for cancelling it!
Annie and Shirley thought they could set Abed up with someone, which they did, but Abed didn't tell either of them that he took both girls to the dance. Annie set him up with a quirky girl who was legitimately crazy, while Shirley set him up with a lovely girl at his church.
During his caper, Abed met Rachel who helped him out with his latest hijinx and they had a near kiss moment, but felt that it was too early in the episode to do it. Rachel by the way was played by Brie Larson from United States of Tara. Man I miss that show. Damn you Showtime for cancelling it.
DAYUM! Sophie B. Hawkins actually showed up to the dance… with the help of Pierce and his trusty moist towelettes.
Aw look, Rachel and Abed may become something. But will Brie Lawson appear in another episode or will she end up in the same part of school that Zack Pearlman (he played Archie on the last episode of Community) is currently hiding out in.
Next week… IT'S THE PUPPET EPISODE AND THEY'RE SINGING DAYBREAK!!! YAY!!!