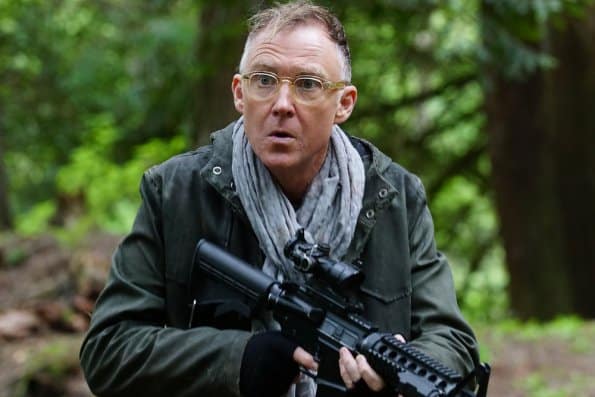 Vincent Gale has been acting professionally for longer than some of his fans have been alive. The talented actor has had the kind of career that many actors can only dream of. Over the years, he's built a resume that can rival just about anyone's and he has shown that he can play almost any kind of character in any genre. Even if you aren't familiar with Vincent Gale by name, there's a good chance that you've seen his face in something you've enjoyed. Whether a movie or a TV series, Vincent always knows how to put on a show that won't soon be forgotten. 2021 has been a relatively quiet year for him, but we know we'll be seeing more of him in the future. Keep reading to learn 10 things you didn't know about Vincent Gale.
1. He's Scottish
At this point in his career, Vincent has been in so many American productions that a lot of viewers in the United States have probably assumed that he's American. In reality, though, Vincent was born and raised in Scottland although there isn't much information on his upbringing.
2. He's A Formally Trained Actor
Acting is a very competitive industry and even the most talented actors have to work hard to stand out among the competition. For many actors, going undergoing training is the perfect way to give themselves a bit of an edge. Vincent studied acting at the Royal Academy of Music and Drama in Glasgow.
3. He Has Nearly 130 Acting Credits
Remember when I said that Vincent's acting resume could stack up to almost anyone's? I wasn't exaggerating. Over the course of his career, Vincent has earned 127 acting credits. In a business where the next role is never guaranteed, that level of longevity and consistency is certainly something to be proud of.
4. He's Very Private
Vincent loves the fact that he gets to do what he loves for a living, but being famous isn't something that he's ever been obsessed with. Instead, Vincent prefers to live a quiet life and he isn't one to put his personal life on display for the public. Choosing a private life has probably helped him avoid a lot of drama.
5. He's Married
Despite the fact that he's very private, we do know that Vincent is happily married. He and his wife, Jennifer Clement, tied the knot in 2000. Jennifer is also a professional actor, however, most of her focus has been on theater. It's unclear whether or not the couple has children.
6. He's An Award Winner
No matter how popular an actor is, the legacy of their career will be measured by how many awards they've won. Needless to say, even the most humble actors love knowing that they're being considered for major awards. So far, Vincent has won two awards with the most recent being a 2019 Leo for Best Supporting Performance by a Male in a Dramatic Series.
7. He Has Theater Experience
Not only does Vincent have a very impressive on-screen resume, but he also has a lot of experience on the stage as well. In fact, theater is his first love and he loves being able to return to it at as often as possible. There's something extra special about being able to perform in front of a live audience.
8. He Has A Twitter Account
Vincent isn't the kind of actor who has invested a lot of time and energy into his online presence, so some people may be surprised to know that he has an account on Twitter. While he may not be the most active user on the platform, he does tweet every once in a while and occasionally he'll respond to fans.
9. He's Grateful For Every Opportunity He's Gotten
Being a professional actor can be a very grueling job, and Vincent knows this from first-hand experience. Even though he's managed to find a good amount of consistency, he still appreciates all the work he gets. He told Straight, "I feel very fortunate but it's a lot of work. This business is hard but it's what we signed on for…It can all stop in a second if you don't keep the hustle going. There are so many actors.:
10. How He Got Into Acting Is Unclear
There are lots of actors out there with great stories about how they decided they wanted to start acting. Unfortunately, when it comes to Vincent, we weren't able to find any information on what made him fall in love with acting or why he decided to get into the business.
Tell us what's wrong with this post? How could we improve it? :)
Let us improve this post!