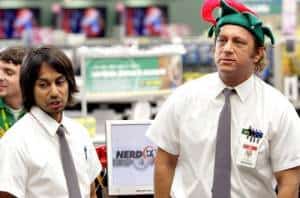 They're everyone's favorite fictional rock band and the least productive employees ever. Yet that's why we love Chuck's Lester Patel and Jeff Barnes. Yesterday, the two men behind Lester and Jeff, Vik Sahay and Scott Krinsky, spoke to us about the upcoming Halloween episode ("Chuck Versus The Aisle of Terror") and the experience of being Jeffster.
You two have come a long way after four years. You've gone from being the background characters to having major parts in episodes, not to mention Jeffster. What has it been like taking that journey with these characters?
Vik Sahay: It's been an absolute thrill ride. It's been an interesting exploration of these two characters for me personally.We've kind of emerged through this band and as this twosome as like the Odd Couple, and I guess the word odd can be applied in many different ways to us. In my mind we're kind of following a long line of mismatched duos in entertainment, from Neil Simon's Odd Couple to Cheech and Chong to Gene Wilder and Richard Pryor – Scott likes to say Lenny and Squiggy though I'm not very versed in that – Mork and Mindy, Batman and Robin, Beauty and the Beast.
But for me, forgive my perhaps romanticized theatrical background heart – and I've not even said this ever to Scott – I see us really as Vladimir and Estragon from Waiting for Godot. Because I feel that yes we become a bigger part of the show but we kind of exist in our own void, in our own world, our own show if you will. And we're just it feels like we're occupying time. We're waiting for some kind of divine intervention. And to pass the time out of that kind of existential void I feel like we attach to the minutia of our lives with life and death passion and panache. Like, to build a bridge to the Halloween episode, we're asked to take care of a certain aspect of the Halloween for the store. And we put everything we have into it. And the actor in me kind of always asks "Why? Why do we care? Why are we doing this? What's our motivation?"
Are we afraid of being fired? Not really. Do we care about the store? Not really. Are we trying to impress somebody? Maybe. Lester certainly has that end of him in him.But the real answer seems to always be just because it takes up our day. You know, in the same way Vladimir and Estergon play word games and hat games while waiting for Godot, so too does it feel like we're occupying our time. And I think of that that involvement in the show it's almost like we've created a bubble around ourselves. We have our own circle of a world with our own tree that's maybe growing leaves like in Godot. And so it's been kind of amazing journey in terms of creating this separate world for Lester and Jeff for me anyway.
Have you thought at all about where you'd like these characters to go? Especially now that you have an additional eleven episodes?
Scott Krinsky: I love when Jeff gets to sort of be involved in the spy storyline without obviously knowing that he's part of that world [like] with the couch trip in the last episode. I find it fun to be in those kinds of storylines. And it's fun exploring a little bit of our personal lives outside of the Buy More.
Certainly more Jeffster is great. I think that there's a lot of great stories to be mined with Lester and Jeff as we continue on. And hopefully there's a little bit more Jeffster down the road for everyone.
Vik Sahay: I hope if there is an emergence into the spy world, it'll be nice for Lester if it wasn't just him being the eighth person that finds out and then kind of joins the team in the same capacity. I think there's more interest for me in if there's a difference in where we go in the spy world.
One of the things that Scott and I talk about is the exploration of the development of the band and to see more of kind of the backstage shenanigans. That might be an interesting element. But that just might be a separate show.
We've learned some about Jeff's backstory in one episode ("Chuck Versus Tom Sawyer"), but we haven't learned as much about Lester. Vik, do you have an idea of Lester's backstory?
Vik Sahay: I have a notebook filled that I don't like to talk about. I think he comes from a very well to do family but a family they were jetsetters and traveled the world. The influence on him was one of neglect and trying to win love and trying to prove himself. His insides are broken and there's a pursuit of trying to prove himself to his mother. And hence he goes about things in an overly heavy handed way. He tries too hard. He pushes too hard.
If only he would kind of just gentle down you could maybe see that he's actually got a very delicate soft inside. And that's kind of where I lead from that his kind of snarkiness, his nastiness, his anger is a shell that's covering a place in him that's very, very wounded. And that's kind of where I push from off of him.
I actually find it kind of exhausting to play him in a true sense because he's got this engine of rage that before I come into work I have to kind of turn on and build up and then keep going for however long we're shooting. Sometimes it's days in a row and it's anger that I myself don't actually have. Because I don't let it down, many in the cast would assume I do.
So that's where I think he's coming from. You know, without getting into too many of the specifics in my notebook, I think that he's got an incident or a few incidents in his past where there's a missed something in his upbringing. And he's kind of trying to scream at the world and say "Look at me, look at me." Almost raging now at a world that he sees as hating him.
Were you two ever to get a spinoff, do you have any ideas on what you'd like that to be?
Scott Krinsky: I always thought it would be really interesting to take our characters, their work together at the Buy More, and to make it another sort of modern day telling of the Odd Couple with Jeff and Lester because they are so different, such opposites. And I think there'd be a lot of fun seeing them as roommates and seeing what sort of keeps them together. How they would live together and their job pursuits. I think that there's a lot of comedy to be mined out of that.
Vik Sahay: Maybe it would be like the Odd Couple but on the road doing gigs as Jeffster. The Odd Couple in the van.
Scott Krinsky: We would we just live in our van across the country. Have an RV or something.
Vik Sahay: That's what I'm saying. the Odd Couple in the van doing these tours. But I don't know who would be Felix. Are either of us particularly that organized? I don't know. We'd have to find different opposites of which there are many.
Our thanks to Vik Sahay and Scott Krinsky for a great interview. "Chuck Versus The Aisle of Terror" airs Monday at 8 PM ET/PT on NBC, and we'll have a recap and review thereafter.

Tell us what's wrong with this post? How could we improve it? :)
Let us improve this post!