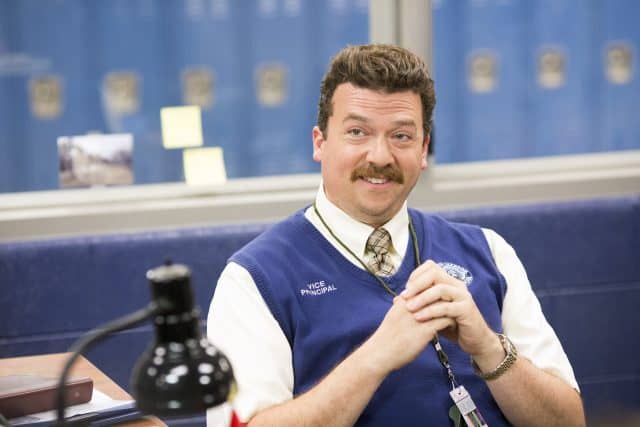 Now in its fifth week, Vice Principals seems to have finally found a groove and is churning out consistent story and laughs in each episode. The cringe has toned down considerably, and the humor finds its way into more and more situations. While obviously still not for everyone, Vice Principals has figured out how to use its cast to achieve its own ends. With such a strong cast, "Circles" should mark the beginning of a strong second half of the season.
This week on Vice Principals: Gamby struggles when Dr. Brown makes him tone down his discipline, and instead "talk it out" with students. Russell, meanwhile, struggles with an obnoxious neighbor who is much larger and stronger than him. The two vice principals let their other issues put a strain on their partnership.
I think Dr. Brown had a point. Gamby definitely needed to tone down the discipline. Or at least stop swearing at the students all the time. I mean, I usually air on Gamby's side of the "insolent teenagers" discussion, but some of his rants and disciplinary tears could get excessive. But, all of that led to some really hilarious stuff in the "safe space". McBride works best when has great foils, and Russell and Belinda Brown both work really well for Gamby.
Of course, the biggest change elevating "Circles" over the previous episode was the prominence of Walton Goggins. Goggins has taken a backseat to McBride for much of the season so far. But Russell has a lot to offer, and the show is better when Russell and Gamby are together. "Circles" was very much a bump in the road for their blossoming bromance, and was altogether extremely funny.
This episode taught us that Gamby and Russell are extremely different, but also strikingly similar in several areas. Their personal lives are a mess, and they're both extreme and take things too far. Which can be disconcerting, but works well for this show.
As always, here are some of my favorite quotes/moments from the episode:
"Put your eyebrows down. Calm down."- Belinda Brown
"You don't want to tussle with Lee Russell, cause I have the muscle."- Russell
"We sit around on bean bags and discuss the flavor of young boys penises?"- Gamby
"First of all, I'm not G Dayshawn."- Gamby
"Did you just make that up?" "You should sign up for creative writing."
"What are we gonna talk about" "My feelings" *punch*
"F*** the Fine Arts Department"
(No ill-will intended to any fine arts departments, of course)
This wasn't the funniest episode Vice Principals has done, but it really set things up well for the remainder of the season. And still, it was really funny. With Russell integrated more, this should be an entertaining season to the end.
What do you guys think? Did you enjoy the episode? Let us know in the comments!
Vice Principals airs Sundays at 10:30/9:30c on HBO
Tell us what's wrong with this post? How could we improve it? :)
Let us improve this post!