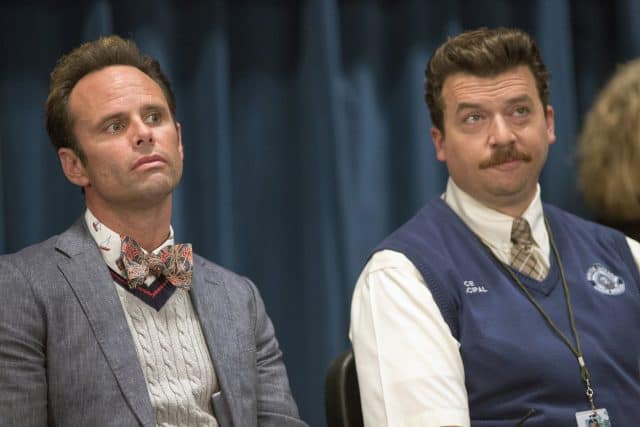 Welcome to Vice Principals reviews! Even though co-creator Danny McBride said there will only be 18 episodes, as he wants to tell a complete story (and no more or less), that doesn't mean we can't enjoy the ride together. So far this show is fun, and I'm really excited to see what's to come.
This week on Vice Principals: The current Principal of North Jackson High School (Guest Star Bill Murray) is stepping down to take care of his ailing wife, so the two sitting Vice Principals Neal Gamby (Danny McBride, Eastbound and Down) and Lee Russell (Walton Goggins, Justified) both expect to receive the job. Instead, they are shocked when the school board brings in an outsider.
I was excited about this show from the first preview. I always (okay, ALMOST always) enjoy anything with Danny McBride in it, and Walton Goggins seems like a guy with no limits. The combination of the two was bound to be funny, and I was not disappointed. The first episode was bogged down a little bit with exposition, but I'm certain that things will speed up and get going as it moves along.
I didn't dislike much about the premiere episode, so the only thing that I'll mention here is the awkward humor surrounding McBride's character, Neal Gamby. Playing the sad sack who is totally unaware of his surroundings comes naturally to McBride, and quite often it has hilarious results. But, awkward humor is not my favorite. So when he told everyone in his broken family that he was going to be named Principal, it was cringe-inducing rather than funny. When I watched The Office, I had affection for Michael Scott through the cringe-inducing moments because I had enough background on his character to care about him through the cringe. Gamby, unfortunately, did not afford me that same affection. I expect there will be more opportunity to care about Gamby as the show goes along.
On the other hand, of course: Gamby is not supposed to be well liked. So not liking his character all the time is more likely exactly what they're going for.
Other than that, my only real complaint is the lack of Walton Goggins' character. The story (at least in this episode) was pretty centrally focused on Gamby, and I'd really like to see more Russell. That's another part that I imagine will come after a few episodes.
Overall, I found the show funny and intriguing. There is plenty opportunity for ridiculous humor and physical gags. I laughed out loud plenty, and that's a big indicator for me liking a show.
As I always do with comedies, here are some of my favorite quotes/moments from the episode:
Bill Murray should play every retiring/dying/dead authority figure in every show.
"Your house, your car, your couch. Whatever else you got on layaway."- Lee Russell
"Sure she went to Berkeley, and I'm pretty 'affirmative' how she got in."- Neal Gamby
"You're not going to kill everybody, right?"- Dayshaun
"I hate ice cream."- Gamby
"Shall we align, friend?"- Russell
Overall, this was a solid premiere episode from the new HBO comedy. I hope to see more antics and ridiculousness as the show continues, as there's plenty of existing potential for those things.
What did you guys think? Did you enjoy the premiere? Are you coming back for more? Let us know in the comments!
Vice Principals airs Sundays at 10:30/9:30c on HBO