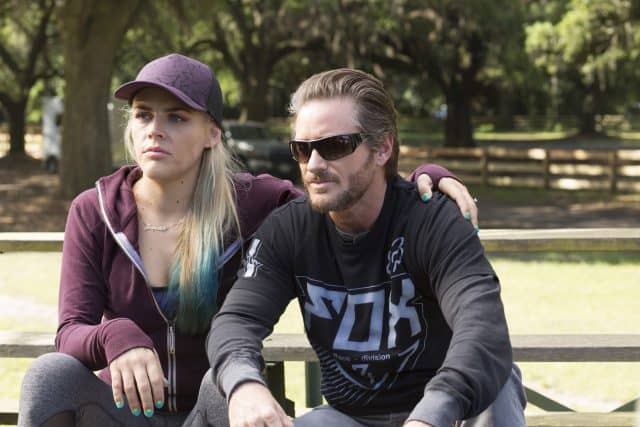 Vice Principals had its issues early on. But, as the series went on, the problems have faded into obscurity. I'm not saying the series is flawless, but "The Foundation of Learning" has been by far the best installment thus far. It's a really fun episode.
This week on Vice Principals: Gamby wants to show his ex-wife that he, too, can be good at Motocross, so he enlists the help of Miss Snodgrass. Miss Snodgrass, meanwhile, deals with some relationship issues. Gamby and Russell devise a scheme to pit Dr. Brown against a veteran, beloved teacher, which goes off with only one small hitch.
In terms of addressing my concerns, this episode hit all the right notes. Of course, it was really last week's episode that sorted out the lack of Russell, but "The Foundation of Learning" maintained Walton Goggins' participation, which works incredibly well for the show. Goggins does a good job of balancing out McBride, even when the two aren't in scenes together. They've threaded this careful story in which Goggins and McBride do all of the heavy lifting, tied together with just a few scenes between the two of them. It's pretty incredible.
The other part that I initially didn't care for in Vice Principals was how insufferable Gamby was. Probably my least favorite thing about Danny McBride is that one quality in all his characters. But in the last few episodes, McBride has shown a real vulnerability to Gamby. On the field trip, Gamby proved that he was at least good at his job. This week, Amanda Snodgrass saw that Gamby has gotten a raw deal from ex-wife and daughter, which seems to make him act that way. I'm not saying there is no fault with Gamby, but his desire to be involved in his daughter's life peeked through and the character showed some different shades. It's really well-crafted.
I think there are two actors in this show that are sorely underrated. Everyone's great, but Georgia King (Amanda Snodgrass) and Shea Whigham (Ray), do NOT get enough credit. Most of the chatter about this show is about whether or not someone appreciates Goggins and McBride doing ridiculous crap, but these two are the unsung heroes. King's Snodgrass plays someone who is so rare on television, she's a character with some actual depth. She's not just a pretty face that Gamby will either "win" or "lose" by the end of the series (though that may be the case). But this episode in particular was strong for her. Her decision to help Gamby instead of continue to pursue the flaky history teacher was a particularly strong moment. Whigham is hilarious. Gamby hates Ray, but only because he's married to his ex. It seems like they might get along swimmingly if that weren't the case. Whigham's performance is hilarious. He is never mean to Gamby, and actually seems to quite like him. Maybe he's working against his guilt for "stealing" Gamby's ex. Still, it's a strong performance that stood out in particular during this episode.
As always, here are some of my favorite quotes/moments from the episode:
"Everybody thinks it's free when Uncle Sugar is footin' the bill."- Gamby
"She carries around a lot of weight for a girl her age."- Gamby again
"I can say your first name, too. You're not special."- Dr. Brown
"Ain't no reason for double negatives Dr. Brown."- Miss Leblanc
"I feel like I look pretty cool." "No you do not."
"You are a two-bit flavor of the month principal."- Leblanc with the burn
"She's probably a dyke, Gamby."- Russell
This episode was funny, and hit all the right emotional notes. Not to mention that Dr. Brown is finally on to Mr. Russell. I'm as excited as ever for the next episode. This is where my screeners end, so I will be watching with all of you next week.
What did you guys think? Did you enjoy the episode? Let us know in the comments!
Vice Principals airs Sundays at 10:30/9:30c on HBO
Tell us what's wrong with this post? How could we improve it? :)
Let us improve this post!