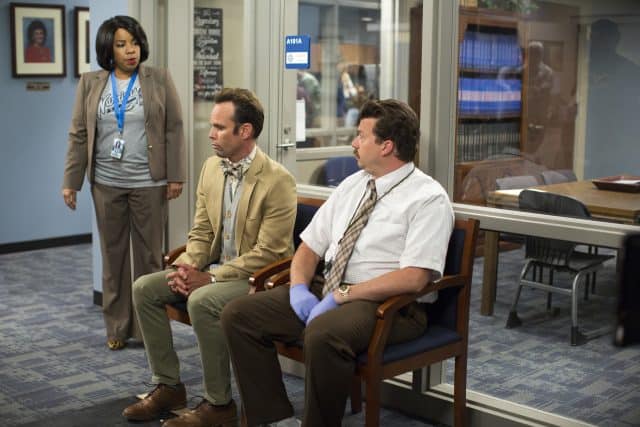 We are now two weeks in to the freshman, 18 episodes all together series Vice Principals, and what a ridiculous, hilarious, uncomfortable show it has become in this short time. After two episodes, I'm officially ready to continue on this ridiculous ride until the very end…perhaps against my better judgement. It will make you feel things, that's for sure.
This week on Vice Principals: Russell and Gamby solidify their alliance to try and get dirt on the new Principal. Instead, they end up committing a crime. Dr. Brown hires a consultant to examine the efficiency of the school, which puts Gamby in an awkward position. Gamby is behind on rent payments for stabling his daughter's horse.
This show relies heavily on the uncomfortable, which can be a turn-off to me. Even the great comedies like The Office and Frasier on occasion made me so uncomfortable that I was unsure if I could continue watching. But alas, I did, and I will with Vice Principals too. The overwhelming uncomfortable feeling in Vice Principals is outweighed by the chemistry between McBride and Goggins, and most of all, the wonderful, subtle, physical bits that the show does that make me laugh out loud. Laughing out loud trumps uncomfortable for me every time.
That said, the physical bits were especially funny in this episode. The scene when Gamby and Russell destroyed Dr. Brown's house was equal parts hilarious and uncomfortable. The physical bits were hysterical, but I spent the whole time terrified that they were going to get caught. But I reminded myself that they couldn't possibly get caught after two episodes, and then I felt better about the whole thing.
My biggest beef is not enough Walton Goggins. Though there was significantly more in this episode than the previous one. I'm just going to say: the more, the better.
As always, here are some of my favorite quotes/moments from the episode:
Gamby and Russell's insult trading is fantastic. I hope it's a part of every episode.
"It's Bo time. Let's move."- Gamby, in true Danny McBride style
"You're doing really good. I like you better than him."- Gamby isn't shy about favoritism.
"Is this where she lives? What a s**thole."
"Me see Lee?"- Another incredibly uncomfortable moment for Mr. Gamby
"Fat Albert's Clubhouse. Just lined my pockets."- Russell
The prayer scene was my absolute favorite. Fantastic.
The student driver "peel out" was my favorite physical bit of the episode, for sure.
As a whole, the show is starting to come together. When I can expect to be a little uncomfortable with each episode, it gets easier to swallow. If uncomfortable trumped the hysterical, laugh out loud moments, then I would probably quit, but so far it hasn't. And the hilarious moments have been truly hilarious. Goggins and McBride make a great comedy team, and I hope to see it continue improvement into the coming episodes.
What did you guys think? Did you enjoy this episode? Let us know in the comments!
Vice Principals airs Sundays at 10:30/9:30c on HBO
Tell us what's wrong with this post? How could we improve it? :)
Let us improve this post!