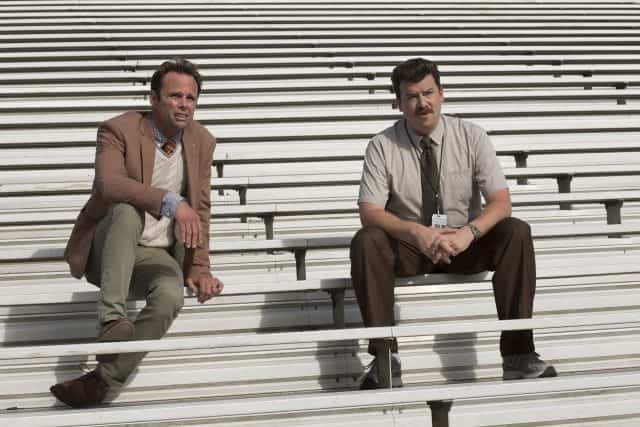 Now in week four, Vice Principals has really upped its game. There is plenty of twisty and turny drama to be had within each half hour, but also plenty of laughs to go around, whether you're a fan of Danny McBride's stylings or not. This episode created a much larger obstacle for the McBride/Goggins odd couple, and was the most interesting episode to date.
This week on Vice Principals: As the school prepares for the big rivalry homecoming game, tensions are flaring. Belinda suspects that her sons could have been involved with the arson on her home. Russell and Gamby make an opportunity for themselves amidst the school's prank war. Russell wants to stop the team from winning, even after Belinda has encouraged and motivated them.
This was a fantastic episode. Gamby and Russell were more involved with each other, which has been the highlight of each episode so far. Belinda really came into her own as a character, too. Before this episode, I was entertained by the thought of her going down, but I really am beginning to sympathize with her as a character. This was a strong episode for Belinda, and a wonderful job by Kimberly Herbert Gregory.
Perhaps the greatest feat this show as a whole is accomplishing, though, is making me sympathize with Gamby. From the start, Gamby has been insufferable in all the worst ways, which is a Danny McBride staple. However, as this show has gone on, particularly in the past few weeks, I've seen another side of Gamby. I've seen a guy who wants desperately to be loved. I've seen a guy who is good at his job. I've seen a guy who takes pride in his work. All of these things are normal, human things that people can relate to. McBride has done such a good job of putting that outer shell on Gamby, while still showing those small signs of growth.
Also, this episode had an A- amount of Walton Goggins. Pretty good, but just a little more will be perfection. Goggins adds a level of physical comedy and timing that is just impeccable, so I'd like to continue to see more of him.
As always, here are some of my favorite quotes/moments from the episode:
"Gutter punks. Secret enemy."- Investigator unwittingly hitting nails on heads
"Folks don't want to be seeing doo doo on the lawn. Clean it up."- Belinda Brown
"I'm going to give you my corn dog."- Dayshawn
"She's been hitting those Linkedin job searches like she eats cheesecake."- Russell
"Gamby. I thought I smelled feet."
"Someone defecated in our fountain."
"Is she drunk?" "Who cares?"
The scene when Russell and Gamby are tripping? Priceless
I know there has been controversy surrounding this show, but Danny McBride is a smart guy. This episode was a truly strong installment, and I hope to see the show continue to build off of exactly this.
What did you guys think? Did you enjoy the episode? Let us know in the comments!
Vice Principals airs Sundays at 10:30/9:30c on HBO
Tell us what's wrong with this post? How could we improve it? :)
Let us improve this post!