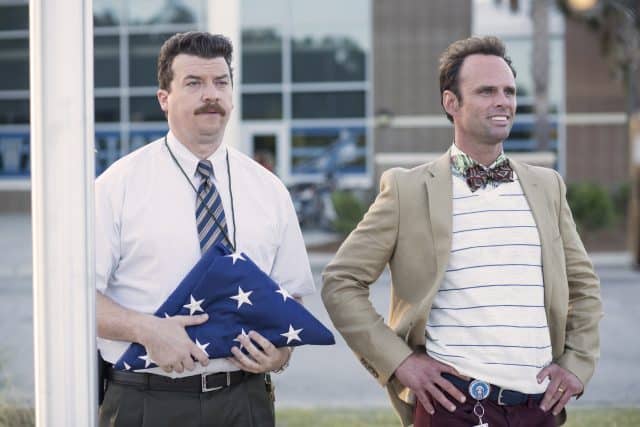 Vice Principals, now in its third episode, was always going to eventually have to do a field trip story. So why not get it out of the way in episode 3? Like the two episodes before it, "The Field Trip" was both hilarious and uncomfortable, in all the best and worst ways.
This week on Vice Principals: Gamby finds out that his crush, Miss Snodgrass, is going on a field trip with the young, hip, History teacher, so he decides to tag along. During the field trip, the teachers (with one exception) turn against Gamby. On the first night of the trip, a disciplinary nightmare springs Gamby into action.
As you might be able to tell from this description, "The Field Trip" was extremely Gamby-centric, as most of the show has been to this point. The one thing the show has really lacked thus far is consistent, strong use of Walton Goggins. Last week's episode, which had much more Goggins than the first, thrived off of every moment that Gamby and Russell shared on screen. The advertising billed this show as a McBride/Goggins odd-couple comedy, but it hasn't really delivered on that so far.
Without Goggins in a major capacity, Vice Principals pushes too hard towards the "uncomfortable" and away from the funny. This episode did suffer a little in quality because there were one too many cringe inducing moments. Though I like Danny McBride, too much can often make me cringe. But, the same ridiculous irreverence that McBride brings to Gamby makes the show both funny and interesting, because you never know what he will say or do.
My favorite part of the episode was when Gamby discovered the drinking party that was happening next door to his room, and that two of the students were missing. The best part about was the redemption for the Gamby character. He can be annoying, but this was the first real inkling that he was any good at his job. Even though the search for the missing horny teenagers was still cause for Gamby to be annoying at almost every opportunity, it presented redeeming qualities that could not be ignored.
As always, here are some of my favorite quotes/moments from the episode:
The cold open with Gamby and Russell bantering in between the principal's comments was hysterical.
"Who's scurred?"- Gamby
"Don't talk about my red things. Don't do that."- Gamby
"I'll see you on Monday, you little horny dog."- Russell
"Excuse me?" "No I will not."
"They shouldn't have to do that. That's racist!"- Gamby
"Do you have a crush on Miss Snodgrass?" "Psh. No. She's ugly."- Very Hot Rod-esque
"GET OUT OF HER!"- Something no disciplinarian should ever have to yell.
All in all, this was still a really funny episode. But the more Gamby tried with Miss Snodgrass and being liked by the teachers, the more uncomfortable things got. Still. I laughed. A lot.
What did you guys think? Did you enjoy this episode? Let us know in the comments!
Vice Principals airs Sundays at 10:30/9:30c on HBO