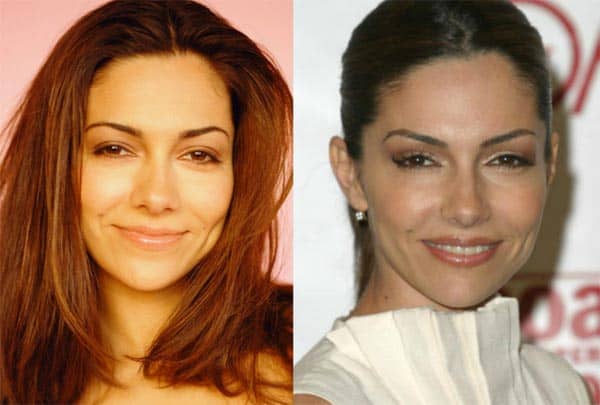 You might recognize Vanessa Marcil if you're into daytime soap operas. She played the role Brenda Barrett up until 2013 and was one of the favorites of many that got to watch her repeatedly during her time on the show. She's been in theater, film, and TV for a while now and while she hasn't amassed as much in her career as others she has gone on to win several awards for her performances. She was also in The Rock alongside Nicolas Cage and Sean Connery, which could be called a feather in her cap so to speak. A lot of her time has been spent on TV really since she's only had a few performances on film and none which have been quite as memorable as The Rock. Honestly, she played the fiance of the lead character and the one claim to fame, which is still very memorable, is that she was a very strong-willed woman that happens to look good in pigtails. That adolescent fantasy aside she does know how to deliver a role and she can hold her own next to some of the greatest actors that have ever been. Some might think that's a middling accomplishment that almost any B-list actor can achieve but in Marcil's case it means that she has definitely earned her stripes as a performer.
After 2002 however she kind of stayed out of movies and moved to TV roles where she hasn't exactly flourished but has remained stable and on point for a while. At this point she's still acting and has a part in a Lifetime movie called Bad Tutor. The mother of a young woman bound for college is wanting to get her through high school first and then on towards a life that could mean something. The only problem is that the tutor she hired is kind of a maniac that left his last victim at the bottom of a cliff. The premise is something that might work for a Hollywood movie but it works just fine for Lifetime too. Plus Lifetime seems like a natural progression from soap operas anyway. The stories are usually a little on the sappy side and while meaningful and well-detailed seem to lean heavily toward those that want a happy ending without any loose strings. If that's your preference then so be it.
Maybe it's the stigma of having appeared in soap operas but Marcil doesn't exactly cut a very tough character. Nearly everything she's done to date has shown her as a strong person when it comes to her emotions and her opinions, but overall she seems like the type, in movies and TV anyway, that would crumble if her idea of the world and the way it is was ever shattered. That could seem a little harsh and not as forgiving but it seems kind of accurate when describing some of her roles. Of course being mentally and emotionally strong might describe her actual character at this point since earlier this year she suffered a miscarriage. The saddening and disheartening part of this is that this is not her first miscarriage, but her seventh. That seems as though it would rip the guts out of anyone and indicate that they are not meant to have kids, but with the level of excitement she's had in the past when it comes to trying to have children many would have to agree that she might be a fine mother should she ever have her own child.
It's not been explored in a great amount of detail but it adoption might not be a bad idea at this point. It could seem callous and even insensitive to say this when the year hasn't even gone by and she's no doubt still emotionally and mentally messed up by this, but there are so many children out there looking for a family to call their own, kids that will eventually be adopted or slip down through the cracks of the system, that finding just one to love should be a thing of ease. Well perhaps not easy, but still it's a feasible option that one can only hope Marcil might think about. Many women don't consider adoption an option as they want to have their own children, their own flesh and blood, and nothing else seems like it will ever be good enough. But no matter if the adopted child isn't your own flesh and blood they become yours when you begin to care for them, to nurture them, and to give them the kind of love that you've been yearning to give another human being for so long. At this point it's a fervent hope that Vanessa will one day find that perfect child that will complete her life, and that she will love them unconditionally throughout anything that comes.