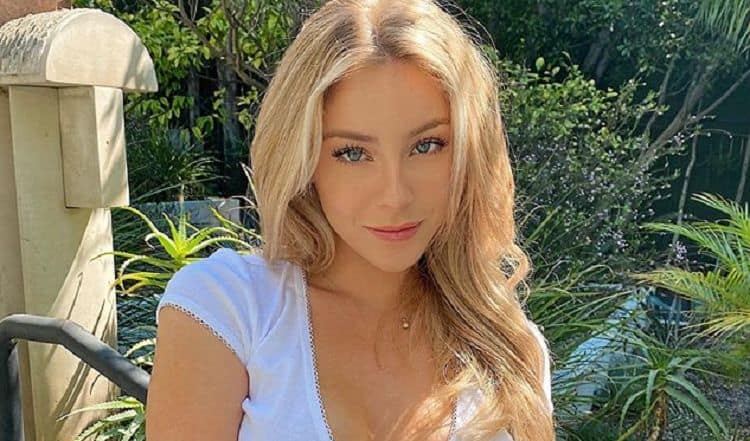 TikTok stars are not always household names to everyone, but that's changing. They're becoming some of the biggest social media influencers in the market today, and it doesn't appear that this is going to change anytime in the near future. Daisy Keech is one such TikTok star. She does what she can to make to keep her fans interested in her content, and what she's doing is working for her. It does make us want to get to know her a bit better, and that means we've found out a few things you might not already know about the star.
1. She's Got Millions of Followers
Millions upon millions is more accurate. She's got more than 3 million followers on her TikTok account. She's also got more than 3 million followers on her Instagram account. She's also a YouTube star, which means she's doing all she can to maintain her fame and grow her following to ensure more money, bigger campaigns, and more.
2. She's A Co-Founder of Hype House
Have you heard of the Hype House? It's a house that's in LA, and it's for those kids who spend their time on TikTok making dances and videos and living the famous life. They move into the house, they live there while they do their famous stuff, and they work together on the regular. She is one of the people who worked to make this house a reality, but she's no longer living there.
3. TikTok Didn't Make Her Famous
Unlike many of her famous TikTok friends, she was famous before this app was even a thing. She's been on Instagram racking up the followers for some time. She was a famed fitness model on that site long before she was famous for her dance moves and short videos on other platforms. She's famous for her rear end and the 8-week workout program she touts on the 'gram. She claims it will give anyone a plumper, rounder, larger rear end for just $47 and 8 weeks of your time.
4. She's Got A Second Instagram Account
But you won't see her face on it so much as you'll see her peach. That's right. She refers to her rear end as her peach, and she calls her account the KeechPeach. It's Instagram solely for her rear end, which is apparently more famous than her face. You can see it for yourself, follow it, and maybe that will help you understand what it means.
5. She's Starting A New House
It seems that she's not just moved out of the Hype House, the one we mentioned earlier she co-founded (rumor has it that the house has her name on the lease). She's creating a new house, and there is some speculation she will steal the members of the Hype House if she can. The rumor that's going around is that she's got a few differences and a small tiff with one of her house co-founders, and she is done with that. It seems that she's the only person who lived in the house at the time who had the financial security to qualify to lease the home in the first place.
6. She's Got a Celebrity Twin
Her fans believe that she is a doppleganger to celebrity Lili Reinhart. They feel she is the celeb's twin, and they comment often on it. She does resemble her, and she's aware of that herself, too. She's admitted that she already knows, so we assume she might not find it to be a riveting revelation every time a fan tells her she looks like the star.
7. She Believes in Manifestation
When she talks about her success and how she got to the place she is now, she often tells the world she credits her own concept of manifestation. The art of saying what you want to put it out there in the universe so that it comes true. She spent her life and her time in front of her mirror every single day saying "I have a million Instagram followers," until she did. She manifests all of her achievements, but she also works hard and pursues her dreams every day.
8. She's Only 20
She's not even old enough yet to drink legally, but she's already leasing a home and having legal battles with her former partners. She's in a good place in her life, and that sometimes brings with it some negative situations. She's going to turn 21 in August. The 12th, to be precise. She was born in 1999, which means she doesn't even remember the Y2K panic.
9. She's Got A Real Rear
She's a young woman who credits three years of hard work and dedication to making her booty what it is. However, her followers and those who don't follow her in some instances, have been very quick to accuse her of having a fake booty. She's tired of the rumors. She's tired of what is going on. She's tired of what is happening, and she's not doing all this to market a fake product. She made a real life doctor go on her channel with her while she filmed him examining her rear end to make sure the world can see that it is, in fact, as real as they get. She worked hard to get it that way, and she's not about to let an imaginary surgery get all her credit.
10. She's An Athlete
She's still young, and she's been working to create work out routines and a gorgeous peach for years, but she did not miss out on her high school fun, either. She enjoyed playing sports, and she was a member of the varsity soccer team at her high school before graduation. She has always enjoyed playing the sport, and she was good enough to make the team. We assume that helped her stay in shape and also helped her create the booty she was looking to create — you know, the one people still stay is fake even after she proved them wrong.