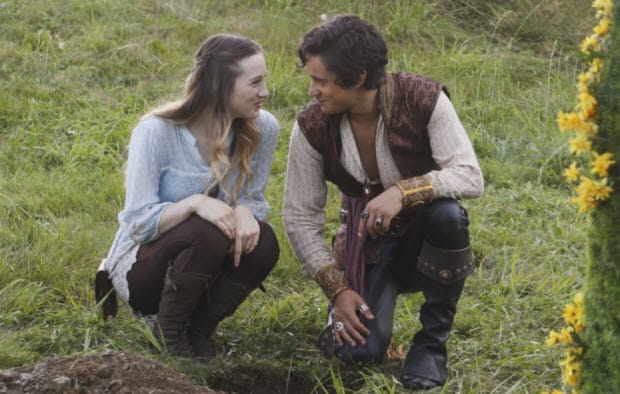 It's not often when a new show's second episode actually manages to impress me more than the pilot. Usually, almost every episode that follows the pilot of a show is great, but not in a way that makes me like it more.
"Trust Me" was able to do just that as all the characters were even better this week, especially The Red Queen, who was not interesting in the pilot.
Last week, I felt that I couldn't take the Red Queen seriously because of the choice of costume by the costume department and maybe even the way that Rigby was portraying her. In the second half of "Trust Me," that was when I started to fear this character a bit more as she turned things around in the game.
Naveen Andrews's Jafar continues to hit all the right notes as he is literally taking Disney's Jafar and bringing him to life from the animated movies. I wasn't expecting Agrabah to be featured in this episode, but it was appreciated as it was a really good flashback. I'm still holding out for an appearance by Aladdin at some point this season.
The dynamic between Jafar and Red Queen continues to be a very compelling villain team-up; they are both trying to be one step ahead of the other which is interesting.
As I mentioned, the Red Queen stepped up a bit this week by taking possession of the bottle, leaving Jafar in the dust.
Sophie Lowe's Alice is continuing to impress me and reminding me that she is truly going to be the breakout star this season. I love strong female characters and seeing this actress just owning the scenes with her co-stars Michael Socha (Knave of Hearts) and Peter Gadiot (Cyrus), is just a joy to watch.
I think that she is definitely one of the best written characters in the Once universe and I'm looking forward to the day when we can have a scene with Jennifer Morrison's Emma and Lowe's Alice to see what that would be like. She comes as this believable girl who will stop at nothing to finding the love of her life again. I applaud the casting director for Wonderland for doing such a great work because she is a main reason why I want to watch this show.
Both these male characters bring so much different things to the table; Knave is sassy, tortured and fun while Cyrus is pretty much your dream man. I think however that Knave has a more intriguing backstory as of now. There seems to be some nasty ghosts from his past that are now starting to haunt him, including the fairy that we saw this week.
I'm getting interested in Wonderland's take on The White Rabbit that seems to be conflicting when it comes to whose side he should be on. I'm still waiting for the episode when we learn why he started helping the Red Queen.
The visual effects for Wonderland this week's episode was a bit better but there are still parts of Wonderland where you can truly see how unreal it looks. I can understand that this season, ABC isn't having it easy for their special effects heavy shows.
Marvel's Agents of S.H.I.E.L.D. and the third season of Once Upon a Time (that currently taking place in Neverland) are probably not being cheap this year for them.
But it still doesn't hide the reality that they aren't giving Wonderland the same fair budget and it does show sometimes throughout these two first episodes.
If you order a show that is special effects heavy, you have to work out its budget well enough to make the show look good; otherwise you may have viewers tuning out.
As of now, it's not too disturbing but I'm hoping that the next couple of episodes will actually have better visuals. This is also another reason why I hope this show will only have 13 episodes per season.
Overall, "Trust Me" was a strong follow-up from "Down the Rabbit Hole" as the characters are getting more compelling as well as the story.
Once Upon a Time in Wonderland airs on Thursday nights 8 PM on ABC.