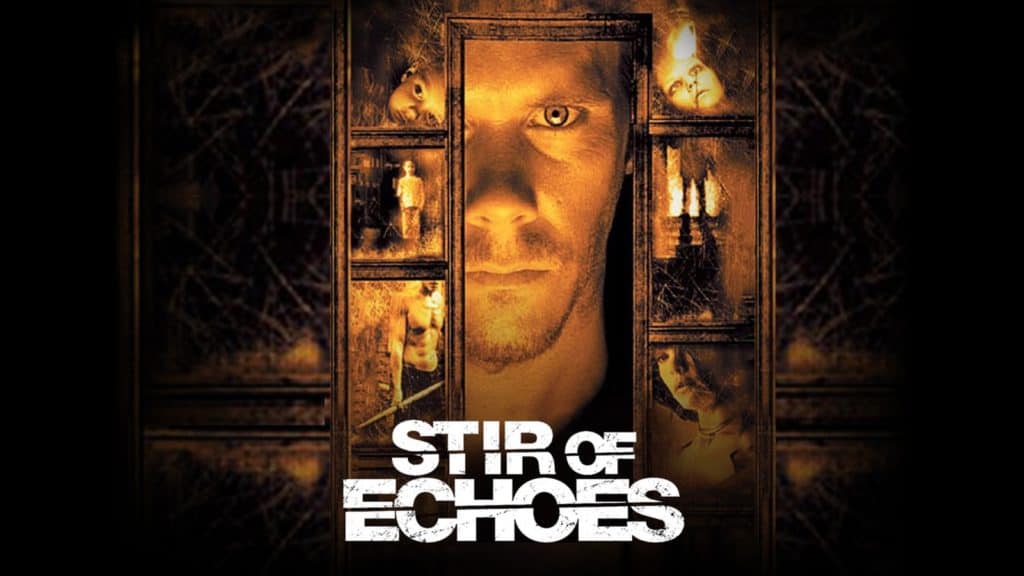 Some movies don't appear to get enough attention, and some might not deserve the attention they get, Stir of Echoes falls in the middle somewhere. As ghost stories go it's not the type of movie that requires a lot of heavy thinking, but it's still the type of movie that's smart enough to keep people watching from front to end simply because it has an interesting premise. Ghost stories don't have to be extremely complicated, but they usually need to contain a few elements that will keep things interesting enough to keep the audience engaged. Putting Kevin Bacon and Kathryn Erbe into the mix would have likely been enough since both actors are a lot of fun to watch, but adding in hypnosis and the sudden emergence of a ghost story that begins to torment the family in different ways is the kind of thing that adds to the enjoyment, morbid as that kind of is. This is the kind of movie that a lot of people have come across by accident and then upon watching have discovered is actually something that they might have missed if they hadn't taken a chance on it.
There are a lot of movies out there like this, hidden gems that are easily missed and even forgotten once they've been watched by a few people. But this isn't the first time that Kevin Bacon has been part of a horror movie since he was one of the ill-fated camp counselors in the original Friday the 13th movie, and he starred in Tremors with Fred Ward and Michael Gross among several other actors. So the truth is that Bacon knows how to act, and he knows how to get people interested. There were moments in this movie that were a bit campy and even kind of ridiculous, but at the very least the acting was well done and didn't feel forced most of the time.
In fact, the way the movie started out was almost cute, but it turned kind of creepy very quickly when the little kid, Jake, asked "Does it hurt to be dead?" to absolutely no one. The fact that his family had moved into their home not long before the movie started was an interesting bit of information since Tom and Maggie, Bacon and Erbe respectively had moved to the area and rented the home from one of their neighbors. It doesn't take long to realize that this is a fairly close neighborhood where everyone knows everyone else's business, or at least enough of it to start gossip and rumors, and that the whole 'we take care of our own' mentality was a thing of convenience rather than an honest mantra. The unease that's felt in this movie only continues to build after Tom is hypnotized at a party by Kathryn's sister, Lisa, and is 'opened up' in a way that he didn't expect. Aside from a serious thirst he couldn't always quench to a phantom tune that he can't quite grasp, Tom beings seeing things in dreams and in visions that make absolutely no sense to him, but start to affect his life and his family in a way that continues to grow increasingly disruptive as he finally ends up seeing an apparition in his home that attempts to reach out to him.
The oddball in this movie however is Jake, since it's pretty obvious that he can see what others can't, as this is explained in a very simple way by Neil, a cop that realizes just how special Jake is, and what his father is going through. The kicker doesn't really come until Tom, who is compelled to dig after being hypnotized by Lisa again, manages to dig up the back yard, the basement floor, and quite by accident knocks open a wall it a backswing as he finds the reason that he's been seeing things. The body of a young woman named Samantha is buried in the wall, and as Tom touches her desiccated wrist he sees everything, in full detail. Samantha was lured into the house by the sons of two well-known community members, one of them being the person that Tom and Kathryn are renting the house from, and after attempting to leave as she has second thoughts, she was murdered by both young men. The secret was kept by the fathers of the two individuals, and upon being confronted by one of them, the other, the owner of the house, confronts Tom and is about to kill both him and Maggie when the first man, played by Kevin Dunne, shoots the homeowner and his son.
As far as ghost stories go this was kind of interesting since it didn't lean so hard into the supernatural effects, as it was more of a gradual reveal as to what had happened, not a full-blown ordeal that saw the ghost of Samantha tearing things apart and becoming vengeful as hell. Instead, she was present, and the effect of her presence made a difference, but she was more of a frustrated spirit than a vengeful one, as she wished to leave the house and move on. Some might find this movie a little tame, but one of the most unnerving parts of it came at the end when the family decided to move and were driving past one home after another. Poor Jake, who could hear the dead and see them, managed to hear everything as they passed, and right before the credits rolled, the spirits began chanting his name over and over, as it would appear that they sensed his presence as well. Try having a normal childhood with that going on.