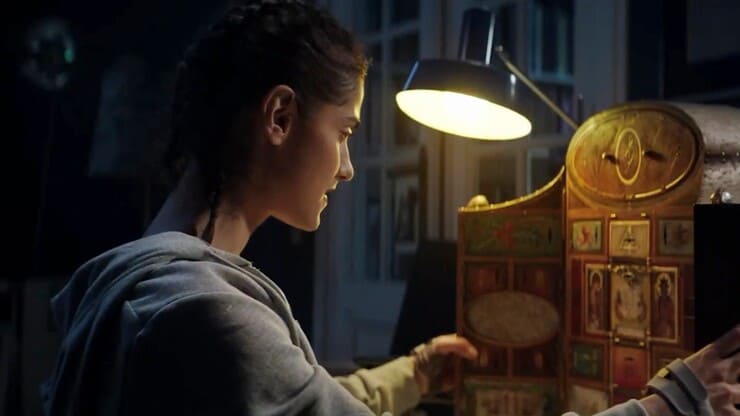 Talk about a bleak Christmas if there ever was one, since this movie takes the idea of the advent calendar to an extreme that is difficult to think about since in real life it would make a person one of the most despised individuals in all of existence for daring to do some of the things that are depicted. Having spent three years of her life as a paraplegic after an accident that put her in a wheelchair, Eva has adjusted and is living a moderately fulfilling life. When her friend gives her an intricate, wooden advent calendar for her birthday they find out that it comes with rules, such as the fact that a person must eat every candy that can be found in the compartments, that they play the rules of the calendar, and they do not attempt to destroy the box. As one might guess, Eva and her friend are less than impressed by the rules, but Eva does begin the process by eating the first candy. As things go along, the story only gets stranger as each box has either candy or an item that Eva is meant to do something with, though once it becomes evident that sacrifice is part of the pact, Eva begins to realize it's not a joke.
To be fair, the first person to be taken out, a creep by the name of Boris that tries to molest Eva while she's sleeping, has it coming when a miniature version of his vehicle comes rolling out of the calendar at one point. Eva's dog then chomps the toy car to bits, and in real life Boris's vehicle is found later, looking as though it's been tossed down a hillside, killing Boris in the process. The sacrifices that come from that point on are harder to watch since the fact is that the box demands much of her, as does the grotesque figure that emerges whenever the box appears to be in danger of being lost or damaged. As a Christmas movie, this definitely makes for a compelling horror that gives a different look at the ever-popular advent calendar that so many of us have likely known about or had every December since we were kids. What's even freakier about this is that someone had to come up with this idea and then devise a way that would make it all finally come together and make sense considering that everything in the box would be personal to the owner and that it would affect them in a profound manner that would force them to choose their life or the lives of those that the box demanded in sacrifice. As a horror movie, this feature is kind of compelling but it does drag a bit here and there which makes it a little difficult to stick with it. But the downfall of looking away for too long is that if you don't speak the language it's very likely that you'll miss a few things since the subtitles come in handy for those of us that don't speak anything other than English and bad English. All kidding aside though, it's a good idea to pay attention even through the slow parts of this movie since they do tend to become important at one point or another.
Things do start to pick up as Eva continues to heed the demands of the box, though she does attempt to buck the rules, which ends up costing her a bit as she comes to realize that there is no backing away from the process after starting it. She does start to realize something else as well though, that she might be able to walk by the time things are all said and done. If she can reach the end of the advent calendar then she'll not only be able to walk, but everything will eventually reset, and she'll end up going back to her chair, but will still have everyone that she had to sacrifice along the way. Seriously, that would be a tough decision for a lot of people since just trying to imagine your way through this moral dilemma would be enough to cause anyone to scream in frustration, which Eva ends up doing at the end of the movie as she realizes what she stands to lose and what she has already lost. When all is said and done, this was an interesting movie that offered up a good number of thrills and didn't feel that disjointed. It's not exactly what a lot of people might think of as the type of horror that would compete with mainstream movies, but it was still fairly enjoyable. In regards to the Christmas element, it was very easy to lose sight of this, but it wasn't that big of a deal.