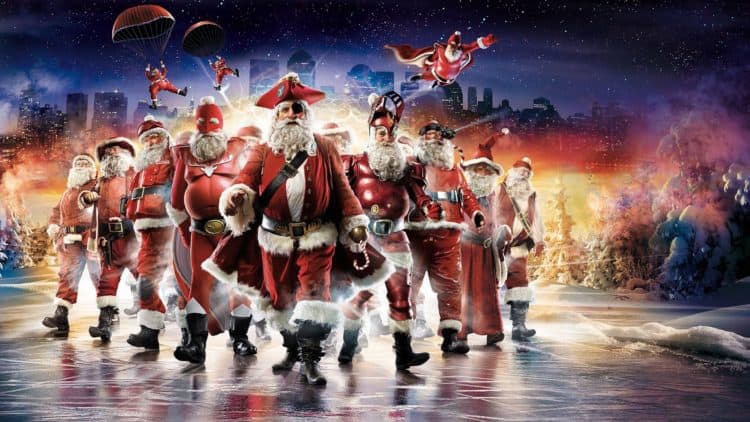 "He knows if you've been bad or good so be good or…" Santa and his elf will slap the cuffs on your wrists in the confusion. Just imagine being a criminal and thinking you've managed to get away, only to suddenly be tackled by a man in a red suit with a white fluffy beard who places you in handcuffs and then puts you in the back of a police car. Nope, it's not a bad dream coupled with a Christmas movie, it's a Santa and elf duo that decided to go undercover to nab a few thieves in Riverside, California. As uncertain and as bad as 2020 has been seen to get, a lot of people can't help but agree that this was at least something that was worth talking about since it's not every day that a person sees Santa and one of his elves taking down criminals as they tried to exit the store with stolen merchandise or take on car thieves as they were trying to make their getaway. It almost feels as though everything that's happened this year has made some folks a little too bold in trying to get away with whatever they can since there are some people out there that have claimed theft as 'reparations' and also made the statement that stealing means that their families will eat that day. It's kind of hard to see how that works when stealing merchandise that's not food doesn't really equate to filling someone's stomach. It's enough to make your head hurt just trying to do the mental acrobatics that folks continually attempt to justify their behavior.
But getting back to the matter at hand, one can almost imagine that a lot of criminals, after getting wind of this, might be looking at their local Santa Claus's a little different since there's no telling if other cops will want to take this example and run with it considering that people really don't expect to see Santa running after anyone on Christmas since most guys that don the red suit just stand outside supermarkets, or inside if it's cold enough and allowed, keeping watch over the March of Dimes or whatever other charity buckets that people will toss their change and the occasional bill into. Very few people are likely to think that a guy in Santa suit, or his elf, will come running after them to try and tackle them to the ground. That's usually a safe assumption, but the crooks in Riverside were given a nasty surprise this year given that they weren't expecting to have to contend with trouble from Ol' St. Nick.
The only downside to this is that now that the trap has been sprung a lot of criminals if there are still any willing to pull anything, will find smarter ways of stealing and will possibly get away with it since the whole idea of being sneaky about something like this is great, but it only works so many times. Criminals do talk after all and they do spread the word when it comes to getting away with whatever it is that they're trying to get away with. It's a great idea in that it could possibly make a lot of less confident crooks paranoid given that seeing Santa just about everywhere this time of year would make it appear that the cops are taking things very seriously, but those that have more than two brain cells to rub together should be able to guess that some crooks are bound to find a way to keep getting away with their shifty ideas since the nature of being an actual criminal, not just someone desperate for money, is that one tends to think their way around problems. Of course, that's for career criminals that actually enjoy what they're doing and don't care who they hurt. Those that are stealing for other reasons or just because they saw something they wanted might be turned off after this kind of encounter simply because they have no idea who's a cop now and who isn't.
It's not a bad idea, and it does appear to be legal no matter who wants to shout that it's not fair and that it's possibly against the rules. But let's look at things this way, the criminals certainly aren't playing by the rules and are breaking the laws, so the cops have to get a little crafty from time to time. To be fair, they're in plain sight, but the rules of undercover policing aren't really known to everyone so it's entirely possible that this was simply innovative and not in any way against the rules. Seriously, criminals complaining about anything not being fair is kind of amusing since fairness didn't come into play when they decided to rob their victims. To see the look on their faces when they realized they were being arrested by Santa Claus though=priceless.