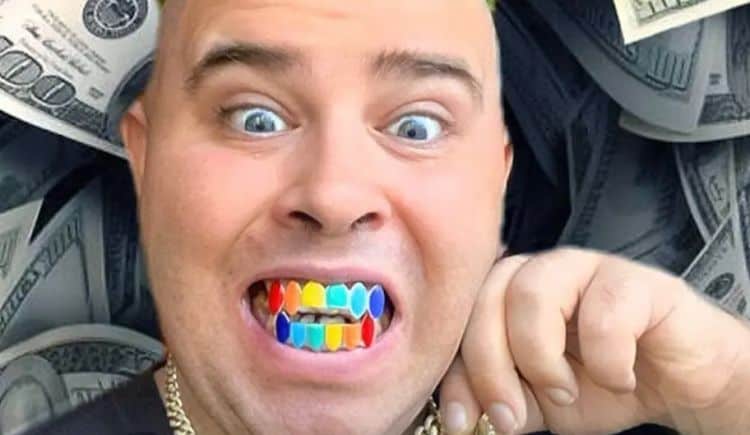 Anyone who spends a decent amount of time online knows that the internet is full of interesting characters, and Uncle Gang Gang might be one of the most interesting we've seen in a while. Most popular on TikTok, he has become well-known for his exaggerated style and his internet giveaways. On a regular basis, Uncle Gang Gang offers his followers the chance to win consoles, gift cards and video games. Needless to say he has a lot of young and hopeful followers who are eager for a chance to get a prize. With that being said, however, there appears to be much more to Uncle Gang Gand than meets the eye. Continue reading for 10 things you didn't know about Uncle Gang Gang.
1. He Is A Very Private Person
Uncle Gang Gang has made quite the name for himself on the internet, but he seems to be determined to keep his real life separated from his online persona. Outside of the character he plays on social media, no one really seems to know much about Uncle Gang Gang. He has never revealed his real name or any other details about his personal life. This type of secrecy seems to be getting more and more common with popular content creators, especially those on TikTok.
2. He Is Been Accused Of Being A Scammer
Uncle Gang Gang may be known for his generous giveaways, he's also become equally as well-known for being a scammer. Although he claims that there is always a winner to his contests, many of his followers believe that the giveaways are fake. Some have even claimed that Uncle Gang Gang has tried to get their credit card numbers. If they are fake, it wouldn't be too surprising seeing as how Uncle Gang Gang has made it clear that his content is satire.
3. He Has A YouTube Channel
He may be best-known on TikTok, but Uncle Gang Gang is working on broadening his horizons. He has a YouTube channel where he has been regularly uploading short video clips that can also be found on Instagram. So far, the channel has more than 23,000 subscribers.
4. He Is Passionate About Autism Awareness
Even though we don't know much about who Uncle Gang Gang is outside of the character he portrays on social media, one thing we do know about him is that he seems to be passionate about autism awareness. This could mean that someone close to him has been diagnosed with autism.
5. He Loves Interacting With His Followers
Uncle Gang Gang has built a massive following on social media and he loves getting the chance to interact with them. He often makes videos responding to their questions or comments. At the same time, however, there are lots of followers who feel that Uncle Gang Gang purposely ignores people's comments.
6. He Sells Merch
If you want to be a part of the Uncle Gang Gang family, the good news is that you can dress the part. Uncle Gang Gang has an online store where he sells branded merchandise. At the moment, his items include t-shirts, but there's a chance he could add more things in the future.
7. He Might Not Really Be Rich
Uncle Gang Gang has often referred to himself as 'the richest man' in the world. While it's obvious that he isn't actually the richest man in the world, there's a good chance that he isn't rich at all. Unfortunately, we weren't able to locate any legitimate information on his net worth.
8. He Might Be From Kentucky
Uncle Gang Gang is a pretty mysterious figure, but there's a good chance that he may be from — or live in — Kentucky. He has posted videos from Kentucky in the past so this is a somewhat solid indication. Perhaps one day, he'll decide to open up more about his identity.
9. He Claims To Help Those In Need
In addition to doing gaming giveaways, Uncle Gang Gang also claims to help people who are in need. He has shared several videos that show him helping people he comes across on the street. Although the videos are technically 'proof' some of his followers think this is a scam as well.
10. There Are A Lot Of Fake Uncle Gang Gang Accounts
You know you've made it on the internet when people start pretending to be you, and apparently, there are lots of people who want to be Uncle Gang Gang. There are several fake accounts on Instagram and TikTok that are using his name and unfortunately there are probably lots of people who don't realize the accounts are fake.