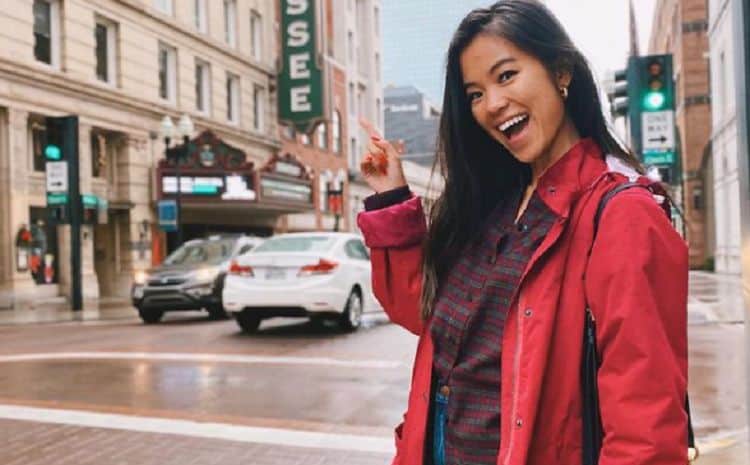 She's a child actress who is all grown up now, and many people are talking about her right now because of the man she's dating; we'll get into that later. Tiffany Espensen was doing all the things when she was just a child hanging out on Nickelodeon shows and doing the things that meant the most to her, and now she's doing all the things again. She's an actress with a famous face, and she's not showing any signs of slowing down in the near future.
1. She's Young
Tiffany Espensen was born on February 10, 1999. She got to spend nearly the first year of her life living in the last year of an entirely different century. Though, we imagine she didn't care then, and it probably doesn't make any difference in her life now. It's still a cool thing to get to say, though.
2. She's Adopted
She was born in 1999 in China, but she did not grow up there. She's an American who was adopted by an American family when she was tiny, and she's grown up in the states. Her parents knew they wanted her from the start. Their names are Dan and Robin Espensen.
3. She's A College Girl
She's been acting her entire life, but she didn't forgo college. She attended school at Liberty University, and her major might surprise her fans. She did not major in the arts, as you might imagine she would given her line of work. In fact, she majored in political science and religion.
4. She's Been in All the Cool Shows
If you know her face, it's because you grew up on Disney when Disney was still cool. She was part of the Disney Channel, Nickelodeon, and more. She landed roles in shows such as Hannah Montana, Zeke & Luther, True Jackson, VP, and more.
5. She's a Bona Fide Movie Star
She's also a movie star. She was in movies such as "Spider-Man: Homecoming," and "Avengers: Infinity War," in which she played the same role. She was Cindy, and it's very cool to get to spend time doing not just one Marvel movie, but two – and both playing the same character.
6. She's Got a Famous Boyfriend
Tiffany Espensen is not on the market. She's dating a famous guy by the name of Lawson Bates. He's part of the "Bringing Up Bates," reality show, which is a spinoff of the "19 Kids and Counting," fame. It's about a family that has 19 kids, and he happens to be one of the 19 kids. The couple is dating, and they seem very happy together.
7. Her Boyfriend's Ex is Also Famous
Lawson Bates is famous, but his ex is also famous. She's Jana Duggar, one of the adult daughters in the Duggar family – and the only Duggar daughter of adult age unmarried and without children. He works as a police officer.
8. She's So Happy To Have Her Family
While it might seem that many adopted children end up wanting to know their biological families and seem unhappy without the knowledge of who they are and where they came from, Tiffany Espensen is beyond grateful that God placed her with the family she grew up with. They are her family, and she's also happy that she got to grow up in America. She's feeling very blessed, and we don't think she has an interest in getting to know her biological family (though we are not certain about that).
9. She's Very Faithful
If there is anything about her that she might want her fans to know, it's that she has a deep religious belief and her faith is very strong. She doesn't try to hide her faith, nor does she worry that it might offend anyone or turn off any of her fans. She's happy with who she is and how she lives her life, and we love that about her.
10. She's Got a Famous Friend
She's not just a famous star herself. She's not just dating another famous star. She's got a famous friend, too. It makes sense when you think about the fact that she is very close to Bindi Irwin, daughter of the late Steve Irwin. She is following in her father's footsteps and making her mark on the world by educating and caring for animals as her late father did. The two appear to be very close friends, and we can see it with all their wholesome sweetness and darling love of life they both share. What a happy friendship they must have.