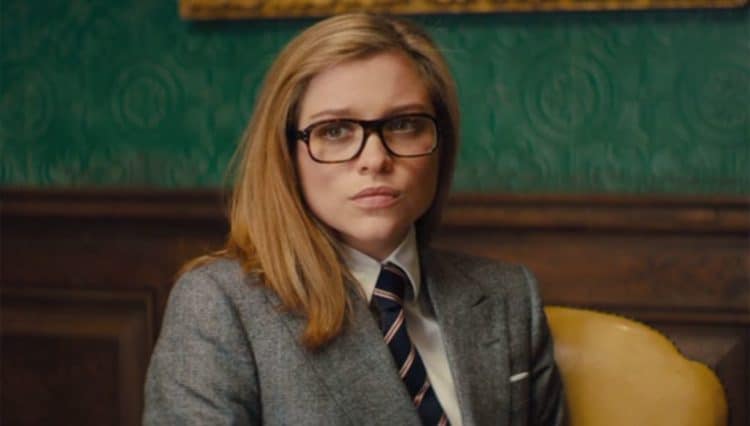 Sophie Cookson seems like someone that likes to have fun and likes to be nice and loose when she's onstage. Her roles so far haven't been many but then she hasn't been around very long so she's got a lot of time to catch up and make her name known among the stars. As of right now she's a celebrity and someone that will possibly be moving on up eventually so it's fair to say that she can take her time and make things work as they will. After all the only thing that makes a person better is time and experience and right now she's gaining the latter while still having plenty of the former.
Here are a few things you might not know about her.
10. She was involved in singing and musical theater as a child.
You would think this would have taken the biggest part of stage fright out of her and you'd be right but she still does feel nervous every now and again when she's onstage as she's admitted to. This however could be chalked up to the little experience she's had in relation to some of the other actors she's worked with in her career so far. It's easy to be rattled when standing next to those that are so poised and ready to go at a moment's notice.
9. She dropped out of college to pursue an acting career.
She was going to study Arabic and art history but she decided to bow out and head for drama school instead. As of now it seems that she made the right choice and was also right in never looking back. Sometimes life takes us down strange roads that we're not entirely ready for but want all the same.
8. She had a part in Kingsman: The Secret Service.
She played the part of Roxy/Lancelot, one of the team members that proved to be the toughest among the group and unfortunately died in the second movie when the Kingsmen compound was blown up. It's too bad since she could have made a rather interesting character in the second movie as well.
7. Her career started in 2013.
So you can see that she hasn't been around all that long and has a lot of learning to do, but as of right now it's apparent that she's been minding her lessons and is doing just fine so far. It could be that she has a lot of natural talent, or it could be that she's just a quick study. Either way she's already established that she belongs in acting.
6. So far her filmography isn't that big.
For someone that's been in the game for less than a decade it seems wiser to pick and choose certain parts that can be seen as fitting for them rather than take everything that comes along. By doing the former one might be seen as too picky but by doing the latter it would appear that some people are more than willing to pick roles that they aren't fit for just to put another dash on their resume. There are ups and downs to both methods.
5. She's got a modest following on social media.
It would appear that she's at least friendly with social media as she has well over 100 thousand followers and is active enough that she does communicate with people. Some celebrities have opted to stay away from Twitter as it seems to cause nothing but problems and headaches sometimes, but others have fully immersed themselves in the Twitterverse.
https://www.instagram.com/p/BgDoYNeHnq6/?hl=en&taken-by=cookie_soph
4. She describes her personal sense of style as quite simple.
Sophie enjoys putting on a pair of jeans, a shirt, her Timberlands, and just cruising out in her own style which she defines as boyish. In truth she's the type that will wear something until it finally wears out, which is how many people would describe themselves out of necessity.
3. She enjoys a good challenge.
She definitely loves to rise to a challenge whenever she sees one and doesn't generally back down. A lot of actors would take on challenging roles and do so largely because it makes them grow as a person and as an actor. This could be what Sophie is thinking, or she could just love the thrill of taking on something new when it presents itself.
2. She likes singing karaoke, when she's drunk.
This is definitely something that a lot of people can relate to as Sophie admits that the last time she got up to sing karaoke it was to Bon Jovi. The way she describes herself brings up a pretty hilarious image, but let's be honest, that's most of us when it comes to singing karaoke.
1. She is a big fan of Judi Dench and Naomi Watts.
Considering that she's worked with both women there's no doubt that she's learned a lot from them and has come to admire them both immensely.
Hopefully she'll continue to show up as the years go by, she's a very astute actress.
Tell us what's wrong with this post? How could we improve it? :)
Let us improve this post!