Since the 1930s, different iterations of the famed Addams family have hit the pages and screens everywhere. It's for good reason too! The quirky yet spooky Addams have proved to be a rich depiction of what makes society so… diverse. Each member of the family has something interesting and, dare we say, insightful to offer. Even the family eccentric (and that says a lot), Uncle Fester is as unique a character as they come.
The completely hairless and stumpy member of the Addams family is somewhat of a "funcle" to Wednesday and Pugsley. But outside that, there is definitely more to his quirky persona than what meets the eye. Without further ado, here's all there is to know about Uncle Fester.
Uncle Fester: The Origin Story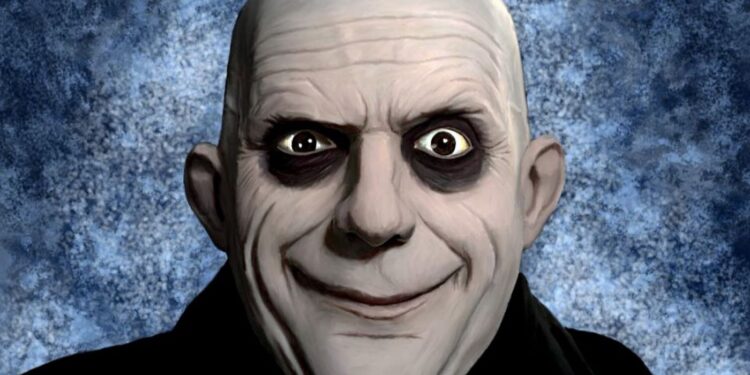 The character of Fester dates back to the 1930s when cartoonist Charles Addam created him. Back in the day, he was simply part of single-page cartoons with no stories, talkless of character names. However, that was short-lived as Addam later named him Fester and had quite a colorful description for him, "Uncle Fester is incorrigible and, except for the good nature of the family and the ignorance of the police, would ordinarily be under lock and key… the eyes are pig-like and deeply embedded… he likes to fish, but usually employs dynamite… he keeps falcons on the roof which he uses for hunting… his one costume, summer and winter, is a black great coat with an enormous collar… he is fat with pudgy little hands and feet."
As far as his ancestry is concerned, it dates back to his great-grandfather, Blob. As the story goes, Blob received the gift of a sacred ruby after he had pried it from the head of a Hindu. Since then, the ruby had been a family heirloom. That was until Fester used flung it at a stray cat that was bothering him. In his defense, "It was the only rock in the house!"
Besides his penchant for crime and recklessness, the character can conduct electricity and doesn't shy away from demonstrating it. He's often seen using his mouth to power a bulb in the TV series and even brags about having about 110 watts of power. Then there's Uncle Fester's legendary chronic migraine that often makes him stick his head in a screw press for release. It's one of the many quirks that make the bald-headed character tick. While his pop-ins are not as regular, Fester is no doubt an integral part of the Addams family.
Uncle Fester's Portrayal In Different Media
Throughout the years, there have been different iterations of Uncle Fester, and not just in terms of the actor portraying him. In the 1960s Original Addams Family series, he was played by Jackie Coogan. The story is that this version of Fester is Morticia's maternal uncle — Granny Frump's brother. The series never particularly delved into Fester's childhood, but one thing was clear… he had the mother of all daddy issues. Apparently, his father was as strict as they come and often paddled his bottom even when he wasn't naughty. Even more, he often paid him to stay out of public which Fester considered to be some sort of PR lesson. Regardless of how strict his father was, Fester defended his methods and considered himself a testament to his own "standup" character.
The 1991 movie The Addams Family had a whole other version of Uncle Fester, and this time, he was played by Christopher Lloyd. In this case, he's Gomez Addams' long-lost brother who apparently disappeared in the Bermuda Triangle for a quarter of a century. This version has him suffering from a bout of amnesia that makes his family and viewers alike question his identity altogether.
In total, Fester has been featured in over ten different productions of the Addams Family, but for the most part, his characteristics are consistent. The Addams family lore has evolved to solidify his status as Gomez's brother. Another consistency throughout Fester's different iterations is his close relationship with his niece and nephew. Though he's on the receiving end of Pugsley's violent explosions, it's clear there is a fondness there. Even more, in the latest Addams Family installment, Wednesday, it's clear that the titular character has a rare fondness for him. Bottom line, Fester may be kooky, but he's as iconic a character as ever.