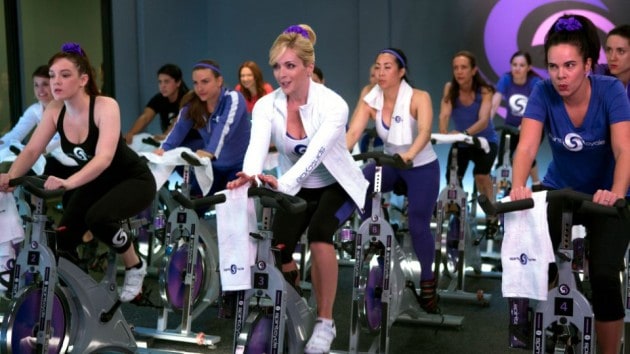 "Kimmy Rides a Bike!" hinges on the titular character trying to, yet again, escape her past, something that Kimmy has been trying to do since the very first episode of Unbreakable Kimmy Schmidt. After a somewhat successful do-over in New York, Kimmy's stress and worry resurfaces as the trial of the man who held her captive, Reverend Wayne Gary Wayne (John Hamm!), begins back in her hometown, and she only wants to remain far from the trial. Titus, in opposition, cannot distance himself from the proceedings, which, are heavily covered by the press.
Because Jacqueline is in utter and complete denial in regards to her divorce, she turns to Spirit Cycle, an indoor cycle sport that spoofs soul cycle that is led by hip new bike guru, Tristafé (played by Nich Kroll), as a distraction. Kimmy joins Jacqueline, as she needs a distraction herself, but she focuses on avoiding and how it could affect her second chance at life that she becomes obsessed with her new hobby, embracing her ultra-competitive side to a degree where she becomes not only a star at the gym, but also her boss's nemesis.
While Kimmy's endorphin overdose keeps her at bay from what is happening inside the courtroom, the trial turns into a circus, the as prosecution fails at every turn, and the reverend attempts to charm his way out of the charges. To make matters worse, Wayne Gary Wayne has groupies, and even the reporters in charge of covering the trial seem to adore the former cult leader. At the same time, the reverend's magnetism explains how the Mole Women came to be.
As Kimmy tries forget what she went through for 15 years, at the cost of the reverend potentially becoming a free man, she appears as if she's possessed by a Spirit Cycle demon, and it is Titus who sees that and helps make her realize that she has, by default, fallen into a pattern of cult joining. After all, Spirit Cycle is no different than following the reverend. Given the fact that Kimmy listens to her roommate and opens her eyes, she decides to shed some light over her discovery and reveals to the other women enlisted in the class that Tristafé is a poser. In fact, he was never really cycling; instead, he has a screen covering his lower body, and he is sitting on a toilet. The low lights and candle also helped to provide cover.
After freeing a bunch of rich cycling junkies of the toxic Tristafé, Kimmy finally decides that she needs to confront her own past, Reverend Wayne included. As a result, she gathers strength and determination and, alongside Titus, she travels back to the place she had swore never to revisit.
This episode of Unbreakable Kimmy Schmidt does a great job at providing more context as to how the Mole Women were fooled for such a long period of time. In fact, it was a smart move from the writers not just to cast Mr. Don Draper himself, but also, to have the cult leader be so convincing, while the prosecution and the jury seem almost completely clueless. It is hard not to compare and contrast Unbreakable Kimmy Schmidt's trial to, what I imagine, happened at Robert Durst's trial in Texas.
Highlights:
– Titus watching the legal proceeding on a dinosaur PC at the library, and subsequently complaining about the commercials was priceless and brilliant. It is details like that that elevate the Netflix's hit.
– Tina Fey's cameo is simply delicious.
[Photo via Netflix]