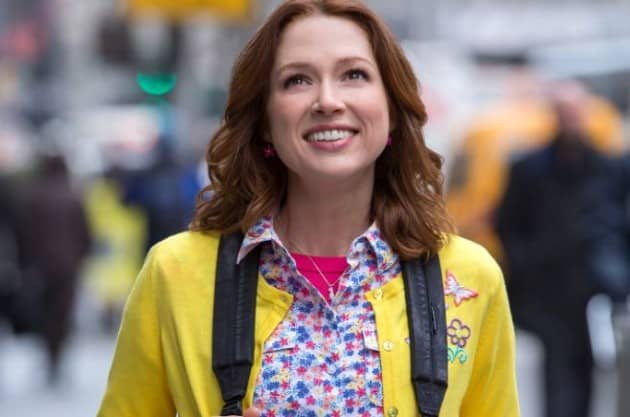 Created by 30 Rock's Tina Fey and Robert Carlock, Netflix's new sitcom Unbreakable Kimmy Schmidt debuted today and proved to be as delightful of a show as the previews for it had teased.
After watching the first two seconds of the pilot, it is obvious why NBC was an inadequate foster parent for the show. In short, the premise of this campy sitcom seems to be far too unmanageable and whimsical for the network, whereas Netflix can give Kimmy plenty of room to get weird and gain a niche audience, like most of the shows developed on the streaming platform. That said, in spite of the home where the show resides, Unbreakable Kimmy Schmidt is an outstanding sitcom that not only dares to be different but, more importantly, is proud to be doing so.
After being extracted from an underground shelter in Indiana, where she and other three woman had spent the last 15 years of their lives, convinced by a cult leader that they were the only remaining survivors on the planet, Kimmy (played by the perfectly cast, bubbly with an edge, Ellie Kemper) decides to reclaim her life, and instead of heading back to Indiana, she chooses to stay in New York City, after she and the other cult members finish their media engagements. Though an oddball of a show thus far, the series is honest from the get go; this is a fish out of water story.
Given that the backstory can be overwhelming if examined too deeply, the first episode does showcase some of it on a cellular level, while on the other hand, it also let Manhattan's busyness, craziness, and urban charm take over. This works particularly well on an entertainment level, but also gives the series endless roads to explore. It goes without saying that the starting over in the Big Apple concept is also very relatable.
Kemper's skill makes her BE the show, since Kimmy's approach to everything she sees is gleeful. This is a person who not only has the ingenuity that fifteen years underground have provided, but also, she has the heart and the brains to make things work her way, even when they don't. Optimism and a "nothing to lose" attitude are the forces behind this likable heroine; on the other hand, since she's seen many things with virgin eyes, and with a profound lack of context, there is enough room for hilarity.
Because of her lack of streets smarts and knowledge of the NYC seventh circle of hell that is finding a place to live, Kimmy finds a place to live with a peculiar roommate and a job to pay the bills, all of which happens almost by chance but also 100% because others want to take advantage of her naïveté. Titus (Tituss Burgess), a struggling actor who works in Times Square in an Iron Man costume, completely robs her, while her new boss, Jacqueline (Jane Krakowski), an Upper West Sider and barely-there mother, paying $17 hourly and under the table for a nanny/assistant job, is also benefiting from how green Kimmy is, since the normal rate for Manhattan is higher than that. That said, the supporting characters are colorful and show huge promise. Jacqueline seems too busy focusing on herself and has the perfect traits that would allow Kimmy to hide her past from her, while Titus is, initially, too frustrated with his own life to see anything Kimmy as anything other than dollar signs and a small-town girl.
In a new city, with a job, a room (well, closet) to live in, and characters who can exploit the ridicule out of any and every situation, Kimmy started her journey today. I, for one, am thrilled to be joining, especially given the fact that Netflix has already picked up the show for a second season.
Highlights:
– The gags land. One of my favorites takes place at the beginning of the episode, as Kimmy and the other women come out of the bunker, and the tagline of one of the news networks covering the event reads: "White Women Found," then right under the sentence, in a smaller sign, it says: "Hispanic woman also found" It's subtle, yet funny. What does drive me crazy is that white (actually, Caucasian) is a race, while "Hispanic" is not a race. Hispanics can be of any race. I know this is a sitcom, and the absurdity of the "mistake" the media made at this day and age plays well in context; however, I really, really hope audiences know this and don't repeat that Hispanic is a race when it is an ethnicity.
– Obviously, Kimmy herself. Because of her limited experiences and her bright mind, her take on things is just exquisite. She is childish without being grating, and she embraces who she is. Both the writing and the acting take the cake here. That stated, Kimmy is both perfect and imperfect for New York.
[Photo via Netflix]