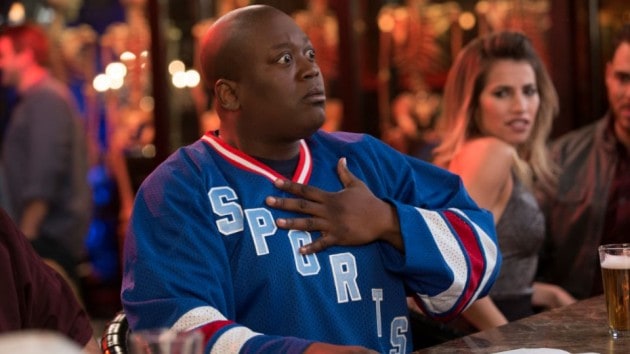 Following Logan and Dong's fight over Kimmy's affection at her 30th birthday party, Titus pronounces Kimmy "in a love triangle," an accurate diagnosis that creates the central conflict that develops throughout this episode of Unbreakable Kimmy Schmidt (and also gives the installment its title).
Despite there being no contest and the audience having a clear favorite, initially, Kimmy's loyalty belongs to her boyfriend, Logan, who aside from going to the extremes to point out why he is the best suitor, asks Kimmy to cut Dong out of her life permanently. At first, Kimmy is reluctant do so, but when she consults with her BFF Titus, she realizes that Dong will always try to be more than friends with her, thus causing problems between her and Logan.
Once Kimmy finds the courage to break the Dong's heart, she heads to his workplace/crashpad, only to see that the restaurant he works for had been raided by immigration. Not only does Kimmy realize that she can't shut Dong out of her life, but also she decides to aid him. All of the sudden, Dong is staying with her and Titus.
Dong is also dragged into executing a crazy plan to scare Xan's mother, so she doesn't take her daughter to live with her to Connecticut as a result of the custody agreement that will become effective once Jacqueline and Julian divorce. As the group performs what could be a perfect SNL skit, Kimmy and Dong end up kissing, and sparks fly, making one thing very clear: Dong's feelings are being reciprocated.
As a counterpoint, Logan's super snobbish ways escalate and reach titanic proportions, showing how out of touch with reality the character really is. As Dong had told him in the previous episode, the millionaire's life experiences are not universal. Not one bit. What shines, aside from an impeccable performance from Adam Campbell, is the fact that Kimmy is not impressed by him. She is not blinded by shiny things and mammals. Additionally, she is outspoken enough to question his "daddy's boy" label. In other words, Kimmy has had it tough; what she's not looking for are not possessions but a real connection with someone. She could never have that with Logan, and there is an obvious obstacle between them that has nothing to do with Dong or the triangle: Logan and Kimmy could never relate to one another. She is a survivor who is eager to learn from the world, while he is a privileged man-child who seems unwilling to mingle with others. In fact, his interest in Kimmy seems to be more philanthropic than romantic.
One of the highlights of this episode of Unbreakable Kimmy Schmidt is that Logan does actually feel threatened by Dong, which reveals just how insecure he is. That self-awareness, combined with Logan's inability to actually charm Kimmy without gimmicks, causes him to abuse his power and do something horrendous: call immigration. That alone should be the nail in the coffin for his relationship with Kimmy; however, his actions only bring her and Dong closer. Even though Kimmy breaks up with Logan after she learns what he did, it seemed that she would have done so anyway sooner or later, whether she had known of his role in the raid or not.
I appreciated some of the elements surrounding the threat of Dong's deportation. First off, the way Logan sees the action is well-conceived: he sees things purely in black and white, so when he saw a danger in Dong, he eliminated it without thinking how he could be destroying Dong's life. This supports the fact that Logan has no empathy and could never put himself in Dong's shoes. Since he is unable to relate, how would he react if he learned who Kimmy really is?
In parallel, both Kimmy and Dong are new to "the city" in their own ways. They are both underdogs who are fighting for a second chance at life, and that connection is not only something Logan would never understand, but it is a bond that is impossible to break. As an immigrant, who is also living in NYC, I can fully relate to the storyline.
Since feelings were exposed after Kimmy and Dong's kiss, the latter decides that he can't stay with her, or in the city, for that matter. Dong knows he will get hurt, while at the same time, everything he worked so hard to build is gone, simply because a rich kid decided to fight dirty. However, as Dong readies to depart, Kimmy stops him. As a result, Dong decides to stay, which makes the plot thicken not only because of the romantic arc but also because the deportation issue is not fixed.
All an all, this episode of Unbreakable Kimmy Schmidt was 100% dynamic and well-balanced. The jokes landed and the dramatic points were strong. Not to mention, Dong and Kimmy make a very cute pair.
Highlights:
– Titus arc was perfect. The character trying to appear straight, and even taking classes to accomplish such a goal, was golden. Unbreakable Kimmy Schmidt uses stereotypes to its own advantage and it pays off.
– Xan and Kimmy getting along in order to fool the young girl's mother worked well because it showed how Kimmy, unlike Logan, has the emotional tools to relate to others, despite their dissimilarities. At the same time, Kimmy changing her mind and doing what she considers to be the best for Xan was also a good call. Kimmy is, after all, a caregiver, and she revealed who Xan really is in order to save her from toxic friends. The action showed growth.
[Photo via Netflix]