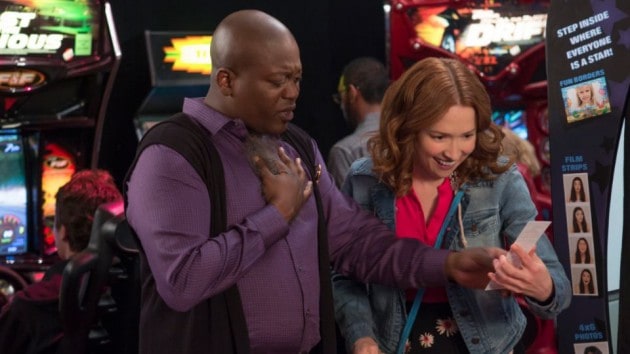 After bringing to her and Titus's place a discarded TV that she found on the street, Kimmy and her roomie watch a commercial for Buhbreeze, a spoof on Febreze air freshener, which turns into a recurring joke, with the tagline "Buhbreeze your life." However, Kimmy soon changes that slogan, saying, how "you can't Buhbreeze your life," which becomes the mantra of this episode of Unbreakable Kimmy Schmidt.
Every episode of Unbreakable Kimmy Schmidt has Kimmy both learning something new and imparting knowledge to those around her. It's s symbiotic relationship that works well throughout the show. In "Kimmy Goes to the Doctor!", Kim is at first seduced by the idea that changing her appearance would help mend her problems. Jacqueline professes that things need to be worked out inwardly and Kimmy falls for it, briefly.
While her boss attempts to have some work done on her toes, as a way to keep her marriage from crumbling down, Kimmy goes with her to visit a plastic surgeon, Doctor Sidney Frampf, interestingly spelled Grant, but pronounced Frampf (played by force of nature, Martin Short).
The doc, who seems to have undergone so many procedures himself that he looks like a prop from the 80's, takes one look at Kimmy, who is, by all means, a blank canvass, and makes two comments: she has no sun damage, which still does not clue in former Jackie Lynn as to her nanny's past, and she has pronounced "scream lines," wich of course, the procedure junkie, wants to get rid off.
Kim does indeed get fillers injected and her scream lines disappear; however, when a talent agent who she bumps into while helping Titus on the road back to acting recognizes her as one of the mole women, she goes all in and tells Doctor Grant to get her a new face.
As the procedure to Kimmy's new facial features is about to commence, the protagonist has an epiphany, courtesy of Buhbreeze, and realizes that changing her looks is not going to do much regarding her true scars. "Changing your outside isn't going to fix what's wrong inside. We're just covering up our problems," Kimmy preaches to everyone present in the waiting room, yet her senses start to fail her as the drugs the doctor gave her start to kick in.
Later on, and once sober, Kimmy applies what she learned to Jacqueline's life. She convinces her boss that Julian, her perpetually M.I.A. husband, is her marriage's problem, not her toes. Fortunately, the woman listens to her and is ready to take some action that does not require altering her any parts of her body.
In the meantime, Titus sees a chance to break through when the entire cast of the new Broadway show Spidermen Too: 2 Many Spidermen needs to be replaced as a result of multiple accidents. He figures that most performers will opt against auditioning for a life-threatening part; therefore, his chances at being cast would exponentially increase. That said, the reference to real events is flawlessly funny and well-handled,
As Kimmy's friend auditions, he bumpts into Coriolanus Burt (James Monroe Iglehart), whom he blames for stealing, what he considers, could have been his big break years ago: a role in a production of Oklahoma! called Alabama!, played by a cast conformed exclusively of African American actors.
Though Titus does not get the part in the hazardous Spiderman show, his efforts to try out for it do pay off, in comedic release as much as they do narratively, since Kimmy's friend figures out that Coriolanus isn't as successful as he believed; therefore, the so-called stolen big break, was not such. Titus happily informs Kimmy that could only mean that his breakthrough has yet to come. Tituss Burgess is, in my opinion, the MVP of the episode. Even though every actor was strong, the Spiderman audition sequence is easily the highlight of the episode.
At this juncture of the show, I also find it important to note that the different pieces that make Kimmy stand tall and remain unbreakable have a lot to do with the teamwork that goes on both in front and behind the cameras. Even germinal subplots, such as Cyndee Pokorny, one of the other women from the bunker, announcing she wants to visit Kimmy, keep the rhythm going and the audience glued.
I very much enjoyed how Kimmy is Buhbreezing her life, therefore trying to erase the other women. She is compartmentalizing and putting blame where it does not belong, which is exactly the same behaviors that her boss and roommate are exhibiting. Parallels are being drawn nicely. At the end of the day, Kimmy will have to face Cyndee, as much as Titus needed to confront Corilarious and Jacqueline owes to herself to tackle her marital issues. All of those realizations turn into choices that will turn into motion; that very motion is what keeps this show fresh.
This episode was probably my least favorite of Unbreakable Kimmy Schmidt so far, which is not necessarily a bad thing. It was a good chapter that stands well on its own; however, I did find Titus's plot to be resolved a little bit too quickly, and I would have loved to see more of the crazy doctor.
Highlights:
– Jacqueline's take on anything and everything is funny, yet her affirmation that feet are "the new butts" took the cake. The character is so fast transitioning from dumb to brilliant that I am fascinated. Jane Krakowski keeps outdoing herself.
– Kimmy's use of her cellphone keeps getting better and better. Her idea to snap a picture of her boss to show her that she looks sad (and no, it's not a filter) was the holy grail.
[Photo via Netflix]