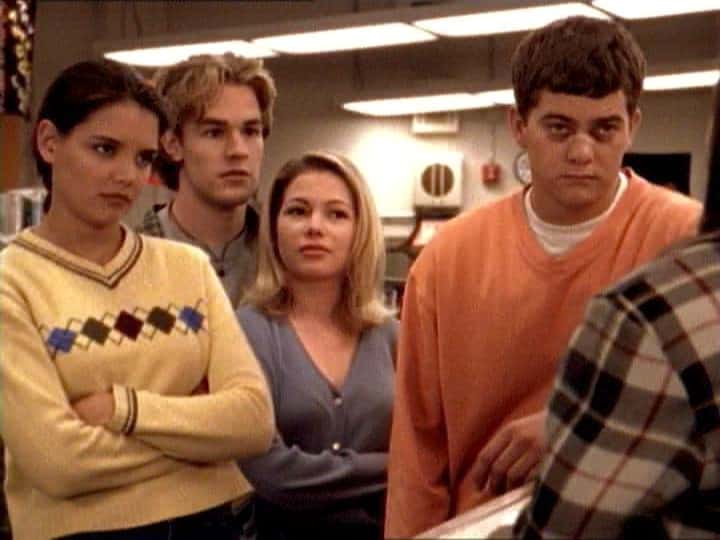 This is TV Overmind's third installment looking at 50 TV shows that are set in each of the 50 states. Last week, we discussed Parks and Recreation (set in Indiana) and Justified (set in Kentucky). If you did not get a chance to peruse this article, it can be viewed by clicking here. This week, we will take a look at series set in such states as Michigan, Minnesota, and New Hampshire. Hopefully, some of these will surprise you!
Massachusetts – Dawson's Creek (The WB), 1998-2003
The late 90's was a time when many teen dramas popped up on the airwaves, many of which were broadcast on the younger skewing (and now defunct) The WB. None of them could compare to Dawson's Creek, a drama about a group of teenagers living in Capeside, Massachusetts. When they graduated, the focus shifted to Boston. And for once all the main characters did not go to the same college!
Michigan – Sister, Sister (ABC and The WB), 1994-1999
We most likely all remember that the comedy Home Improvement was set in Michigan, but did you remember that this 90's series was set in Detroit? Tia and Tamera magically meet one another in a department store and the rest is history. This series actually aired on ABC for its first season before making the move to the WB.
Minnesota – Little House on the Prairie (NBC), 1974-1982
When we first met the gang that lived in Walnut Grove, Minnesota, they starred in two-hour television movie in March of 1974. The movie would be picked up to series by NBC and debuted in September of that year. Before becoming a bad girl on the set of Beverly Hills, 90210, Shannen Doherty played Jenny Wilder on the 9th and final season.
Mississippi – In the Heat of the Night (NBC and CBS), 1988-1995
This series was about police chief William Gillespie and his police team fighting crime in Sparta. Mississippi. Carroll O'Connor previously starred on the successful All in the Family, before appearing in this drama. The end of the sixth season of the show saw the departure of many cast members. O'Connor would only appear in a guest-starring role in the seventh and final season.
Missouri – On Our Own (ABC), 1994-1995
On Our Own was a creation of the people behind such classic series as Full House and Step by Step. However, this show never found an audience, even after airing behind the popular Step by Step. The series starred Jurnee Smollett (Friday Night Lights and True Blood) and five of her siblings. One of them is Jussie, who now stars on the FOX drama Empire.
Montana – Longmire (A&E and Netflix), 2012-Present
Walt Longmire is the Sheriff in fictional Absaroka County in this drama. The series premiere was the most watched premiere episode of any original series to air on A&E, including Mad Men and Breaking Bad. By the time season three aired, the series lost 25% of its audience. This prompted A&E to cancel the series that also stars Katee Sackhoff and Lou Diamond Phillips.
Nebraska – First Impressions (CBS), 1988
This series starred Brad Garrett in one of his very first TV show appearances. He played Frank Dutton, a man who did impressions to help sell ads for his advertising agency. Sounds like a dull premise, right? The show was cancelled after only airing five episodes. Three additional episodes were filmed but were never shown.
Nevada – Reno 911! (Comedy Central), 2003-2009
Shows that take place in the state of Nevada mainly focus on Las Vegas. However, this comedy parody was set in the city of Reno. The plot elements for this series are scripted, while the dialogue was improvised to give it a more documentary style feel. The series lasted for six seasons and starred Thomas Lennon., Niecy Nash, Wendi McLendon-Covey, and Joe Lo Truglio.
New Hampshire – Jumanji (UPN), 1996-1999
This animated series was based on the film that starred Robin Williams and Bonnie Hunt. The premise was similar to that of the movie. Judy and Peter try to help Alan escape out of the board game. When not trapped in the game, the series would take place in fictional Bradford, New Hampshire. You can now buy the first season on DVD!
New Jersey – The Neighbors (ABC), 2012-2014
One of the most underrated TV shows of recent years is The Neighbors, which was set in a gated community in New Jersey. The Weaver's realize that everyone living around is an alien and then laughter ensues. The premise may sound stupid, but what really made this series great was the writing and acting. Sadly, the series would only last for two seasons.
Which TV show on this list is your favorite? Let us know in the comments section below.
Photo by: The WB