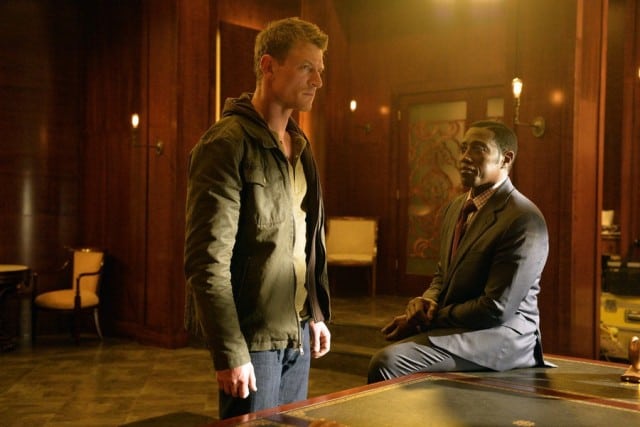 The fall 2015 television season is one of the most crowded ones in history, especially when it comes to freshman series. Continuing the trend of networks adding more diversity to their lineups, NBC is hoping to see success with its latest Thursday night drama, The Player. No matter the quality, the show will have a struggle ahead of itself in finding an audience (at least, a live audience) during the extremely competitive Thursday-at-10pm timeslot that it calls home.
NBC describes The Player as follows:
From the executive producers of The Blacklist comes the action-packed Las Vegas-set thriller The Player. The series co-stars Wesley Snipes as the pit boss and Charity Wakefield as the dealer for a high-stakes game, where an organization of wealthy individuals gamble on the ability of former military operative turned security expert Philip Winchester (Strike Back, Fringe) to stop some of the biggest crimes imaginable from playing out. Can he take them down from the inside and get revenge for the death of his wife, or is it true what they say: The house always wins.
Looking at that description, you can clearly see the two biggest draws that the network perceives The Player having: 1) the creative tie to its hit The Blacklist, and 2) star power. The cast is led, as mentioned, by Wesley Snipes, which definitely has the potential of giving the show a slightly elevated level of quality even if the other aspects are poor. To me, though, the secret weapons that The Player has in its back pocket are the co-leads, Charity Wakefield and Philip Winchester. Wakefield is a much more capable and nuanced actress than audiences are probably aware, and Winchester is a modern-day television action star that is often very reminiscent of those from the 80's. Along those lines, it's made clear through the trailers and promotional material for The Player that NBC is attempting to make a much more action-oriented drama than what they usually put out, much in the same vein of popular 80's action shows such as Miami Vice. It will be really interesting to see if audiences latch onto The Player in the way that NBC is hoping, but we'll know that soon enough.
For now, let's take a look at the first episode of The Player, which is very appropriately titled "Pilot" because, believe me, this is a pilot in every sense of the word
The episode opens with an introduction to Alex Kane, played by Winchester, that attempts to show some of his skill in security while pointing out his ability to think like a criminal. This introduction leads to The Player's first action scene, three minutes into the episode, that, honestly, is pretty ridiculous. It's shot well enough, but Kane's actions and incredibly poorly-written dialogue and exposition make it appear even worse than it already was. Kane soon goes to meet with his ex-wife with whom, surprise, he is still in an on-and-off relationship. The two decide to stay together this time, but tragedy strikes as, of course, she is murdered in the night. This leads us to our second chase scene of the episode (eight minutes in) that features our hero running through the streets of Las Vegas in his boxer shorts. While less ridiculous than the first, I'm already tired of chase scenes before the end of the first act. Not a good sign.
The next morning, Kane is questioned about the murder of his ex-wife, but no one can confirm the presence of the true killer that Alex had been chasing. He thinks that a woman who just so happened to hit him with his car could confirm that the man exists, but, as expected, nobody can find her. Nobody, at least, until Alex escapes the hospital and winds up in her car. The woman, Cassandra (Wakefield) offers us a ton of exposition revealing some of Kane's backstory while giving us another chase scene (twelve minutes in). This one is different, though, because it's a car chase instead of being on-foot. Ok.
Cassandra takes Alex to meet Wesley Snipes' Mr. Johnson, and we learn through some very clunky dialogue that he runs an organization that deals in gambling whether crimes will happen or not based on their ability to predict crime. Johnson wants to use Alex to work for "the house," essentially making Kane the titular "player." While it's horribly explained, the premise presented here is surprisingly full of potential. Unfortunately, that potential is wasted in this episode.
What follows this premise introduction is another car chase scene (fifteen minutes in) and a gunfight (seventeen minutes in). I love action, but believe me when I say that this is a lot of action. The fight and stunt choreography is on point, but there's so much of it that you quickly become overwhelmed.
Now that Alex has done his part, he heads to speak with Mr. Johnson once again, using a clue left to him by Cassandra. Johnson explains that the House consists of himself, the "pit boss," and Cassandra, the "dealer." As mentioned before, Kane is the "player." Mr. Johnson explains the nature of the game and the method of predicting when and if crime will happen. The crimes are predicted, and people gamble on whether or not these crimes will actually happen. Sure.
Through the rest of the episode, Alex works with Cassandra's help to stop a crime from happening. Lots of action happens in the second half of the episode, with the highlight being a motorcycle driving through an empty mall before a gunfight ensues. It's as ridiculous as it sounds, but I've got to admit that it was fun to see. Dumb fun, sure, but fun. After Alex does what Mr. Johnson wants, Johnson helps Alex out by getting him in the clear for the murder of his ex-wife. At the end of the episode, Mr. Johnson offers Alex a job as the full-time player. After a scene with the best dialogue in the episode, Alex decides to accept the offer. We also learn that there's more to the mystery of Ginny's murder, because of course there is. We also learn that there's more to Cassandra than expected, because of course there is.
Let's start with what didn't work with the premiere of The Player. There was too much action. The dialogue was horrid. The premise wasn't at all explained well enough. There was a lot of pretty advanced technology that was neither necessary nor realistic.
Despite the bad, though, there were things that worked. Even with too much action, the chases and fights were well-choreographed. The cinematography was nothing special, but it was very solid for a broadcast series on a lower budget. The actors are very capable, so they just need to be given some better material. Charity Wakefield in particular does a really great job with what she has to work with, and it's a real wonder why she hasn't been given meatier parts in the past. Snipes also gives a very Wesley Snipes performance, which is unexpectedly fun to watch (especially in the scene where he's helping Alex toward the end), and Winchester plays to his strengths as an action star. Finally, the premise is interesting and has a lot of potential, but the horrible exposition in "Pilot" may make that too hard to see for most audiences.
Look. This episode of The Player was not good. In fact, there were a few moments that were actually awful. But does The Player have any potential at all to become better? Surprisingly, I really do think so. As mediocre as much of the episode was and as awful as a few specific moments were, the performances by the cast were much better than the material deserves. The premise, despite its many, many cliches, has just enough originality to show that it has the capacity to be interesting. And, honestly, I would be lying if I said that the core concept of the series isn't something that I think can be really, really fun with a little (maybe a lot) of work. The real question isn't whether the show can become good, though. It's whether or not NBC will give it any time to do so. We no longer live in a world where networks are going to give a full season to many decent shows, let alone one with a start as weak as this. To quote Mr. Johnson, "Place your bets."
What did you think about the premiere of The Player? Will you be tuning in next week? Let us know your thoughts in the comments down below!
[Photo credit: Gregory E. Peters/NBC]
Tell us what's wrong with this post? How could we improve it? :)
Let us improve this post!