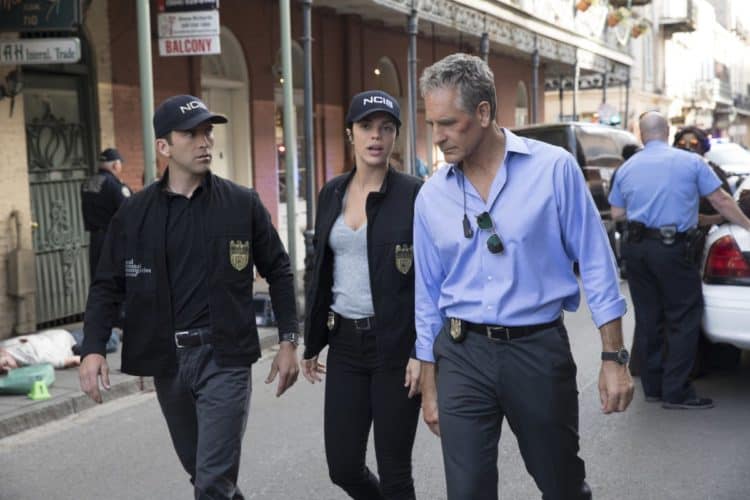 The sixth season of NCIS: New Orleans aired on CBS on September 24 and this season is sure to continue the drama and great story lines of the television series. The original NCIS, a spin off of the hit series JAG, premiered in 2003 and has spawned several spin offs. The military and police procedural drama, NCIS: New Orleans premiered in 2014 and follows the National Criminal Investigative Service as its agents investigate crimes that affect national security, counter intelligence, counter terrorism, cyber warfare and protect the United States Naval assets. The latest season of NCIS: New Orleans takes off where season 5 left off with the lead agent, Dwayne Scott, recovering from kidnaping, interrogation and LSD drugging. We can expect more dramatic episodes. We'll also see guest stars including Joanna Cassidy, reprising her role as Pride's mom, and Eddy Cahill from NCIS: New York, in a multi-episode arc dealing with Agent LaSalle's brother. Meet the cast of "NCIS: New Orleans" Season 6:
Scott Bakula as Dwayne Pride
Scott Bakula reprises his role as lead Agent Dwayne Cassius "King" Pride in the sixth season of NCIS: New Orleans. Bakula played the role of Agent Pride in the original NCIS and joined the cast of NCIS: New Orleans in its first seasnon. Bakula grew up in St. Louis, Missouri and always knew he wanted to be an actor. He followed his dream and moved to New York City in the mid-1970's. He got his big break in the Broadway debut of "Marilyn: An American Fable" playing Joe DiMaggio. His success in theater led him to the stages of Los Angeles and into television and film. Bakula's television career began in the 1980's with a role in "My Sister Sam", the series "Gung Ho" and on "Designing Women". Bakula is most remembered for his Golden Globe award winning role on the SciFi series "Quantum Leap". He also starred in a Star Trek Series.
Lucas Black as Christopher LaSalle
Lucas Black returns as Senior Special Agent Christopher LaSalle in season 6 of NCIS: New Orleans. Black has been on the series since the spin off's first season. Black is best known for his role in the 1995-1996 CBS horror series "American Gothic". Black was born in 1982 in Alabama and began his career as an actor in television beginning with roles in film in 1994. Black appeared in 1996's "Sling Blade" and won a Young Artist Award. He also appeared in "Crazy In Alabama", "Friday Night Lights" and "Jarhead". In television, Lucas Black appeared in several series including "CSI: Miami. Black is married to attorney Maggie O'Brien and they have three children.
CCH Pounder as Dr. Loretta Wade
CCH Pounder plays Dr. Loretta Wade, NCIS: New Orleans' medical examiner and forensics expert. Pounder was born in 1952 in Guyana, grew up in England and moved to the United States of America where she studied at New York's Ithaca College. She quickly got rolls in New York City's theater scene and starred in "All That Jazz" in 1979. Pounder moved to Los Angeles in 1982 and continued her theater career while pursuing her dream to be on television. She landed roles on "Hill Street Blues", "The Cosby Show" and "LA Law" during the 1980's. CCH Pounder landed the role of Dr. Angela Hicks on NBC's ER from 1994 through 1997. She continued to appear in television series during the 2000's including "The SHIELD". She began playing Dr. Wade on NCIS: New Orleans in its first season.
Venessa Ferlito as Tammy Gregorio
Vanessa Ferlito has played Special Agent Tammy Gregorio on NCIS: New Orleans since 2016. Ferlito is from New York City and moved to Hollywood to become an actress. She got roles during the 2000's on several successful series including "The Soprano's, "Law & Order" and "24". Ferlito is best known for her role as Aiden Burn on "CSI: NY" and as "Charlie DeMarco on "Graceland" before getting the role of Agent Gregorio on NCIS: New Orleans. Ferlito also appeared in films including "Spiderman 2", "Man of the House", "Madea Goes to Jail" and "Julie & Julia". Vanessa Ferlito is a single mom of two children and splits her time between New Orleans and Los Angeles.
Rob Kerkovich as Sebastian Lund
Rob Kerkovich grew up in Springfield, Massachusetts and always knew he wanted to be an actor. He began his career appearing in advertisements and soon progressed to television and film. Kerkovich has guest starred on many hit television series including "2 Broke Girls", "CSI: Miami", "New Girl", "Brooklyn Nine-Nine", "Parks and Recreation" and "Modern Family". He also appeared in films including "Cloverfield", "The Rebound" and "Still Waiting". Kerkovich joined the cast of the original "NCIS" in season 3 and continued his role on NCIS: New Orleans".
Daryl "Chill" Mitchell as Patton Plame
Daryl "Chill" Mitchell plays the role of NCIS Investigative Computer Specialist on NCIS: New Orleans. The actor was born in 1965 in The Bronx, New York City and began his career as a hip hop artist with Groove B. )Chili in the 1980's. He soon got roles in television and film. He appeared in "House Party", "Sgt. Bilko", "10 Things I Hate About You", "Becker" and "Desperate Housewives". Mitchell is best known for his roles as Dexter Walker on "The John Laroquette Show" and as Leo Michaels on "Veronica's Closet". In 2001 Daryl "Chill" Mitchell was paralyzed from the waste down in a 2001 motorcycle accident that occurred in North Carolina when he hit loose gravel on the road. Mitchell founded an organization to raise awareness about spinal chord injuries. Mitchell and his wife have three children and reside in Georgia as he films his role on NCIS: New Orleans.
Necar Zadegan as Hannah Khoury
Necar Zadegan has played an agent on NCIS: New Orleans since the series' fifth season. The actress was born in Germany and raised in San Francisco, California. She studied at the University of California, Santa Barbara and at La Sorbonne in Paris, France. Zadegan pursued her career of acting on stage, television and film. She appeared on New York City's Broadway alongside Robin Williams in 2011 in the play "Bengal Tiger at the Baghdad Zoo which was nominated for a Pulitzer Prize. Zadegan has appeared in several films since 2007. Her most notable television roles include First Lady and then President, Dalia Hasson in the eight season of "24" and guest roles in "Lost", "How I Met Your Mother", "CSI: Miami" and "The Good Wife". Necar Zadegan also appeared on Bravo's "Girlfriend's Guide to Divorce" before joining the cast of NCIS: New Orleans.
Tell us what's wrong with this post? How could we improve it? :)
Let us improve this post!