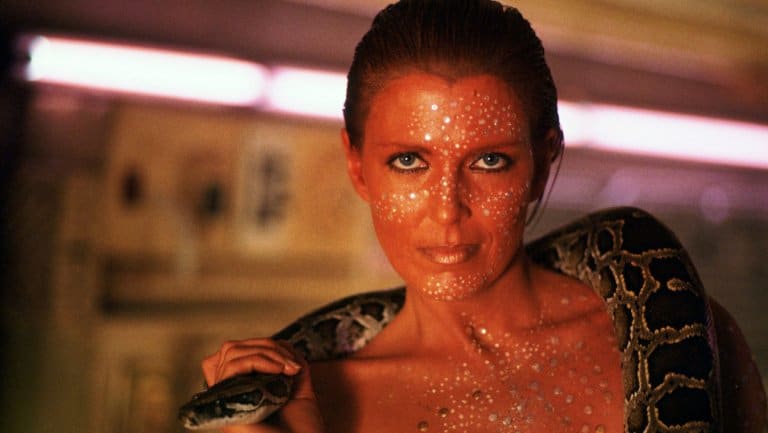 Best recognized for her easy, infectious laugh, Joanna Cassidy is an award- winning actress who's been gracing our screens for over 50 years. Most of us know Joanna best as the exotic snake dancer replicant, Zhora, in Ridley Scott's "Blade Runner", and as Dolores in Who Framed Roger Rabbit. In recent years, Joanna has concentrated her talents on TV, and can next be seen in the upcoming series "Too old to Die Young". Read on to discover more about the life and works of the talented actress.
1. She has an artistic background
Joanna was raised in an artistic environment, and was actively encouraged to explore her artistic and creative leanings from a young age. Intent on developing her talents in painting and sculpture, Joanna pursued an art major at Syracuse University, New York. Although she ultimately abandoned a career in the fine arts for Hollywood, she never lost her interest. Indeed, she's even occasionally managed to marry the two worlds, demonstrated when her drawing of director, Fredrick Forsythe, was auctioned for charity at the Irish premier of "The Fourth Protocol".
2. Her first success was as a model
During her time at Syracuse University, Joanna met and married Kennard C. Kobrin, a doctor in residency. To help support the family, Joanna decided to capitalize on her good looks by finding work as a fashion model. When the couple moved to San Francisco, Joanna continued to make her living as a model until, in 1968, she landed her first Hollywood bit part in Bullitt.
3. She has some unconventional methods of getting work
When Joanna's marriage ended, she made the brave decision to go it alone in Los Angles. However, with no prior experience in the film industry, Joanna was somewhat naive to the workings of the Hollywood machine. Without so much as a nod to traditional protocol, Joanna secured her first significant role by personally calling famed casting director, Joyce Selznick, and asking for an audition. Surprisingly, the unconventional method worked; Joanna was cast in "The Laughing Policeman", and hasn't looked back since.
4. She's a multi-award winner
In 1983, Joanna won rave reviews as JoJo White in the NBC series "Buffalo Bill". Critics called the show "brilliant" and "a rare view into the often-overpowering fatuousness and insincerity that sometimes dominates the television industry". The critical acclaim didn't stop at glowing reviews, and Joanna ended up winning both an Emmy and Golden Globe for her efforts. Since then, Joanna has continued to rack up the awards, and now has 2 more Emmys, along with nominations for Saturn and Screen Actors Guild Awards, under her belt.
5. She has a cult following
Thanks to her memorable role as Zhora, the exotic snake dancer replicant in the classic movie "Blade Runner", Joanna enjoys a cult fanbase. Zhora was Joanna's first major film role, and she's never forgotten the debt she owes it for her subsequent success. She donned the outfit for a second time in 2007 to celebrate the movie's 25th anniversary. Her recreation of the role can be seen in the Final Cut release of the film from that same year.
6. She had a dual appearance on Heroes
In the second season of hit NBC series Heroes, eagle- eyed viewers will have spotted Joanna as part of a photographic line up of the 12 senior members of the show's mysterious company. Joanna later went on to star as Victoria Pratt on the show, making her first action appearance in the 10th episode of season 2.
7. She's a Pilates fan
Joanna is not one to sit on her hands, as evidenced by her many passions and hobbies. When she's not indulging her love of gardening, Joanna loves to keep active, and is a regular at her local barre and Pilates classes. Joanna's philanthropy work also keeps her busy, with most of her charity work dedicated to serving the needs of children, the elderly and animals.
8. She's a keen photographer
Joanna has never forgotten her roots in the art world, and maintains an active interest in the visual arts, painting, sculpting and collecting. In recent years, Joanna has developed a new passion for photography, and loves nothing more than snapping away on her trusty camera.
9. She's passionate about interior design
Not content with restricting her ambitions to film and TV work, Joanna is now set on conquering the world of interior design. By utilizing her talents in the traditional arts, Joanna aims to create interiors full of artistry, beauty and serenity.
10. She's starred in a commercial
One of Joanna's earliest roles was in a TV commercial for the Prevention of Forest Fires. The 1973 commercial was nothing if not impactful, although some viewers were left slightly disturbed by an ending that saw Joanna peel her face off like a rubber mask to reveal Smokey the Bear underneath.