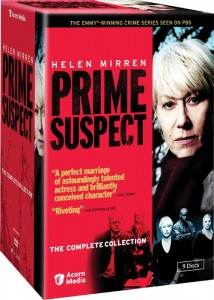 Prime Suspect is a high-class cop drama. Perhaps even more so than the critically lauded shows like The Wire, Prime Suspect feels like the filet mignon of television crime. That's probably due to its absolutely fantastic cast, which features Helen Mirren as the main character, DI Jane Tennison — one of the first really strong female police on TV.
The rest of the series almost feels like a who's who of brilliant British actors who are still prevalent today. Seeing as the series was made a decade ago, it's almost like looking through a time machine. A young Ralph Fiennes has a bit role as a victim's bodyfriend in the first series. Series three features David Thewlis (Harry Potter), Mark Strong (Sherlock Holmes, Kick-Ass), and James Frain (the creepy Franklin Mott from this season of True Blood). Tom Wilkinson pops up as Tennison's boyfriend in the first series, and Eve Best (Dr. O'Hara from Nurse Jackie) shows up in the seventh and final series.
The show is actually a pretty quick watch; each series is essentially the length of a movie. If the shows weren't split into two episodes (which originally aired on different nights), you could almost consider Prime Suspect a series of made-for-TV movies, though I even disparage using that term due to the high quality of the show.
The packaging for Acorn Media's DVD set is standard, something which can be said for all box sets from the provider. Seven standard DVD cases are held together in a cardboard slipcase, which isn't quite solid but holds together nicely. The DVD spines show a nice evolution of Mirren's character over the seven seasons, showing her first as a young, clear faced woman, and then finally as an older woman with an aged visage. It really sets the scope for the series.
But as always, it's not about the packaging, is it? It's about the show, and Prime Suspect is a damn good one. As someone who doesn't usually like cop dramas, I was drawn into the show as I was before with Touching Evil — with a longer format for the cases, there's more tension, more suspense. And, surprisingly, not one moment that drags.
Prime Suspect hits shelves on September 7, and the nine-disc set retails for just $83.49. Order it here.