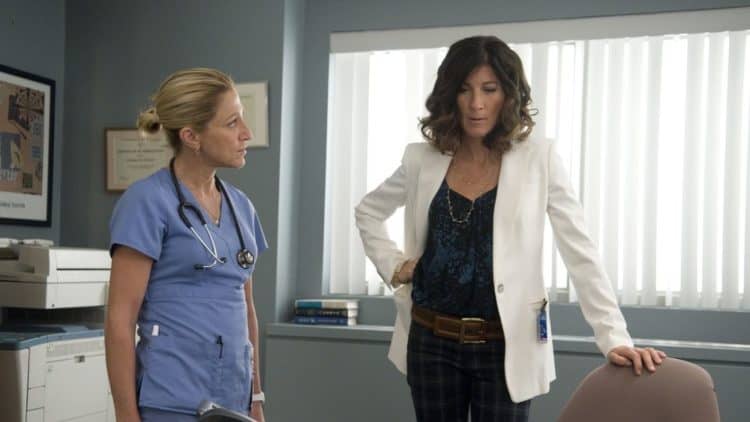 From the screen to the stage, Eve Best has spent the last two decades leaving audiences stunned with her creative abilities. She is most easily recognizable from her role in shows like Nurse Jackie, The Honourable Woman, and Lucky Man. After a few years away from the screen, she's back and in a very major way. She has a main role in the net Netflix series Fate: The Winx Saga and the show has given her the opportunity to share her talent with a new audience. Not only does Eve already have a wildly successful career behind her, but she has a lot more to offer and her fans can't wait to see it. Continue reading for 10 things you didn't know about Eve Best.
1. She Comes From A Creative A Family
Lots of creative people have to deal with being surrounded by people who don't understand their dreams, but that as never Eve's reality. She was lucky to be born into a family where the arts were appreciated. Her father was a design journalist and her mother founded a theater company called Shakespeare Link.
2. Her Name Isn't Actually Eve
Although she is known to the world as Eve Best, her name is actually Emily. She decided not to use her 'real' name for her acting because there was already an actress named Emily Best. The name Eve was her grandmother's maiden name. She told The Guardian, "I hated having to change it – because your name defines you."
3. She's Been On Broadway
Many people are aware that Eve has had a successful theater career, but they aren't aware of just how successful it's been. Eve made her Broadway debut in 2007 as a cast member in A Moon for the Misbegotten. She returned to Broadway in 2008 and 2015 for The Homecoming and Old Times respectively.
4. She Studied At Oxford
Education has always been important to Eve and she is a graduate of the world famous Oxford University. Some people will be surprised to know that she didn't study acting there. Instead, she chose to study English. Although many people feel like majoring in English is a dead end, Eve is one of the many examples of how the possibilities are endless.
5. She Isn't Into Social Media
In 2021, we all kind of just expect people to be on social media. That expectation only doubles when people work in the entertainment industry. Unfortunately for Eve's fans though, this is one time where she won't be doing what's expected of her. As far as we can tell, she isn't active on social media at all and doesn't have any verified accounts. She does, however, have a few fan pages.
6. She Likes To Paint
Eve's love for the arts extends beyond acting and producing. When she isn't busy with work, she loves to spend her free time painting. Not only is painting another way for her to express herself, but it's also a relaxing activity that allows her to take her mind off every day stresses.
7. She's A RADA Alum
In addition to attending Oxford, Eve also did her acting training at another legendary institution: the Royal Academy of Dramatic Art (RADA). She was initially rejected the first time she applied, but was accepted when she was in her early 20s. RADA boasts a long list of successful graduates including James Norton, Tom Burke, and Alan Rickman.
8. She Enjoys Being Outdoors
The entertainment industry can be very hectic, and even though Eve loves her job sometimes she needs a break from it all. What better place to get that break then spending time out in nature? When the weather is nice, Eve loves to head outdoors and sailing is one of her favorite activities.
9. She's Won Several Awards
Almost every actor would probably admit that they would love to win at least one major award during their career. Eve is fortunate to say that she's already won several. In 2006, she won a Laurence Olivier Award for Best Actress. She has also been nominated for two Tony Awards for Best Actress.
10. She Doesn't Back Down From A Challenge
If there's one thing that has become incredibly clear during Eve's career, it's that she isn't afraid to take on a challenge. She has played a wide variety of characters over the years and she has been able to move seamlessly from one genre to the next. No matter what kind of role she's tasked with playing, Eve always finds a way to step up to the plate and do it to the best of her ability.