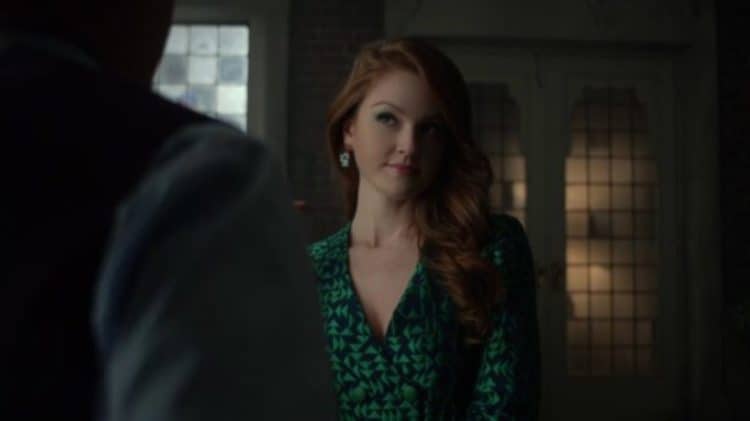 Maggie Geha is one of those actresses that sounds like someone you've heard of before and when you search for her you realize just where you've seen her before. So it's obvious that she's someone in the business and has earned that distinction but it's also just as obvious that there are a lot of names to remember and unfortunately people do get lost in the mix every now and again. It's not an insult to say that people get lost in all the names, but more of a real view that unless someone is doing a massive number of projects or has hit gold with a particular role then it's possible that they'll get passed by a few times in peoples' attempt to latch onto what's hot and who's in the now when it comes to fame and fortune. Not every star gets to stand in the spotlight 24/7, but it's enough to know that they've reached the point in their career that they are remembered.
Here are a few things you might not have known about her.
10. She's worked as a model.
A lot of actors have gone this route it seems and it definitely seems to serve them well. Anything that gets a person up and in front of an audience of any type tends to build one's confidence and allow them to really take in the feeling of being observed by a discerning crowd.
9. She was in Gotham.
Gotham has hosted a very wide array of the villains from Batman and showed their origin stories as much as possible. Ivy is one that many people happen to like and has been quite different throughout each version that she's been portrayed in.
8. She was in Ted 2.
We have entered the days when we have a movie that tries to identify a stuffed teddy bear as a person and some people couldn't be happier as they thought that Ted and Ted 2 was absolutely brilliant. But quite honestly it's a head-scratcher since trying to find out just what people see in the movie is difficult until you start laughing.
7. Her career started in 2007.
By the 20s it's going to be interesting to see how those that started in the 2000s are doing since during this decade it seems that a lot of them are starting to tack on more and more credits to their resume as they continue to push forward with their careers.
6. She hasn't been in a lot of shows or movies.
Her resume isn't barren by any means but it seems that in 11 years she might have been very selective or might have had to really impress those that run the auditions when it comes to getting a part. So far she's done her fair share of TV appearances and movies, but in comparison to a few others he's still building a reputation.
5. There's not a lot about her on the web.
It's interesting to see that some people don't have a humongous presence on the web since one would think that they would want as many people to know about them as possible. But then again it could be that she values her privacy.
4. She does have an impressive following on social media.
This is where the majority of her time on the web is spent it seems since she does boast a very big number of followers that seem to enjoy everything she does to some extent. This has definitely become a thing when discussing actors since their following sometimes indicates just how popular they really are.
3. She was Miss Vermont Teen USA in 2004.
This is an impressive accomplishment to be honest since a lot of young women tend to go out for pageants such as this and many are often turned away for one reason or another. To finally get to the end and win is a big deal.
2. She was in Winter's Tale.
If you want the breakdown of this film it's pretty simple, we're all here to give and to receive a miracle and Peter is the product of one and the giver of another. The forces of evil are always willing to do anything to stop these miracles in order to solidify their power, but Peter is, in the end, able to bestow his miracle before ascending to the heavens.
1. There was a reason why she was replaced on Gotham.
Ivy is kind of a complicated character that needed to be completed in stages, meaning that Maggie was the second stage and had to be replaced as her character continued to grow and develop into the person she would eventually become. This seems to be the gist of why she was taken off the show at one point.
Her acting talent is great enough that she'll be able to keep moving forward without a doubt if she so desires.