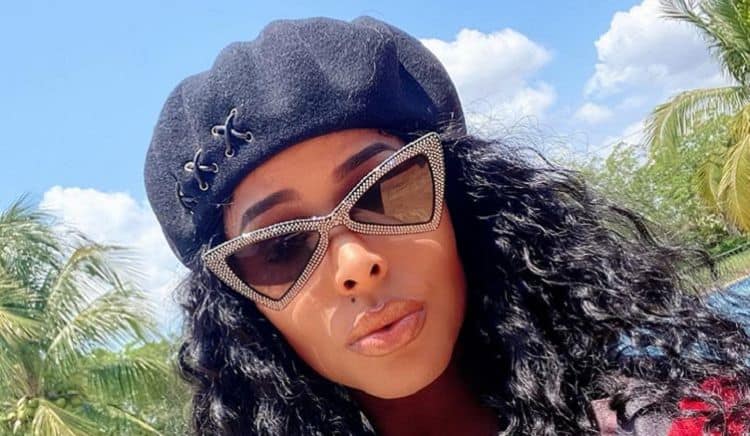 On January 10, 1985, Keyshia Ka'oir was born Keyshia Watson, in Kingston, Jamaica. She is an entrepreneur, Instagram model and is known as a video vixen. Keyshia Ka'oir is also the fiancé of famed rapper, Gucci Mane. She has been getting her name out there pursuing a wide range of ventures, including cosmetics, magazine modeling and personal appearances. Keyshia Ka'oir has been living in the U.S. since she was 17 years old when she moved to Florida with her family and has been in the U.S. since. Whether you have seen this girl on social media, in a magazine, or in a music video, there is still lots to learn about her, so here are ten things you didn't know about Keyshia Ka'oir.
1. Got her start in a video
Ka'oir's career got its beginnings when she starred in a music video for Timbaland & Drake. The mini-movie/video, "Say Something," featured the famed rapper and superstar, Drake, and Ka'oir had the starring role as "Lisa", the jealous ex-wife. After this role, Ka'oir went on to star in many different videos, and most were videos with top recording artists.
2. Engaged to rap star
Ka'oir met rapper Gucci mane in 2010 when he wanted her to appear in one of his music videos so he tracked her down. Not only did he get her to star in his video, but he got her as his girl, too. The two have been together ever since the video making and are now engaged. Gucci proposed to Ka'oir on November 22, 2016 in the middle of an Atlanta Hawks basketball game. He got on knee and presented her with a 25 carat diamond, and it was all captured on the arena's "Kiss Cam." How sweet.
3. Very focused on success
Ka'oir is a big believer in setting goals and that success only happens when you get focused and give something your all. She says that she often tells young girls that boys can wait. Set your goals and don't give up, no matter how hard something is. She says, "Books over boys," which means, get your education first, it's very important, and she herself, worked hard, so that she could play hard.
4. Will star in her own docuseries
Ka'oir is moving from Instagram to bigger things. Although she will surely still be posting on her Instagram account for her fans to follow, you will soon also be able to follow her, and now, her fiancé, Gucci Mane, on their own docuseries. Mane and Ka'oir just announced on June 5, that they are going to be starring in their own docuseries that will be aired on BET. The docuseries hasn't been named yet, but it will be following the couple as they begin to blend their families as they prepare to marry on October 17, 2017.
5. Has her own lipstick line
Ka'oir is the CEO and the creative force behind her own brand of cosmetics, KA'OIR Cosmetics. She started her company in 2010 and her line embraces everything about who Ka'oir is and what she stands for. It is young, fresh, bright and vibrant, which means that her line of lipsticks are just that, focused on bright colors that bring out the youthfulness in girls. She has aired her commercials on many different channels, including E!, BET, Bravo, Style, VH1, and MTV. With all of Ka'oir's ties with the hip hop and rapper artists, she has tapped into a way that will help market her brand and tied the two together by collaborating with the platinum selling recording artist, Trina, who now endorses KA'OIR.
6. Started her own clothing line
Now that Ka'oir has her own cosmetic line, she didn't plan to stop there. She got interested in starting her own clothing line and it is currently available, Keyshia Kaoir, and her line mostly consists of comfortable and fashionable jumpsuits, body suits, mod and funky dresses, shorts, shoes, even accessories, like sunglasses, belts and jewels.
7. Wants her own talk show
Ka'oir wants to be the host of her own talk show. There have been many celebrities, primarily women, that think they have what it takes to host their own talk show. There have been many before Ka'oir that have tried their hand at gabbing with their guests and the latest news in fashion, world events, Hollywood, among other issues, and while some have made it big, such as Ellen DeGeneres, others have not been so lucky. Ka'oir thinks she's got what it takes and is shopping around for a chance to host her own talk show. We'll have to keep our eyes out for her to one day be a part of some network's lineup.
8. Makes personal appearances and profits
As one of her money-making gigs, Ka'oir will play host at a wide variety of nightclubs. She travels around to many different nightclubs in different states to play host. Ka'oir doesn't play host for cheap, either. If a club wants Ka'oir to make an appearance at their club, they will have to pay a whopping, $5,000 just to have her there. She is also known to host many different types of events, and is all part of getting her name out there and becoming more famous.
9. Reaching out to young girls
Ka'oir's success has given her many different platforms to reach a wide range of people and young girls is who Ka'oir feels a connection with. She has a big heart and is passionate about giving back to the community and others. She says that she wants to share her blessings and she does this by speaking on a variety of panels on topics of self-esteem, integrity, and about being aware of things that are really important, especially in her industry and line of work, which can be challenging for young girls and women.
10. Created a specific lipstick for a good cause
Because Ka'oir loves to give back and is very charitable, she got involved with the fight against breast cancer and even developed a specific lipstick in honor of the fight against breast cancer. The lipstick color that was named, "SURVIVOR," and a percentage of the proceeds are donated to "Susan G. Komen for the Cure Miami/Ft. Lauderdale Affiliate".