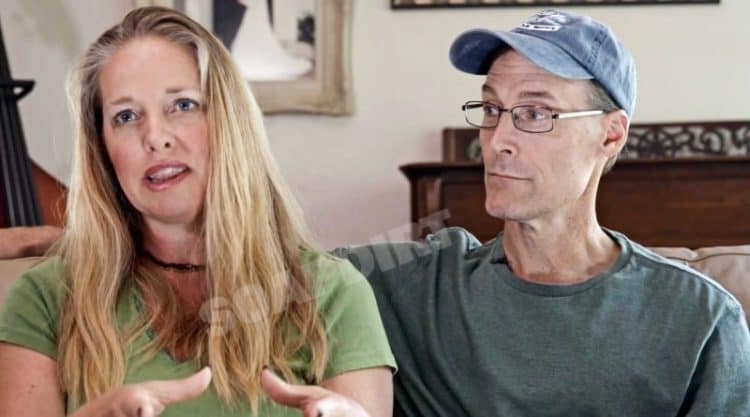 Barry Plath is the patriarch of the Plath family and he has recently become a reality television star on the new series "Welcome to Plathville". He is a very private individual, but his life is being made public on the show that details the unique lifestyle he and his wife have adopted to raise their family. Here are 10 facts you probably didn't know about Barry Plath that may help you become better acquainted with the recent television personality.
1. He is the father of nine children
Barry and his wife Kim Plath have been married since 1997 and together they have nine children. Three of the children are adults and the rest are minors, providing Barry and Kim with plenty of entertainment and hard work! Their kids are Ethan (21), Hosannah (20), Micah (18), Moriah (17), Lydia (15), Isaac (13), Amer (10), Cassia (8), and Mercy (6).
2. He suffered a tragic loss in his family
While Barry was away at work, his wife Kim was busy at the family farm transplanting fruit trees. She was using their family suburban when she didn't see their young son Joshua, who had gotten in the way of the vehicle. Kim accidentally ran over 17-month-old Joshua. An ambulance was called and Barry followed closely behind the emergency vehicle on the more than 10-mile trip to the family farm. When he and the emergency crew arrived, his son had tragically passed away. This was an unimaginably hard thing for Barry and Kim to bear.
3. Barry Plath is kind, loving and not judgmental of his wife
After the loss of his son, instead of blaming his wife for the accident, he showed her kindness. He never displayed any animosity towards her, even though she was the one behind the wheel. Kim blamed herself and he did everything he could to reassure her that it was an accident. He even read scriptures that brought her comfort, despite his own immense anguish over their loss. He showed nothing but love, care, and kindness throughout the ordeal. One could not find a more supportive person, and this is to his credit.
4. He is a man of faith
Barry and Kim both have a strong belief in God. He seeks guidance from God when making decisions, big or small. He reads scripture and strives to follow the principles of his faith as closely as he can. Together with his wife, he also teaches these values to their children.
5. His children have never consumed sugared beverages or sodas
The Plath children have been raised on wholesome foods. Since they don't attend public school, they're not exposed to many of the things that are common for other children their age. They've never had a bottle of soda, nor have they eaten ice cream or other sugary desserts; these are things that Barry and his wife Kim don't provide in their home. They believe that sugar is detrimental to the human body.
6. Barry works outside of the home
Although the family lives on a 55-acre farm, Barry Plath has a day job as a transportation planner for a private firm. He has been with the same company for over 25 years. Although the farm is ten miles away from the nearest town, he has a daily commute to and from work, yet the family enjoys living away from the hustle and bustle of the city and he doesn't usually mind the drive.
7. His children are homeschooled
Barry and Kim made the decision to homeschool their children. While Barry continues to work at a regular job every day, Kim, a naturopathic doctor, is able to take time out of her day to attend to the educational needs of the children. She also sees clients out of the home, so she is able to balance both her job and being present to ensure that the children complete their assignments. It's an unconventional way of doing things, but it has been working for the Plaths for all these years.
8. Barry uses technology but the kids are not allowed to
The Plath children do not know what it is to have a social media account because they are not allowed to use electronic devices. Some people feel that this is a double standard, as Barry and Kim have created a webpage for their family website, yet the minors are not allowed to take part in this activity. Some support this approach of parenting, while others believe that they are hindering the children by not allowing them to learn about technology.
9. Barry is the leader of a folk band
The Plath Family Band, led by Barry and his wife Kim, has their very own family band that performs both folk and gospel music. The trailer may not have shown them in action, but they are actually a very talented group of musicians. The band regularly travels to perform.
10. He was told by God to marry his wife
Barry is a man who seeks guidance from God in all aspects of his life. Before he and Kim talked about having a romantic relationship, he said that God had told him he would marry her. Kim had the same experience on the same day, even though they were not together at the time. This seemed more than a mere coincidence to them, and they regarded it as a sign that they were meant to be together as husband and wife. This occurred in the spring of 1997, and they were wed in July of that same year. Barry was convinced that since this was God's plan, there was no reason to delay.