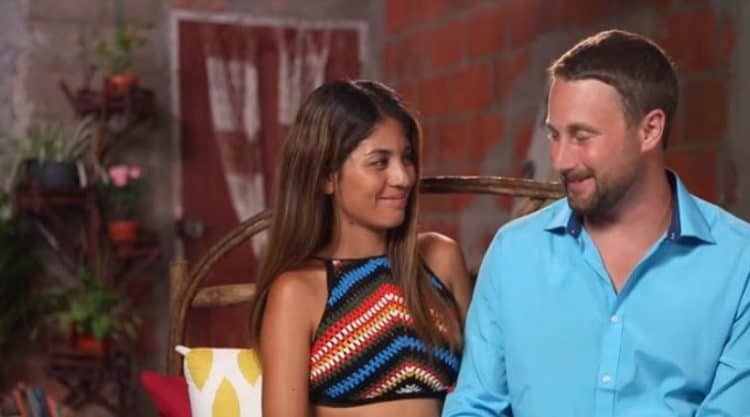 Keen followers of "90 Day Fiancé: The Other Way" by now hate Evelin Villegas with a passion, and they do not care to hide it. The woman left her bartending life to try and land herself a fiancé, although she does not want to get married yet. There is almost nothing positive about Evelin, and just when she has the fans on her side, she messes up again. As we wait to see if she and Corey will settle down, let's learn more about her.
1. She likes keeping her skeletons in the closet
Your love life can be beautiful if you manage to get your prince charming the first time. If not, the story will have many undesirable incidents that you would prefer redacted. Evelin cheated on Corey. When they got back together, the couple decided to let that detail remain between themselves after Evelin apologized for the incident.
2. She is vengeful
"Pretty Little Liars" has a theme song whose lyrics should serve as a constant reminder that there is no secret between two people; unless one of them is dead. Her trust must have blinded Evelin in Corey because she was confident that he would honor their agreement. Unfortunately, Corey wanted a stronger storyline. Therefore according to Reality TV World, he sold the details to the producers. Evelin felt Corey had done lots of damage, so she went on Instagram Live to brand him a fame-hungry, needy loser attention-seeker. She added that Corey was using the show to further his career at her expense since he embarrassed her.
3. She is insecure
Once you decide to love someone, you should get rid of all inhibitions for you to give him the love he deserves. Evelin has portrayed her insecurity by labeling Larissa a whore, saying she was disrespectful of Evelin's feelings. Evelin even wondered who Corey had become, saying she no longer felt like she knew him at all. Corey, however, reassured Evelin that she is his world, and he is attracted only to her.
4. She can be very demanding
Most women play hard to get, and Evelin followed suit. Although she and Corey had already dated before breaking up and then reconciling, she still felt some sort of entitlement. Before settling down, Evelin had a checklist for Corey, and the man must be head over heels over her because he was ready to do it all. As Corey told Meaww, Eveline expected him to have a six-pack before they got married. She also wanted him to learn Spanish and her culture as well as talk to her parents. Since Corey was yet to heed to any of the demands, Evelin was not keen on getting married to him. She even went as far as not wearing her engagement ring.
5. She would rather adopt than have biological children
Corey's mother blasted Evelin when she insisted that it is the husband who should provide for the family according to the Ecuadorian culture. As with any woman who feels old enough to be a grandmother, Corey's mother said that it is also their culture to have a woman become a mother. Evelin was quick to say she is not interested in having children, but it is not because she cannot take care of them. In her Instagram, Evelin revealed she has catered to at least ten newborns, but she would like to fulfill her dream of adopting children with no family.
6. She is banned from the USA
Evelin could not go with Corey to the United States when he learned that his father had passed away. She had overstayed her welcome and violated her tourist visas; hence, she was banned for three years. She also, therefore, did not appear in person during the Tell-All.
7. She is a serial cheater
They say once is a mistake, but twice is a decision. Corey has proven to be a man with the biggest heart any woman could ask for, but Evelin frequently shows she is not worthy of his love. It is, therefore, no wonder that fans call her "Evil-in." When Evelin asked for some space from Corey, he was happy to oblige, and Evelin took advantage of the opportunity to hook up with her ex-boyfriend. Corey, the ever-understanding boyfriend, did not consider it to be cheating since they were on a break. It might have given Evelin the green light to go ahead and cheat with Raul, their mutual friend. Raul confided in Corey that he and Evelin had hooked up several times, and Corey wondered if moving to Ecuador was his worst mistake.
8. She has double standards
Evelin is one person who will preach water but drink wine. She wants Corey to learn the Ecuadorian culture and expects him to abide by it by being the provider. However, the same culture expects her to have children and stay at home, but Evelin is not ready for that. She makes it clear that she wants to live it up as she has always done. In the same Instagram post published on Screen Rant, Eveline says she is the type of girl who does not need a man. Funny enough, she accepted Corey's proposal and has been with other men too.
9. She is single
"90 Day Fiancé" does not allow the cast to comment on their relationships for as long as they are on the show. However, nothing stays hidden, and Evelin might have lost Corey thanks to her attitude. She was right to act on her instincts that Larissa and Corey were out on a date despite Corey reassuring her that she was still the love of his life. According to Carmen, Corey had told Larissa that he was single but had to keep it under wraps for the show's purposes. Besides the fact that Corey turned down Evelin's offer to remain in Ecuador instead of going back to the states, speaks volumes. Further, Evelin revealed that she had told Corey what type of woman is best for him before he left. So maybe he took her advice and went on a date with Larissa.
10. She can be cold
Evelin revealed her true character to fans. If Corey was not so determined to engage her before the 90 days were over, he might have read between the lines and never gone to Ecuador. When Corey arrived at the airport in Ecuador for the first time, Evelin did not bother to go pick him up. Instead, she said that Corey was a big man, and he could find his way to her. According to Evelin, she expected Corey to carry himself around Ecuador without any help.
Tell us what's wrong with this post? How could we improve it? :)
Let us improve this post!