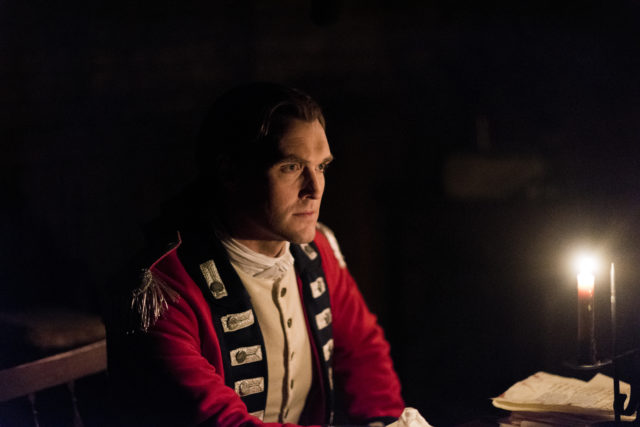 "Their names will be known, and they will know mine"
Time to rejoice, fellow fans. TURN: Washington's Spies has finally returned for its final season. Historical inaccuracies and creative liberties aside, the show really hit its stride in the third season, and based on the double episode premiere I'm expecting more of the same.
I'm no history buff, but it doesn't take one to know at least a little bit about the plight of Benedict Arnold. His addition to the show has been essential (the show is called "TURN" after all) in seeing the stakes infinitely rise and the show's excitement level skyrocket. Season 4 has, so far, turned out to be no exception to this. Owain Yeoman is as compelling as ever as the bombastic and proud General Arnold, who proves to be hotter on the trail of spies than the Continental Army realized. Though admittedly, it's much more fun to watch him be made a fool (his Brewster interrogation for an example) than be a successful soldier.
Again, knowing the outcome of the Revolutionary war doesn't erase the tension that builds during these first two episodes. When the rebels attacked the base in Setauket, for instance, I held on to every minute. Robert Townsend being questioned by Simcoe and Arnold in New York. Caleb being interrogated by Simcoe. Each and every one of these scenes was tense and elicited worries about the characters, even though it's easy enough to find out how things turn out for them. That's what I appreciate most about this show, it's an exercise in building gripping, intense scenes that make you gasp, fear, and scream, all while telling a 200+ year old story.
Continuing the topic of the Revolutionary War, one of the things common in my college history course was talking about the conflicted nature of leaders during war time. We touched on both Lincoln and Washington in this particular course, but seeing Ian Kahn portray that conflict was an excellent touch. The nuance and internal conflict brought on by being a leader in war is a fascinating aspect of it. It's easy to sit behind a computer in the 21st century and call someone a warmonger, but the portrayal of Washington fighting for his ideals and what he believes is right resulted in some gripping television, and grey areas like this should be explored more often.
Here are a few other thoughts:
Sporks. I have no idea when sporks were actually invented, but the silliness inside of me is invigorated when it sees something like that on such a serious show.
Bouncing off the sporks thing, Martha Washington and Anna Strong present an interesting perspective on feminism. I'm curious to see how that goes forward.
"It's about f***in time" Judge Woodhull joined the cause. Though I suspect he will remain conflicted as the season continues, given how this last episode ended. Still, Kevin McNally is an asset to this show, and this may be the best work he's done on it yet. I was thrilled to see him join the fray.
I enjoyed this episode a lot, but my favorite part may have been Caleb's "devil may care" attitude when imprisoned and interrogated. He's always been a favorite character of mine, but so far he's really had a chance to shine.
All of the best assets of Turn: Washington's Spies were on full display in the first two episodes of Season 4, and it's as excellent as it ever was. Since I've reviewed all of the previous seasons for TVOvermind, it's bittersweet to start the final season. Buckle up your boots, fellow fans!
What did you guys think? Did you enjoy the episode? Let us know!
Turn: Washington's Spies airs Saturdays on AMC
TURN: Washington's Spies Season 4 Episodes 1 & 2 Review: "Spyhunter General"/ "The Black Hole of Calcutta"
Summary
Benedict Arnold enlists the help of John Simcoe in tracking and hunting spies on the compelling Season 4 premiere of TURN: Washington's Spies.