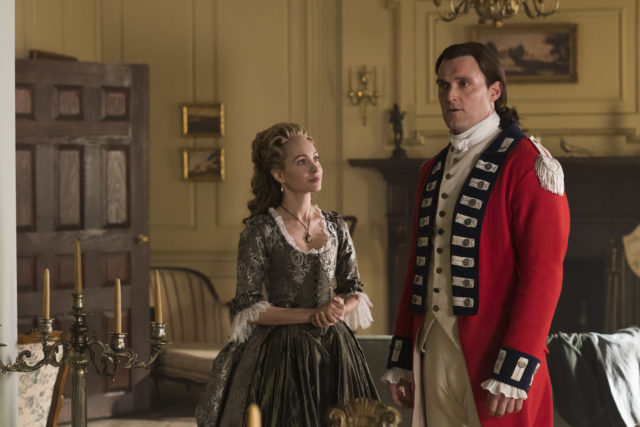 A lot of uneasiness and anticipation riddled this week's episode of TURN: Washington's Spies. With a title like "Blood for Blood", you may have expected a bit more…well…blood. Make no mistake, there was plenty of blood to be had, but the first half of the episode spent time building tension between characters, and the second resolving and letting the tension boil over. Even with a historical deviation or two, the show has never been more tense or exciting than in Season 4.
Though he had little to do within the episode, the addition of Owain Yeoman's masterful Benedict Arnold injected this show with new life. TURN has "turned" (womp womp) a corner over the last few seasons. That is to say, even though Arnold was not directly involved with every bit of the episode, he set its events in motion by capture of Caleb Brewster and leaving him to be "interrogated" by Simcoe. Arnold and his new found relationship with Simcoe is the driving force behind the episode. The capture of Caleb, the prisoner exchange, the attack on the prisoner exchange, and the discovery of the Peggy/Andre affair by Arnold were all driven by that character relationship, which is just proof of how strong an addition Yeoman has been to the cast.
I love when TURN plays the character driven drama card, but battles are my absolute favorite (Luckily this week, we got both). That said, it was so much fun to watch Abe join the fray and fight back against Simcoe's agents. Even though it was at great cost, both to Abraham and the show, to lose Judge Woodhull (ten or eleven years before the real Judge Woodhull died. Either way, R.I.P.), it was a masterful dramatic move to get Abraham into the fray. "He was bigger and stronger. You were the fighter". I will miss Kevin McNally's terrific work on the show. I will miss Judge Woodhull, but from an entertainment perspective, this was a great battle scene.
George Washington himself was conspicuously absent from this episode, but the events at camp were made a little more interesting by reintroducing the resurgent pop culture figure Alexander Hamilton. I very much enjoy Heather Lind's work as Anna, but her short meeting with Hamilton was a highlight of this episode for sure.
A few other thoughts:
I'm perfectly aware of the historical inaccuracies in this show, before anyone cares to shed light on that for me. All stories told in this medium are often injected with drama to appeal to audiences. If you know exactly how all of this went down in real life, feel free to keep it to yourself. This has been your PSA.
I enjoyed the flashback to Abraham's offing of Ensign Baker back in Season 1. Really ties things together well.
Even though I don't get the point of it yet, I'm glad Aldis Hodge is back to give closure to his character.
I would watch a show just about Caleb, Ben, and Abraham fighting guys. I SO enjoyed watching them battle. #BromanceGoals
All in all, this was another exciting episode that has TURN: Washington's Spies racing toward its conclusion faster than I'd like. Whether it's going to be done soon or not, it's still darn good TV.
What did you guys think? Did you enjoy the episode? Let us know!
TURN: Washington's Spies airs Saturdays at 9/8c on AMC
TURN Washington's Spies Season 4 Episode 3 Review: "Blood for Blood"
Summary
The prisoner exchange between sides goes terribly wrong, forcing Abe into battle on this week's epic episode of TURN: Washington's Spies.